『鬼滅の刃』煉獄杏寿郎 完全版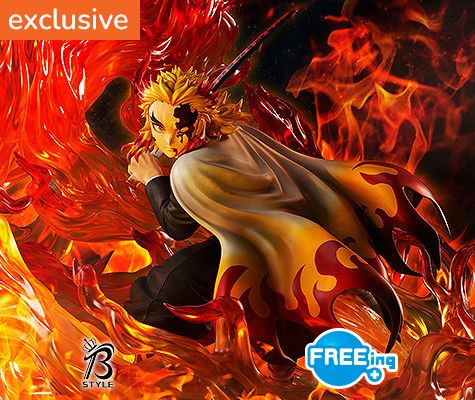 For those of you who want to get this B-style "Rengoku Kyojuro" figure, you can pre-order it at the following stores before March 02, 2022 with your proxy service.
—Description from Manufacturer—
"Set your heart ablaze and go beyond your limits! I am Kyojuro Rengoku, the Flame Hashira!!"
From the anime series "Demon Slayer: Kimetsu no Yaiba" comes a 1/4 scale figure of Kyojuro Rengoku, the Flame Hashira! Kyojuro has been captured in figure form in the instant before he unleashes his "Flame Breathing Esoteric Art Ninth Form: Rengoku" attack.
Kyojuro's wounds on his abdomen and face sustained while locked in a life or death struggle, his combat-worn haori coat and Demon Slayer Corps uniform have been faithfully preserved in figure form. Featuring a stunning amount of detail due to the impressive 1/4 scale size, this figure is a must-see for fans of the series!
The Complete Edition also features an enormous flame effect part over 70cm in height on a special base, making for an incredible recreation of a memorable scene. Be sure to add Kyojuro Rengoku: Complete Edition, a figure like never seen before, to your collection!
Also available: Kyojuro Rengoku
Character

Series Title

Brand

Manufacturer

Product Line

Scale

Size

:

720mm tall

Product Type

Material

Sculptor

Paintwork

Release Date

:

December 2022

Price

:

297,000 yen (taxed in)

Note

:

Good Smile Online Shop, Amazon, Amiami, and Animate exclusive.