2010 Winter anime Part 3: TV anime
Omamori Himari (Jan 2010)
Seikon no Qwaser (Jan 2010)
Katanagatari (Jan 2010)
Dance in the Vampire Bund (Jan 2010)
HeartCatch Precure! (Feb 07, 2009)
Lupin III TV Special (Early 2010)
Cat Shit One (Early 2010)
Cobra the Animation: The Six Braves (Early 2010)
Code Geass season 3 (2010)

It's officially Winter now and the new anime season is just started! Seems like we have a lot of good anime in this season. In this Part 3, for sure I'm gonna watch
Omamori Himari (Love the manga so much!)
Seikon no Qwaser (Love those ppl from MaiHiME and MaiOtome)
Katanagatari (Will it be as good as Bakemonogatari?)
Dance in the Vampire Bund (Naked loli in action! highly recommended!! The manga is great)
HeartCatch Precure (My farovite magical girl show for the past 6 years)
As for Code Geass, I'll have to finish the previous two seasons first. =P

<< Part 1: TV | Part 2: TV | Part 3: TV | Part 4: Movie | Part 5: OVA >>

http://anime.webnt.jp/omahima/
[youtube]ztqfPnNnJj0[/youtube]
Synopsis:
Yu-to Amakawa is the only living descendant of the Amakawa Clan, one of 12 ancient demon-slayer families. His life is turned around on his 16th birthday when a mysterious girl appears as his bodyguard against the demons that are now trying to kill him.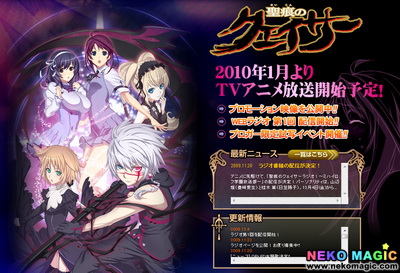 [youtube]x1yZV_QNjSk[/youtube]
Synopsis:
The story takes place on the grounds of St. Mihailov Academy, a Japanese Eastern Orthodox school, and draws heavily on religious references from the aforementioned religion. Here it follows the trials and hardship of two of its students, Oribe Mafuyu and Tomo Yamanobe, until the encounter with a mysterious, silver-haired, Russian boy named Alexander, or Sasha for short. This pits them and the whole school in an all-out war between the Church itself and the so-called "Adepts", a sect of individuals wielding powers linked to the elements of chemistry.

[youtube]g9e-BrA0wx4[/youtube]
Synopsis:
Shichika Yasuri, master swordsman of "Kyoto-ryu" school which doesn't involve sword, lives on a remote island with her sister Nanami. One day, a woman named Togame visits Shichika on the island, which isn't even on the map, and asks her to help collect the twelve swords made by a legendary swordsmith.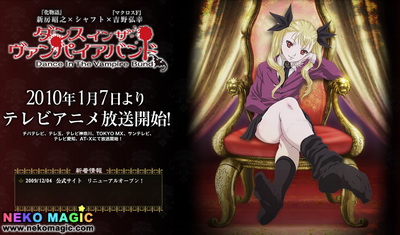 Synopsis:
Akira kaburagi used to live an ordinary highschool life. But when he turns 17, Mina Tepes, princess-ruler of all vampires, enters his life and demands him to be her "protector" as promised. Turns out Akira is a member of the Earth Clan, a clan of werewolves who have served as guardians and Knights for the Tepes family for centuries. Plus, he's made a promise to always protect Mina when he was a small child.

http://www.toei-anim.co.jp/tv/hc_precure/
Note:
The latest(7th) sequel of one of the most favored anime for girls. The number of Pretty Cures should be the point. Starting with two, they grow to six in "Yes! Pretty Cure 5 GoGo!" and reduced to four in "Fresh Pretty Cure!". How many Pretty Cures will be in this?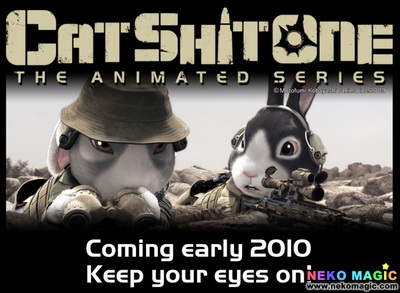 [youtube]SOAPKxqutv8[/youtube]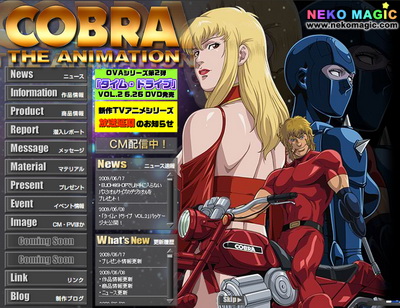 http://www.cobra30th-anime.com/
Synopsis:
The story follows the adventures of Cobra who lived an ordinary life until enemies started to hunt him down. Cobra surgically alters his face, and erases his own memory to hide from his enemies. Cobra starts to regain his memories and then unites with his old partner Lady Armaroid, and his ship Tortuga. Later in his adventures, Cobra meets the Royal sisters whose map-tattoos lead to treasure.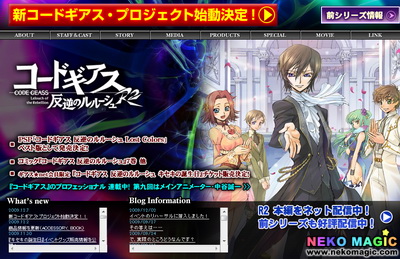 http://www.geass.jp/new_project/index.html
Note:
According to the announcement on Code Geass's official site for cellphone browser, the new project has launced and further information is to be announced in 2010.
The site says.
This is a reincarnation…the day of new birth. From today, Geass proceeds in new stage. Again You guys will be under the power of Geass. Hope, Wish and Aspires!
Don't act like a fool.
Geass works just like peoples' wishes. Yes. If you dare for, the Geass will be with you…
ZERO

<< Part 1: TV | Part 2: TV | Part 3: TV | Part 4: Movie | Part 5: OVA >>