2010 Winter anime Part 1: TV anime
Yawarakeme♥ (Dec 01, 2009)
Rose O'Neill Kewpie (Dec 02, 2009)
Weis Survive R (Dec 07, 2009)
Harukanaru Toki no Naka de 3: Owari Naki Unmei (Jan 03, 2009)
Sora no Woto (Jan 04, 2009)
Chu-Bra!! (Jan 04, 2009)
Gag Manga Biyori (Jan 04, 2009)
Ladies vs Butlers! (Jan 05, 2009)

It's officially Winter now and the new anime season is just started! Seems like we have a lot of good anime in this season. In this Part 1, for sure I'm gonna watch
Sora no Woto (Kyoani for the win)
I might also try Ladies vs Butlers (another Kanokon? XD )

<< Part 1: TV | Part 2: TV | Part 3: TV | Part 4: Movie | Part 5: OVA >>


Note:
Kepie is the babylike doll created by late American artist Rose O'Neill for Ladies' Home Journal magazine in 1909, and became a household name due to Q.P. Corporation's use of the dcharacter on its mayonnaise squeeze bottles. An anime will be created retaining the hand-drawn look of O'Neil's illustrations.

http://www.tbs.co.jp/card-gakuen/index-j.html
[youtube]bQLtE7otPec[/youtube]
Synopsis:
Takeshi and Michi finally managed to come back to this world but now they have to face strong opponents in Card Battles at school and at Akihabara.

Owari Naki Unmei (Jan 03, 2009)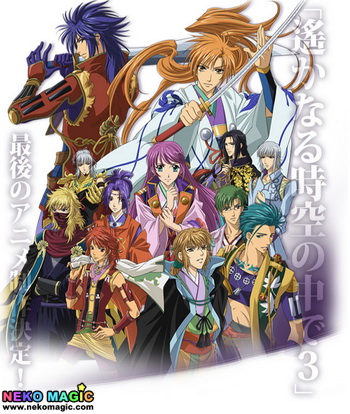 http://www.gamecity.ne.jp/neoromance/tv/haruka/destiny/
Synopsis:
High school student Nozomi Kasuga is summoned into a world called Kyo that that resembles Kyoto during Heian period and becomes a priestess of Hakuryu(God of White Dragon). In order to return home, she must fight alongside the Genji(Minamoto clan) against the Heike(Taira clan). Masaomi Arikawa, her childhood friend who was also summoned to the world of Kyo, has been separated from Nozomi when they were sent across time and space, and arrived three years before Nozomi. When they finally meet in Kyo, Masaomi is in league with the Heike clan and they must fight against each other.

[youtube]eei83QW7k20[/youtube]
Synopsis:
Kanata Sorami joined the army to be a bugler and was assigned to the 1121 platoon posted in a small town called Saise. The town was holding their annual Water Splashing Festival when Kanata arrived, and she's sucked into the middle of the ruckus.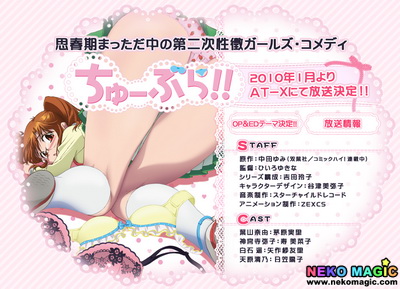 http://www.starchild.co.jp/special/chuubra/
[youtube]52XgFA1lL4I[/youtube]
Synopsis:
Seventh grader Nayu Hayama is a model student but has a peculiar interest in underwear. When Nayu is accused of enjo-kosai, her classmates Yako Jinguji and Haruka Shiraishi approach her to find out the truth. Somehow they all end up rolling down the stairs in a tangle and Yako and Haruka finds Nayu staring at their panties with strange gleam in her eyes…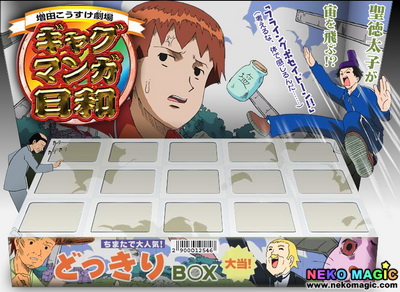 http://www.kids-station.com/minisite/gyagumanga/
[youtube]88SzBCkgBfc[/youtube]
Note:
It's the 4th anime adaption, celebrating original comic's 10th anniversary. Each characters, like Prince Shotoku, Basho Matsuo, Detective Usamichan and Kumakichi-kun are pretty unique and well impressed fans. Former series were first broadcasted on CATV a nd satelite channel then aired on UHF stations. But this series will be aired first on UHF stations.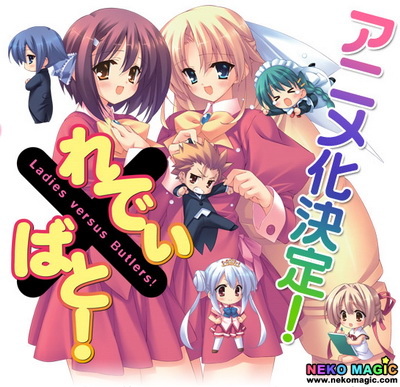 http://www.ladies-vs-butlers.com/
[youtube]yyk3–VQSiU[/youtube]
Synopsis:
Highschool student Akiharu Hino looks like your average punk with three safety pins in his right ear but inside he's just a shy and inexperienced boy who's totally oblivious to attractions. Adopted by his uncle when his parents were killed in an accident, he eventually finds out his relatives are all after his money and transfer to a boarding school to get away from them. At the prestigious boarding school he reunites with his childhood friend (actually, more like a childhood nightmare) Tomomi Saikyo who became a daughter of a business tycoon with the remarriage of her mother.

<< Part 1: TV | Part 2: TV | Part 3: TV | Part 4: Movie | Part 5: OVA >>