Aoshima is going to release the CharaMofu ( キャラもふ ) Holo ( ホロ ) Plush from the anime/light novel "Spice and Wolf" ( 狼と香辛料 ). Will be released in February 2010. Around 200mm tall and 150mm wide, 3,800 yen.
You can order her here 
It's public holiday in Japan yesterday so I don't expect we will have any figure news until later today ( like 6-8 hrs from now). Just like yesterday, I'll just throw in something I came across with couple weeks ago. Here is the new plush line of Aoshima – CharaMofu ( キャラもふ ). "Chara" ( キャラ ) means "Character", usually refer to characters in anime, manga, or games. "Mofu" ( もふ ) is the sound of touching something really soft, you can always see "もふ もふ" in manga when touching girl's breast. So when you put "Chara" and "Mofu" together, you get these lovely anime character plushs!!! XD
So far Aoshima only annouced 4 CharaMofu. They are Yoshika Miyafuji, Eila, Sanya, and Holo. From the CharaMofu homepage, it seems that there will be 9 more coming. I personally don't really like the Strike Witches plushs, but I like the Holo plush a lot! And of coz I pre-ordered her already.
Just wondering beside figure, do you guy also collect character plush? I do, I guess you had seems some of them at the background when I took my figure photos, but I only collect those characters I really really like. How about you? =]
What do you collect?
PVC figure (38%, 56 Votes)
Action figure (e.g. figma, Nendoroid, Revotlech) (25%, 37 Votes)
Prize figure/Trading figure/Gashapon (11%, 17 Votes)
Garage Kit (2%, 3 Votes)
Plush (24%, 36 Votes)
Total Voters: 84
Loading ...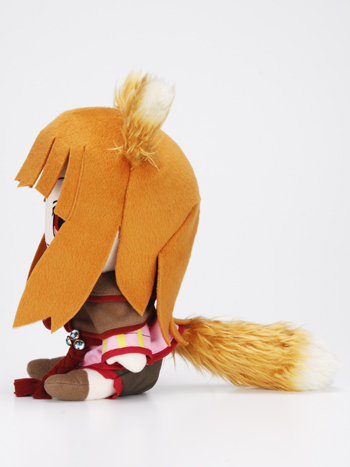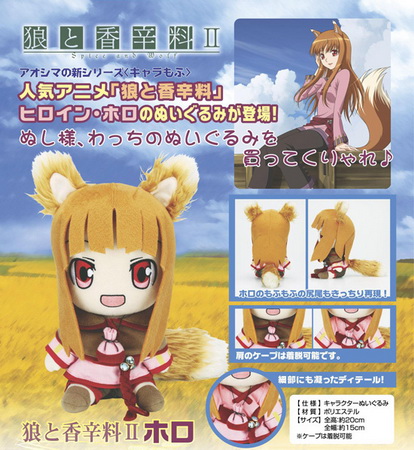 Spice and Wolf II OP & ED
[youtube]yPINzac_4Ws[/youtube]
Official Spice and Wolf homepage
http://www.spicy-wolf.com/
via Aoshima