2016 Winter anime Part 9: Film
Koukaku no Pandora: Ghost Urn (Film)
High Speed!: Free! Starting Days (Film)
Wake up Girls! Beyond the Bottom (Film)
Chibi Maruko-chan: Italia kara Kita Shounen (Film)
Kizumonogatari Part 1: Tekketsu-hen (Film)
Glass no Hana to Kowasu Sekai (Film)
King of Prism by Pretty Rhythm (Film)
Persona 3: Winter of Rebirth (Film)
Code Geass: Boukoku no Akito Final (Film)
New Initial D Movie: Legend 3 – Mugen (Film)
Last Exile: Ginyoku no Fam – Over the Wishes (Film)
Selector Destructed WIXOSS (Film)
Doukyuusei (Film)
Milky Holmes: Gyakushuu no Milky Holmes (Film)

<< TV1 | TV2 | TV3 | TV4 | OVA1 | OVA2 | OVA3 | OVA4 | Film >>

(December 05, 2015)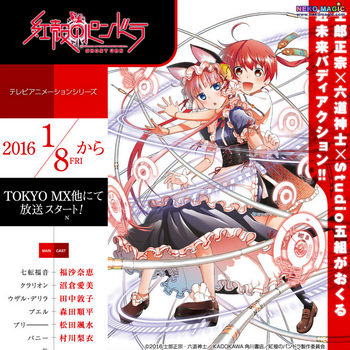 When Nanakorobi Nene, a cybernetically-enhanced girl-next-door, heads to the island metropolis of Cenancle to live with her aunt, she has no way of knowing what's in store for her. A chance meeting intertwines her fate with that of the super-rich inventor, Uzal Delilah, and her adorable and grumpy companion, Clarion, who happens to be a cyborg just like Nene. Nene is thrilled to make a friend, but there's more to Uzal and Clarion – and the island of Cenancle itself – than meets the eye. When a super-powered terrorist threatens Cenancle, Uzal claims that the only way to avert disaster is for Nene to team up with Clarion and use their combined powers – abilities Nene never even knew she had!




(January 08, 2016)
"I think it's about time I talked about Kiss-Shot-Acerola-Orion Heart-Under-Blade. I believe it's something I have to do. I met her in the spring break between my second and third years of high school. That meeting had such impact and was also quite devastating."

(January 09, 2016)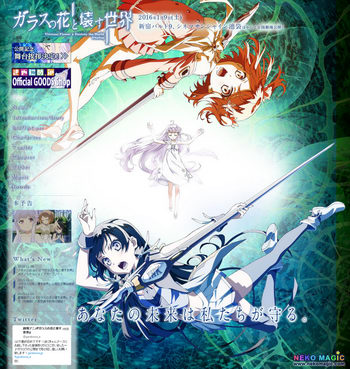 A floating space without gravity where an infinite number of lights shine in different colors: The "Box of Wisdom." Inside of this box, there are multiple worlds, multiple timelines, and there used to be many different people. This is where Dual and Dorothy were fighting with enemies called "Viruses." Worlds infected by viruses must be erased. That is the duty, the job of these girls. However, one day, Dual and Dorothy feel the presence of a new Virus. Arriving at the scene, they see a girl being attacked by Viruses. After saving the girl, the duo wait for her to awaken so they can ask who she is, where she came from, and where she is going. Finally, when the girl opened her eyes, she gave her name, Rimo, and whispered only one sentence… "I must return to the flower patch…"

(January 09, 2016)
The unit Over The Rainbow succeeds in its debut. Aiming to become like the boy band, more students enroll in Edel Rose. Hiro and the others begin practice for the Prism King Cup, an event that is held once every four years. However, a rival called "Schwarz Rose" appears… Who will become the Prism King, the one who can make girls' hearts throb the most!?

(January 20, 2016)
"The time of destruction is coming ever closer without a doubt. It cannot be stopped."
To know death, to gaze at death, to face death. Makoto and his allies have grown through the many meetings and partings they have experienced. Their fight might not be for the sake of the world, but for themselves. Even so, they have continued to fight, believing that there are peaceful days waiting at the end of the battle. However, a boy says that destruction is the fate that humanity must shoulder. The boy they believed to be their friend tells them the truth of the situation without an emotion on his face. The season changes to winter. Makoto makes a decision in order to greet the spring that is waiting beyond…

(February 06, 2016)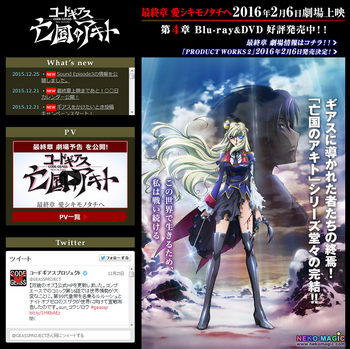 Fifth and final episode of Code Geass: Boukoku no Akito.
Though originally planned as a four-chapter series, it was announced by the producer Yoshitaka Kawaguchi at the premiere day event in Tokyo that the unscheduled fifth chapter titled "Itoshiki Monotachi e" (To Beloved) was already in the works as the final installment of the series for a 2015 fall release.

(February 06, 2016)
The third and final movie in a trilogy. High school student Takumi Fujiwara works as a gas station attendant during the day and a delivery boy for his father's tofu shop during late nights. Little does he know that his precise driving skills and his father's modified Toyota Sprinter AE86 Trueno make him the best amateur road racer on Mt. Akina's highway. Because of this, racing groups from all over the Gunma prefecture issue challenges to Takumi to see if he really has what it takes to be a road legend.

(February 06, 2016)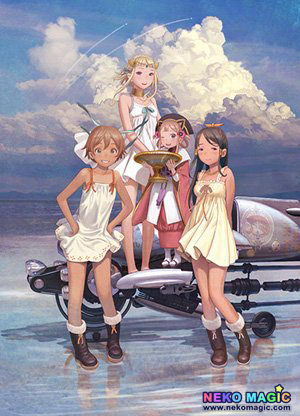 The Sky Pirate Fam and Millia (the princess who Fam rescued as her Turan Kingdom faced devastation) wage a battle against the Ades Federation that reduced Turan to ashes, and aim to establish a revived Turan Kingdom.


(February 20, 2016)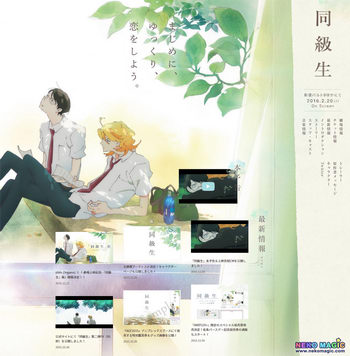 The story begins during music class before the chorus festival, when male student Kusakabe Hikaru notices that the bespectacled honor student Sajou Rihito is not singing. Although he thinks that Rihito just doesn't like singing, he finds him practicing alone in the classroom after school. Without even thinking, Hikaru calls out to him.

(February 27, 2016)
The four members of Milky Holmes are going on a study tour. While soaking in the hot springs among snow monkeys, alarms interrupt the relaxing environment! It was the work of the Thief Empire. A fierce battle between Milky Holmes and the Thief Empire begins, with both sides using their Toys (special powers). Furthermore, with the arrival of the Genius 4, a three-way fight occurs! In the midst of battle, a violent lightning strikes from the sky. Struck by the lightning, the four Milky Holmes girls lose their abilities.

<< TV1 | TV2 | TV3 | TV4 | OVA1 | OVA2 | OVA3 | OVA4 | Film >>