2016 Winter anime Part 7: OVA/OAD/SP 3
Prisma Illya 2wei herz! (SP)
Hetalia The World Twinkle (SP)
High School Dxd BorN (SP)
Tokyo Ghoul: Pinto (OVA)
Mobile Suit Gundam Thunderbolt (ONA)
Working!!! Lord of the Takanashi (SP)
Macross Delta (SP)
City Hunter: Ryou no Propose (OVA)
Nisekoi (OAD)
To LOVE-Ru Darkness 2nd (OAD)

<< TV1 | TV2 | TV3 | TV4 | OVA1 | OVA2 | OVA3 | OVA4 | Film >>

(December 25, 2015/ January 29, 2016)
Based on the Fate/Kaleid Liner Prisma☆Illya 2wei! manga by Hiroshi Hiroyama, itself a spin-off of the Fate/stay night erotic visual novel by Type-Moon.

(December 25, 2015)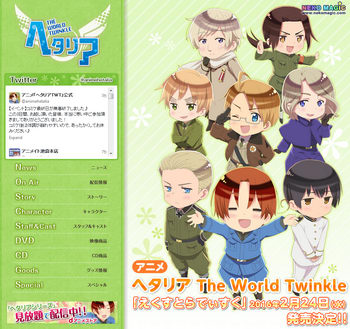 Think of it like WWII, except every country is a pretty boy instead. A hilariously stereotypical pretty boy. America loves burgers, Russia is into the vodka, and China has pandas and a wok. It is centered mostly around Italy, who has both a North and South character. The Hetaria portion of the name is probably mocking Italy, as Hetare means useless.
Release Date: December 25, 2015
Studio: Studio Deen
Note: Extra episodes included in the DVD volumes of Hetalia: The World Twinkle
Homepage: http://hetalia.com/twt/

(December 25, 2015/ January 27, 2016)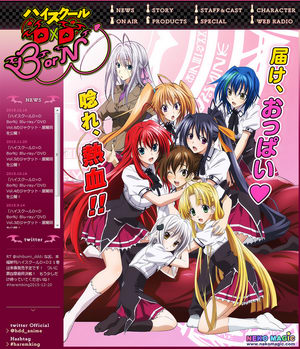 The third season of High School DxD based on the light novel series by Ichiei Ishibumi. It's following Volumes 5 till 7 in a rearranged order by Ishibumi-sensei himself.
Release Date: December 25, 2015/ January 27, 2016
Studio: TNK
Note: Short specials included with the Blu-ray/DVD volumes
Homepage: http://www.haremking.tv/


(December 25, 2015)
Federation troops and Zeon forces carry out a fierce battle in the Thunderbolt Sector in what was once Side 4 "Moore". The Thunderbolt Sector is a shoal zone composed of the debris of destroyed space colonies, named for the electrical discharges from the metal debris. MS pilot Io Flemming is among the Federation soldiers who are dispatched to the area, where Zeon sniper Daryl Lorenz awaits them on the battlefield.

(December 26, 2015)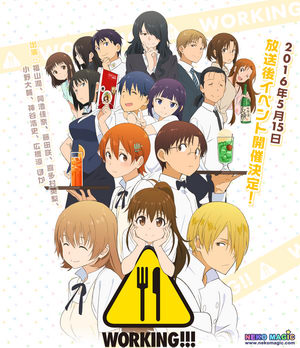 Due to his love for small, cute things, Souta Takanashi cannot turn childlike Popura Taneshima down when she recruits him to work for Wagnaria, a family restaurant located in Hokkaido. Takanashi takes particular joy in doting on the older Popura, which only fuels her complex over how young she looks. He also quickly learns he must stay on his toes once he meets the rest of his colleagues, including the katana-wielding floor chief Yachiyo Todoroki, the intimidating head chef Jun Satou, the dangerously well-informed and subtly sadistic sous chef Hiroomi Souma, the adamantly lazy manager Kyouko Shirafuji, and the waitress Mahiru Inami who has a "painful" fear of men.
Release Date: December 26, 2015
Studio: A-1 Pictures
Note: An one hour TV finale special
Homepage: http://www.wagnaria.com/

(December 31, 2015)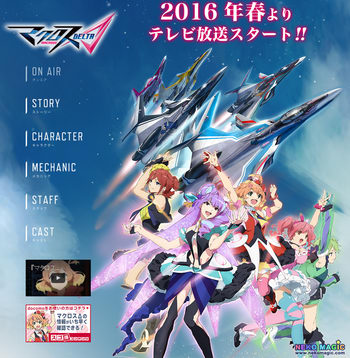 Macross Δ (Macross Delta) is set eight years after the events of Macross F.


(January 04, 2016)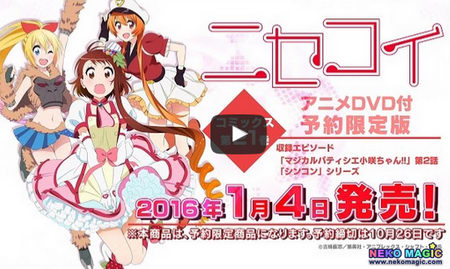 Four episodes, released on DVDs bundled with the 14th, 16th, 17th, and 21st volumes of the Nisekoi manga.

(January 04, 2016)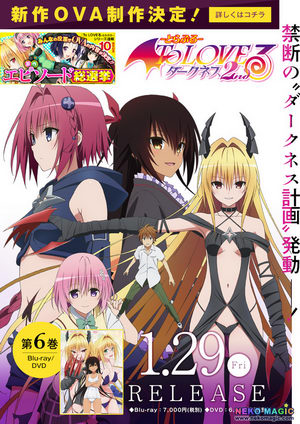 Consisting of two episodes, the OVA will run for a total of 25 minutes. One episode, titled Ghost Story Kowai no wa Ikaga (How about something scary?), will adapt a side-story from volume nine. The second episode, titled Clinic Sunao ni Narenakute (Without becoming obedient), will adapt chapter 38.
Release Date: January 04, 2016
Studio: Xebec
Note: Bundled with limited edition manga Vol. 15
Homepage: http://www.j-toloveru.com/

<< TV1 | TV2 | TV3 | TV4 | OVA1 | OVA2 | OVA3 | OVA4 | Film >>