2016 Winter anime Part 6: OVA/OAD/SP 2
Classroom Crisis (OAD)
Strike the Blood (OAD)
Symphogear GX (SP)
Aria the Avvenire (SP)
Kuroko no Basuke (OAD)
One Punch Man (OAD)
Locodol (OVA)
Overlord: Ple Ple Pleiades (OAD)
Owari no Seraph: Owaranai Seraph – Nagoya Kessen-hen (OAD)

<< TV1 | TV2 | TV3 | TV4 | OVA1 | OVA2 | OVA3 | OVA4 | Film >>

(December 23, 2015)
Humanity has successfully colonized all the planets in the Solar System, with intentions to continue into new frontiers. Individuals live stable lives in these colonies, including young high school students living in 4th Tokyo on Mars. Two of these students are Iris Shirazaki and Mizuki Sera. Iris is finishing her last year of high school while studying to be a test pilot while her friend Mizuki also works as a mechanic on the aircraft. Her own brother, Kaito, oversees Mizuki and Iris as their homeroom teacher and program director.

(December 23, 2015)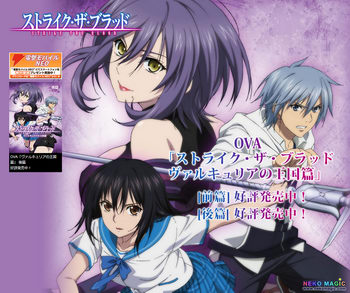 The Fourth Progenitor—that's the world's strongest vampire that should only exist in legends. Accompanied by twelve Kenjuu and spreading calamity, this phantom vampire appeared in Japan. For the observation and obliteration of this Fourth Primogenitor, the government and Lion King decided to dispatch an attack mage known as a Sword Shaman. However, for some reason, the one chosen for the observation was a apprentice Sword Shaman girl, Himeragi Yukina. Wielding the strongest anti-primogenitor spirit spear, Yukina arrived at Demon District, Itogami City. What is the true identity of the Fourth Primogenitor, Akatsuki Kojou, she encountered over there?!

(December 23, 2015/ January 27, 2016 / February 22, 2016)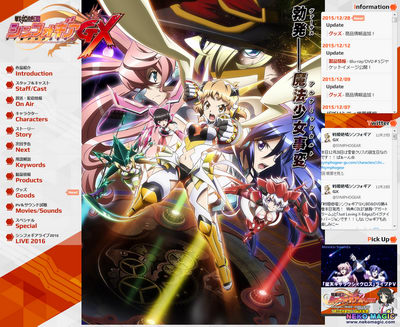 After the frontier incident, everyone who knew the circumstances believed the Noise were gone and the pain they caused was at an end. But a new conflict approached unseen. In the Yokohama Harbor Oosan-bashi Pier, a new pattern is detected that is similar to the Noise. A combat group wielding mysterious technology stands in the way of Hibiki and the others. When she hears of this enemy of unprecedented strength, Tsubasa hurries back home from England. But the Symphogear users see no opening to counterattack and are forced into a difficult fight. In this situation of extreme disparity, the battle for the song that will end the world begins.
Release Date: December 23, 2015/ January 27, 2016 / February 22, 2016
Studio: Satelight
Note: Short specials included in the BD/ DVD releases
Homepage: http://www.symphogear-gx.com/

(December 24, 2015)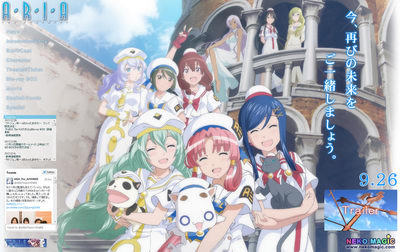 New Aria work produced for the "Ao no Curtain Call" project to celebrate the 10th anniversary of the broadcast of the first Aria TV series.
It will be released in three parts with the Blu-ray Boxes of Aria The Animation, Aria The Natural, and Aria The Origination.

(December 24, 2015)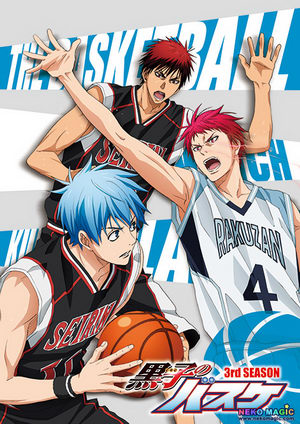 The third season of Kuroko no Basket. After winning a fierce game against Yosen High, Seirin High successfully advances on to the semifinals of the Winter Cup. They continue to aim to become the champions, but have to face many powerful opponents along the way.
Release Date: December 24, 2015
Studio: Production I.G
Note: Episode 75.5, bundled with limited edition BD/DVD Vo. 9
Homepage: http://www.kurobas.com/

(December 24, 2015/ January 29, 2016/ February 24, 2016)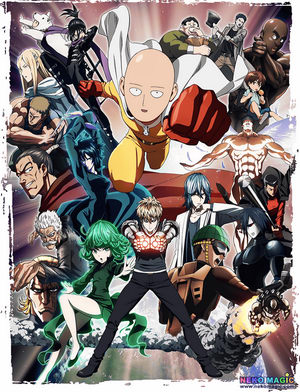 In this new action-comedy, everything about a young man named Saitama screams "AVERAGE," from his lifeless expression, to his bald head, to his unimpressive physique. However, this average-looking fellow doesn't have your average problem… He's actually a superhero that's looking for tough opponents! The problem is, every time he finds a promising candidate he beats the snot out of them in one punch. Can Saitama finally find an evil villain strong enough to challenge him? Follow Saitama through his hilarious romps as he searches for new bad guys to challenge!
Release Date: December 24, 2015/ January 29, 2016/ February 24, 2016
Studio: Madhouse
Note: Bundled with limited edition BD/DVD Vol. 1-3
Homepage: http://onepunchman-anime.net/

(December 25, 2015)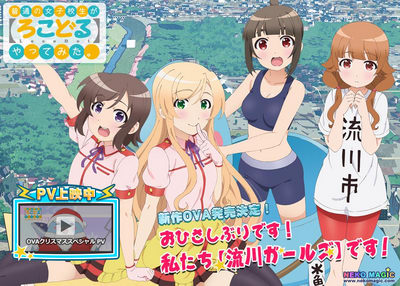 In the town of Nagarekawa, Nanako Usami, an ordinary high school girl, is approached by her uncle to become a local idol or "Locodol," partnering with upperclassman Yukari Kohinata to form the idol unit, Nagarekawa Girls. As the girls use their talent to promote Nagarekawa and their businesses, they are joined by Yui Mikoze, who acts as the local mascot, and Mirai Nazukari, who serves as Yui's substitute.

(December 25, 2015 / January 27, 2016 / February 24, 2016)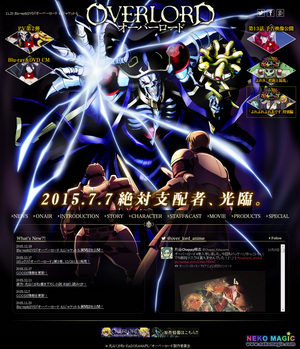 The story begins with Yggdrasil, a popular online game which is quietly shut down one day. However, when the protagonist Momonga decides to log out as the server shuts down, he found himself trapped in the world of Yggdrasil as his in game character, a powerful skeletal wizard. The world continues to change, with non-player characters (NPCs) beginning to feel emotion and becoming life-like. Momonga becomes cold and calculating, while having his emotions suppressed, as if he was not an actual human. Having no parents, friends, or place in society, this ordinary young man Momonga then strives to take over the new world the game has become.
Release Date: December 25, 2015 / January 27, 2016 / February 24, 2016
Studio: Madhouse
Note: Anime short bundled with BD/DVD Vol. 4-6
Homepage: http://overlord-anime.com/

(December 25, 2015/ January 27, 2016/ February 26, 2016)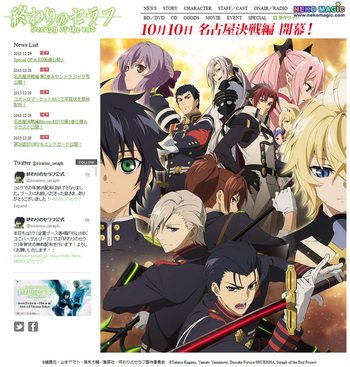 Yuuichirou has reunited with Mikaela at the Shinjuku Battle. But Mikaela was turned into a vampire… To save the "family," and to protect his fellow members, Yuuichirou needed to gain knowledge and power. He searched for ways to bring back vampire to human beings, and at the same time, trained hard working on the Cursed Gear.
Meanwhile, Kureto calls Guren and tells him a shocking truth. That in one month, the main unit of the vampire will start attacking Tokyo. To get a head start against vampires, Kureto orders Guren to go to Nagoya. The noble extermination mission is about to open fire!
Release Date: December 25, 2015/ January 27, 2016/ February 26, 2016
Studio: Arms
Note: Bundled with BD/DVD Vol. 1-3
Homepage: http://owarino-seraph.jp/

<< TV1 | TV2 | TV3 | TV4 | OVA1 | OVA2 | OVA3 | OVA4 | Film >>