2016 Winter anime Part 5: OVA/OAD/SP 1
Junjou Romantica (OVA)
One Punch Man (OVA)
Bikini Warriors (SP)
Hibike! Euphonium: Kakedasu Monaka (OAD)
Grisaia no Rakuen (SP)
Valkyrie Drive (SP)
Arslan Senki (SP)
Kamisama Hajimemashita Kako-hen (OAD)
One Piece Adventure of Nebulandia (SP)

<< TV1 | TV2 | TV3 | TV4 | OVA1 | OVA2 | OVA3 | OVA4 | Film >>

(December 01, 2015)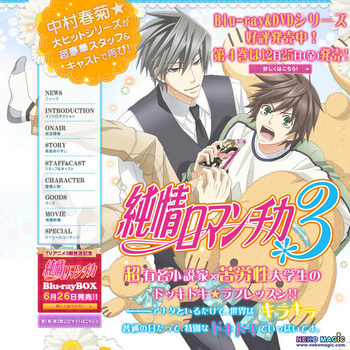 Three very different couples caught up in a storm of pure romance!
Romantica: Misaki is struggling to prepare for his college entrance exams, so his brother arranges for a private tutor. But Misaki's nightmare is just beginning when his tutor, Usami, comes on to him! How will Misaki ever manage to pass his exam? And why does he feel so mysteriously drawn to Usami?
Egoist: Just when Kamijou's life is at its lowest, he has a chance meeting with a man who never lets anything hold him back: Nowaki. His name means "typhoon," and he's about to take Kamijou on a whirlwind ride that will turn everything upside-down.
Terrorist: Miyagi always seems to shrug off the cares of the world with a joke and a smile, but even he has problems, although he doesn't let them show. Foremost is Shinobu, a relentless young man who's adamant that they're destined to be together.
Release Date: December 01, 2015
Studio: Studio Deen
Note: Bundled with limied premium edition manga Vol. 20
Homepage: http://suzukisan.info/

(December 04, 2015)
Bundled with the tenth volume of One Punch-Man manga. While Saitama is training to become a hero, he needs one more thing before he can become a real hero. The origins of his hero suit is revealed.

(December 09, 2015)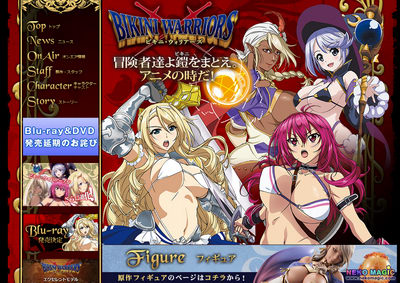 A team of four brave women — Fighter (also the daughter of a legendary warrior who saved the country in the past), Paladin, Mage, and Darkelf — accept the quest of saving the world from destruction. In order to achieve the goal they have to barter with villagers and fight against numerous monsters in their sexy and scantily-clad bikinis.

(December 16, 2015)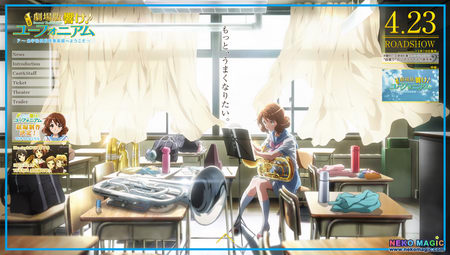 The 10 members of the concert band club who failed Taki's audition form "Team Monaka" to support the club members participating in the Kyoto Concert Band competition. Even as they support the performers, they continue to hone their playing, and make monaka-shaped good-luck charms to hand out to their club mates before the competition. Although they didn't play in the competition, they still had things they had to do. But on the day of the competition, the members on their way to the concert hall receive a shocking message! This is Team Monaka's hot summer story.
Release Date: December 16, 2015
Studio: Kyoto Animation
Note: Extra episode bundled with BD/DVD Vol. 7
Homepage: http://anime-eupho.com/

(December 16, 2015)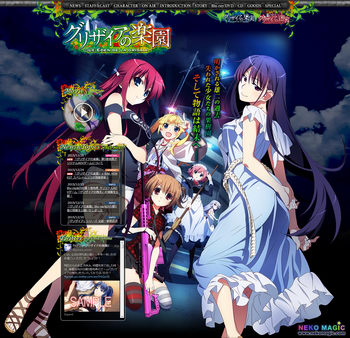 The story picks up immediately after the events of Grisaia no Meikyuu, with Kazami Yuuji having been detained for suspected involvement with an international terrorist organization, lead by Heath Oslo, that has managed to enter Japan's borders with a devastating new weapon of mass destruction in hand. Meanwhile, at Mihama Academy, the remaining students find themselves with time running out. Due to financial issues, the school is set to close within the month. Over the past year, though, the girls of Mihama have finally begun to find their own legs, thanks to Yuuji's involvement. Are they really just going to bury their heads in the sand and let the world change around them? And are they really willing to let the man who changed their lives slip away without so much as trying to win him back? As the end of their time at Mihama Academy approaches, Amane, Makina, Sachi, Yumiko, and Michiru find themselves arriving at a single conclusion.

(December 18, 2015/ January 27, 2016/ February 24, 2016)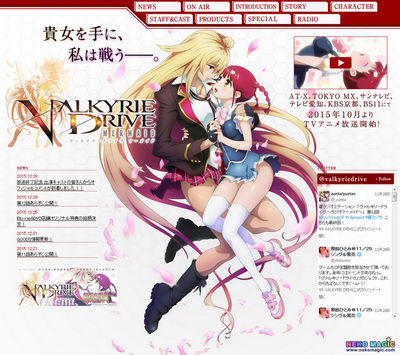 The "beautiful girl sexy battle action" anime is set on five artificial islands. Mamori is a "mermaid" transferred to one of those islands. When Mamori is attacked, a newly transferred girl named Mirei saves her. The enemy doesn't stop, however, and the two are soon cornered. Just when they think all hope is lost, Mirei kisses Mamori, and Mamori turns into a sword. Mirei then wields the sword and launches a counterattack against their enemies.
Release Date: December 18, 2015/ January 27, 2016/ February 24, 2016
Studio: Arms
Note: Mini OVA included in the BD/ DVD releases
Homepage: http://valkyriedrive.jp/anime/

(December 18, 2015/ January 27, 2016/ February 24, 2016)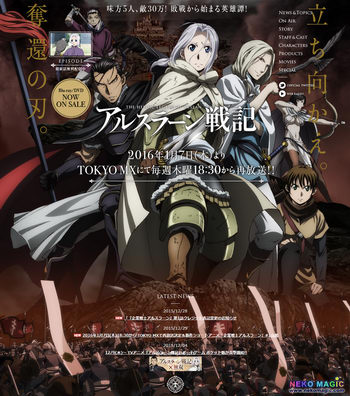 In the prosperous kingdom of Pars lies the Royal Capital of Ecbatana, a city of splendor and wonder, ruled by the undefeated and fearsome King Andragoras. Arslan is the young and curious prince of Pars who, despite his best efforts, doesn't seem to have what it takes to be a proper king like his father.
At the age of 14, Arslan goes to his first battle and loses everything as the blood-soaked mist of war gives way to scorching flames, bringing him to face the demise of his once glorious kingdom. However, it is Arslan's destiny to be a ruler, and despite the trials that face him, he must now embark on a journey to reclaim his fallen kingdom.
Release Date: December 18, 2015/ January 27, 2016/ February 24, 2016
Studio: Sanzigen, Lidenfilms
Note: Short specials included in the BD/ DVD releases
Homepage: http://www.arslan.jp/

(December 18, 2015)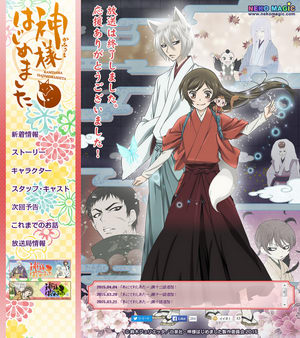 OADs based on the "past arc" of the series, which spans the 14th through 17th volumes of the manga.

(December 19, 2015)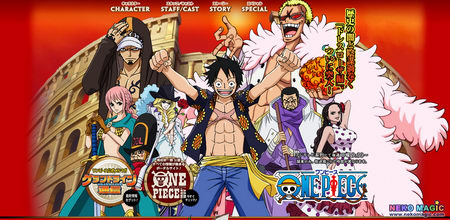 This special will have the Straw Hats fight Foxy again in the New World on Nebulandia, an island that nullifies Devil Fruit powers.

<< TV1 | TV2 | TV3 | TV4 | OVA1 | OVA2 | OVA3 | OVA4 | Film >>