2016 Winter anime Part 2: TV anime 2
Ojii-san to Marshmallow (TV)
Shouwa Genroku Rakugo Shinjuu (TV)
Gate: Enryuu-hen (TV)
Sekko Boys (TV)
Divine Gate (TV)
Oshiete! Galko-chan (TV)
Reikenzan (TV)
Koukaku no Pandora: Ghost Urn (TV)
Tabi Machi Late Show (TV)
Durarara!!x2 Ketsu (TV)
As of I'm writing this now, it is still 2015 in my time zone (PST) but it will be over in less than 6 hours. These four 2016 Winter anime post will be my last post in 2015. And I'll come back and post the rest of the OVA and Film in 2016! =D

<< TV1 | TV2 | TV3 | TV4 | OVA1 | OVA2 | OVA3 | OVA4 | Film >>

(January 07, 2016)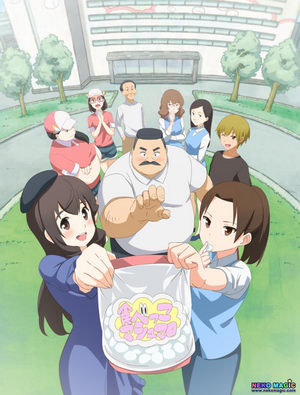 The story centers around Hige, an older man who loves marshmallows, and Wakabayashi, an OL (office lady) who loves Hige. The manga follows as their relationship unfolds at their office.

(January 08, 2016)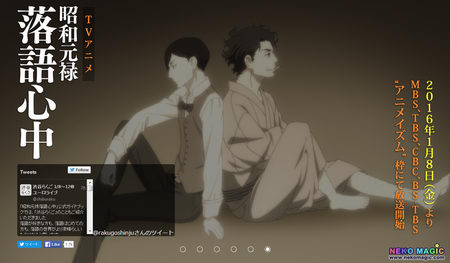 Shouwa Genroku Rakugo Shinjuu revolves around a mature prisoner who was released on good behavior during Japan's Showa Genroku era. He is called Yotarou by others, a term that means an "anti-hero" or a "dim-witted man." When he returns to society, he starts a new life in rakugo (comic storytelling). Touched by a performer named Yakumo's rendition of a story called Shinigami, Yotarou asks Yakumo to take him in as an apprentice to which Yakumo agrees.

(January 08, 2016)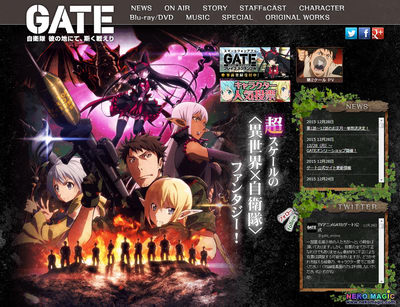 Second planned cour of GATE: Jieitai Kanochi nite, Kaku Tatakaeri.
A gate appears in Tokyo's Ginza district sometime in the 21st century. From the gate pours out monsters, knights from middle-age Europe, and other fantasy-like beings, and they kill many of the citizens of Tokyo. This event is known as the Ginza Incident. The government sends a small group of soldiers from the Japanese Self-Defense Forces to the alternate world beyond the gate. Led by otaku soldier Youji, they find that the villages in the world are being attacked by a dragon. An elf girl who is a survivor from the dragon's rampage joins the group in their travels across the dangerous new world.

(January 08, 2016)
Sekko Boys is a unit of four stone figures — the military saint and group leader Saint Giorgio, history's original celebrity Medici, the strikingly handsome and multi-talented Hermes, and the god of war Mars who is earnest about love — who become idiosyncratic idols. The story depicts their efforts to make it in the entertainment world with their female manager Miki Ishimoto, who just graduated from college.

(January 08, 2016)
When the Divine Gate opened, the living world, the heavens, and the underworld became connected, ushering an era of chaos where desires and conflict intersect. To restore order, the World Council is formed. As peace is restored, the Divine Gate becomes an urban legend. In that world, boys and girls deemed fit by the World Council are gathered. They are ones who aim to reach the gate for their personal objectives. Those who reach the gate can remake the world. What lies beyond the gate? When they reach the door, will the world change? Will it be the past that changes, or will it be the future?

(January 08, 2016)
Oshiete! Galko-chan follows the everyday lives of three high school girls who are close friends: Galko, Otako, and Ojō. Galko is a slightly foul-mouthed but good-natured girl who is popular in her class. Her hobby is film appreciation. Otako is a girl who sits in the corner of the classroom, but for some reason is good friends with Galko. Ojō is an airheaded girl who often talks with Galko and Otako.

(January 08, 2016)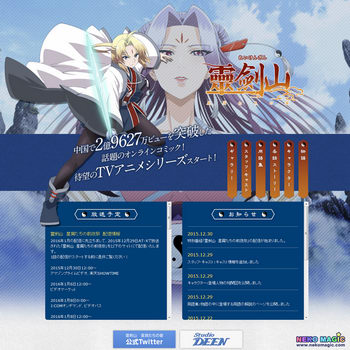 A comet falling will bring about a great calamity, and in order to choose a child fated by the falling comet, the family of the "Reiken" clan with a long storied history is once again resuming its entrance examination process to find disciples. The protagonist Lu Wang, who possesses a special soul that is only available once in a thousand years, decides to take the exam, and he starts down the path toward becoming an exceptional sage.

(January 08, 2016)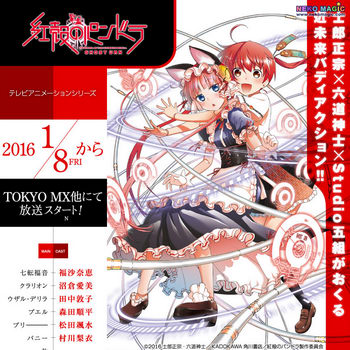 When Nanakorobi Nene, a cybernetically-enhanced girl-next-door, heads to the island metropolis of Cenancle to live with her aunt, she has no way of knowing what's in store for her. A chance meeting intertwines her fate with that of the super-rich inventor, Uzal Delilah, and her adorable and grumpy companion, Clarion, who happens to be a cyborg just like Nene. Nene is thrilled to make a friend, but there's more to Uzal and Clarion – and the island of Cenancle itself – than meets the eye. When a super-powered terrorist threatens Cenancle, Uzal claims that the only way to avert disaster is for Nene to team up with Clarion and use their combined powers – abilities Nene never even knew she had!

(January 08, 2016)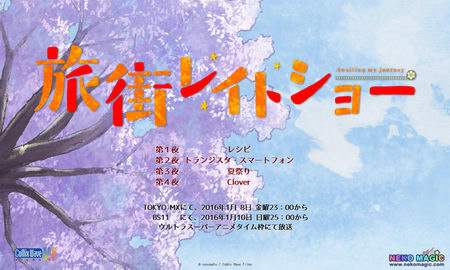 Tabi Machi Late Show will have a theme of "goodbyes and journeys," and will air four episodes, titled "Recipe," "Transistor Smartphone," "Natsu Matsuri" (Summer Festival), and "Clover." No further information is known.

(January 09, 2016)
The third and final cour in Durarara!!'s second season.
Half a year after the turmoil that rocked the entire city of Ikebukuro, peace has once again returned to the city, and people are living each day normally. The high school students enjoy their days of youth as the strongest and most dangerous man of Ikebukuro works diligently. The informant plots (or plans) a new scheme and the headless rider is pursued by the cops as she rides through the night… But soon this normal will be cut short by the abnormal. Slowly but surely, the unknown will seize the city and face an all new storm.

<< TV1 | TV2 | TV3 | TV4 | OVA1 | OVA2 | OVA3 | OVA4 | Film >>