2016 Winter anime Part 1: TV anime 1
Prince of Stride Alternative (TV)
Haruchika: Haruta to Chika wa Seishun Suru (TV)
Myriad Colors Phantom World (TV)
Boku Dake ga Inai Machi (TV)
Dagashi Kashi (TV)
Assassination Classroom 2 (TV)
Active Raid (TV)
Phantasy Star Online 2 (TV)
Shoujo-tachi wa Kouya wo Mezasu (TV)
Norn9: Norn+Nonette (TV)
As of I'm writing this now, it is still 2015 in my time zone (PST) but it will be over in less than 6 hours. These four 2016 Winter anime post will be my last post in 2015. And I'll come back and post the rest of the OVA and Film in 2016! =D

<< TV1 | TV2 | TV3 | TV4 | OVA1 | OVA2 | OVA3 | OVA4 | Film >>

(January 05, 2016)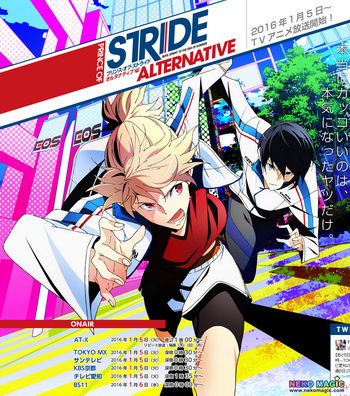 Prince of Stride Alternative revolves around a closed-down "Stride" club at Hounan Academy. Stride is an extreme sport that involves six people on one team who run relay races through towns. Hounan Academy and other schools compete to win eastern Japan's top Stride competition, "End of Summer." First-year high school students Takeru Fujiwara and Nana Sakurai attempt to restart the club, but they must recruit six members for the team. They ask Riku Yagami to join, but he turns them down by saying that Stride is the one thing he doesn't want to do. However, Takeru and Nana drag Riku into the clubroom to try to convince him.

(January 06, 2016)
Haruta and Chika are members of their high school wind instrument club that is on the verge of being shut down. The two are childhood friends, and they spend their days practicing hard while also trying to recruit new members. When a certain incident happens within their school, they work together to solve it.

(January 06, 2016)
Myriad Colors Phantom World takes place in the near future, in a world born of human imagination. What humans would call ghosts or monsters appear, and they come to be called "phantoms." The main character, Haruhiko Ichijou, is a first year at Hosea Academy along with his upperclassman Mai Kawakami, who fights phantoms with the ability "Spirit of Five Elements," Izumi Reina, who has the ability "Phantom Eater," and Koito Minase, who fights phantoms in solitude. They experience the ups and downs of high school life before a certain incident leads them to the truth of this world.

(January 07, 2016)
Satoru Fujinuma is a struggling manga artist who has the ability to turn back time and prevent deaths. When his mother is killed he turns back time to solve the mystery, but ends up back in elementary school, just before the disappearance of his classmate Kayo.

(January 07, 2016)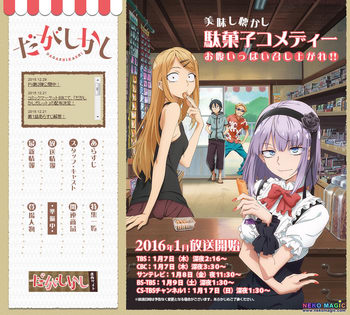 Dagashi Kashi follows Kokonotsu, who does not want to inherit his family's rural candy store as his father wishes. One day, A girl named Hotaru, who's crazy about small-time candy stores, appears at the store. Hotaru wants Kokonotsu's father to join her family's candy company, but he will only accept if she can convince Kokonotsu to take over the family business.

(January 07, 2016)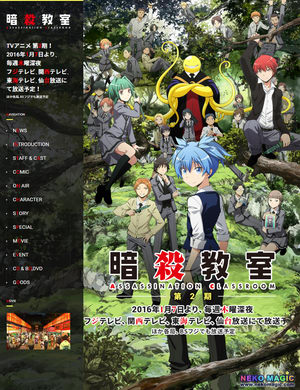 Second season of Assassination Classroom. One day, the moon exploded, leaving it in a perpetual crescent-moon shape. The creature who claims responsibility for the destruction also claims it will destroy the world in March of next year. With powers beyond human comprehension, no military can stand against it. Yet, for some reason, it chooses to take up occupancy as a teacher in the worst class of Kunugigaoka Middle School. The fate of the world rests in the hands of its students, as they have until graduation to figure out how to kill their teacher.

(January 07, 2016)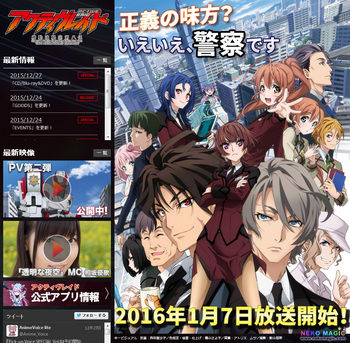 Set in a part of Tokyo that has descended into a quagmire, the story follows Unit 8 of the 5th Special Public Security Section's 3rd Mobile Assault Division – popularly called "The Eighth" – who don powered armor "Willware" exoskeletons to counter the rise in crime.


(January 07, 2016)
Buntarou is a student who wants to be something, but doesn't know what. One day his female classmate Sayuki announces she is working on a bishoujo (pretty girl) game. Sayuki scouted him because he wrote a good script for drama club, but Buntarou doesn't know anything about bishoujo games.

(January 07, 2016)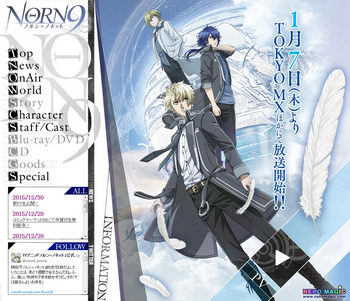 Guided by one particular song, young elementary school student Suzuhara Sorata, from the Heisei Era, is warped through a time skip to an unfamiliar place that looks much like the towns from the Meiji or Taishou period from his textbooks. In this world, he meets three young ladies and nine young men and joins them on a journey aboard the mysterious Norn ship, a giant globe that floats in midair.

<< TV1 | TV2 | TV3 | TV4 | OVA1 | OVA2 | OVA3 | OVA4 | Film >>