2015 Fall anime Part 10: Film 2
UFO Gakuen no Himitsu
Cyborg 009 VS Devilman
Tobidasu PriPara Mi~nna de Mezase! Idol Grand Prix
Movie! Princess Precure Go! Go!! Gouka 3-bon Date!!
<harmony/>
Genocidal Organ
Girls und Panzer the Movie
Digimon Adventure Tri. 1: Saikai
Tamayura: Sotsugyou Shashin
Ajin: Shoudou

<< TV1 | TV2 | TV3 | TV4 | TV5 | OVA1 | OVA2 | OVA3 | Film1 | Film2 >>

(October 10)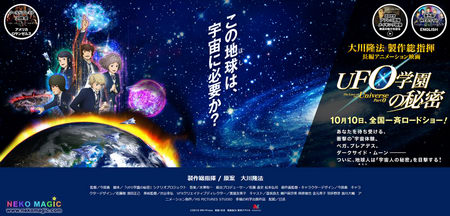 Ray, Anna, Tyler, Halle, and Eisuke are five high school students who are suddenly wrapped up in a mysterious incident.
An alien species called Grey abducts Halle's sister and embeds her with a special chip inside her brain. The five stand up to save Halle's sister and try to reveal the existence of aliens, but continue to be met with mysterious events.
The high school students' story progresses into a shocking development!
What truths hide on the dark side of the moon? What are the true intentions of the aliens that are infiltrating America, Russia, and China? What is the true crisis that is closing in on Earth and what hope can we have towards the future!?

(October 17)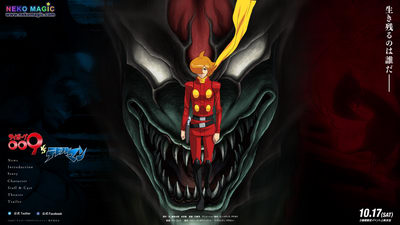 Cyborg 009 vs. Devilman is a crossover anime which was announced separately as new works of Cyborg 009 (in March 2015) and Devilman (in April 2015). The two were later revealed to be a single work. It was screened in theaters for a two-week period beginning October 17, 2015, before being released as OVAs. Ishimori Production co-sponsored the production as part of the 50th anniversary of the Cyborg 009 manga.


(October 31)
Go! Princess Precure Movie will have its world premiere on October 24, 2015, at Shinjuku Wald 9 as part of the 28th Tokyo International Film Festival. It will open in theaters on October 31, 2015.
Part 1, Pumpkin Oukoku no Takaramono, will feature the four Precure girls from Go! Princess Precure trying to rescue a princess who is held captive.
Part 2, Precure to Refi no Wonder Night!, is set in the Night Kingdom lost its daytime, the Precure team fight to take the daytime back alongside the princess Refi.
Part 3, Cure Flora to Itazura Kagami, will be a dialogue-less story featuring Cure Flora and a mischievous ghost in a mirror.

(November 12)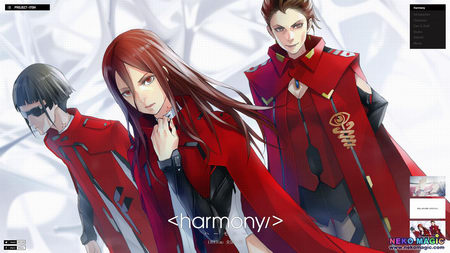 In the future, Utopia has finally been achieved thanks to medical nanotechnology and a powerful ethic of social welfare and mutual consideration. This perfect world isn't that perfect though, and three young girls stand up to totalitarian kindness and super-medicine by attempting suicide via starvation. It doesn't work, but one of the girls—Tuan Kirie—grows up to be a member of the World Health Organization. As a crisis threatens the harmony of the new world, Tuan rediscovers another member of her suicide pact, and together they must help save the planet…from itself.

(November 13)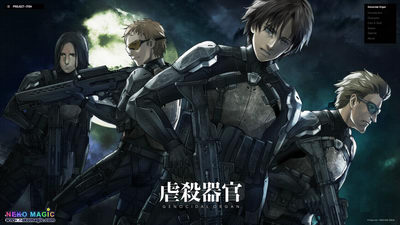 The war on terror exploded, literally, the day Sarajevo was destroyed by a homemade nuclear device. The leading democracies transformed into total surveillance states, and the developing world has drowned under a wave of genocides. The mysterious American John Paul seems to be behind the collapse of the world system, and it's up to intelligence agent Clavis Shepherd to track John Paul across the wreckage of civilizations and to find the true heart of darkness—a genocidal organ.

(November 21)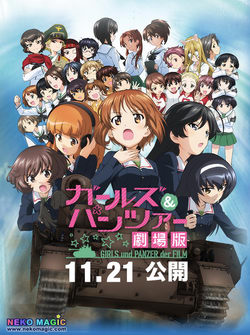 The theatrical version of the Girls und Panzer TV anime. According to the "The Ibaraki Shimbun" paper, the movie is a direct sequel to the TV anime.
You may have heard of kung fu, but the girls at Oarai High School practice gun-fu—really, really BIG 75mm gun-fu, in fact. It's called Sensha-do, and it's the martial art of operating armored tanks! They take it seriously too, and since winning the national Sensha-do championship is such a huge deal at Oarai, they sometimes go to extreme ends in order to get the best students from Panzer class to sign up. Which is how Miho Nishizumi, who HATES operating tanks, gets drafted to join doomsday-driven driver Mako, even-triggered gunner Hana, highly receptive radio operator Saori and combustible tank-fangirl and loader Yukari as the incomparable Anko Team. They may not be on the half-track to fame and fortune, and maybe a few of them would rather shop for tank tops than become tops in tanks, but once their focus is locked and loaded, they're absolutely driven.

(November 21)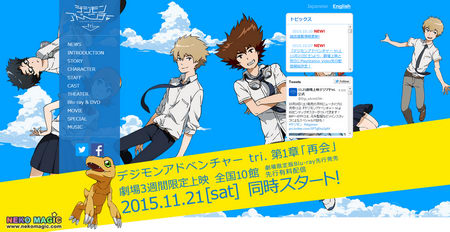 Fifteen years after the summer vacation.
If we didn't go to the Digital World. If I didn't make this trip with others. If we didn't change at all like this.
These Digimon were always with us. We've been friends all the time. We learned the importance of helping each other. All the things have made us what we are!
New stories for all the "DigiDestined" in the world. Taichi, seventeen, high school days.

(November 27)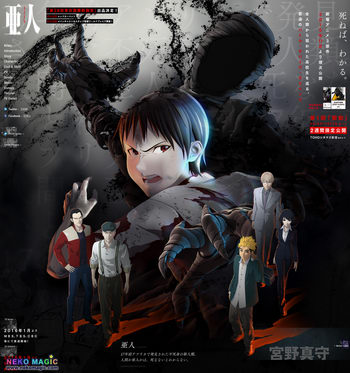 Ajin Part 1: Shoudou will have its world premiere on October 28, 2015, at TOHO Cinemas Roppongi Hills as part of the 28th Tokyo International Film Festival. It will open in theaters on November 27, 2015.
For high schooler Kei—and for at least forty-six others—immortality comes as the nastiest surprise ever.
Sadly for Kei, such a feat doesn't make him a superhero. In the eyes of both the general public and governments, he's a rare specimen who needs to be hunted down and handed over to scientists to be experimented on for life—a demi-human who must die a thousand deaths for the benefit of humanity.

(November 28)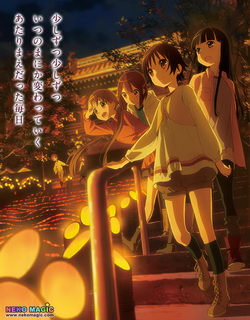 The third movie of a four-part finale of Tamayura.

<< TV1 | TV2 | TV3 | TV4 | TV5 | OVA1 | OVA2 | OVA3 | Film1 | Film2 >>