2015 Fall anime Part 9: Film 1
Kaiketsu Zorori: Uchuu no Yuusha-tachi
Haikyuu!! The movie Shousha to Haisha
Kokoro ga Sakebitagatterun Da.
Wake Up, Girls! Seishun no Kage
Aria the Avvenire
Shisha no Teikoku
Aoki Hagane no Arpeggio: Ars Nova Cadenza
Little Witch Academia: Mahou Shikake no Parade
Gamba: Gamba to Nakama-tachi

<< TV1 | TV2 | TV3 | TV4 | TV5 | OVA1 | OVA2 | OVA3 | Film1 | Film2 >>


(September 18)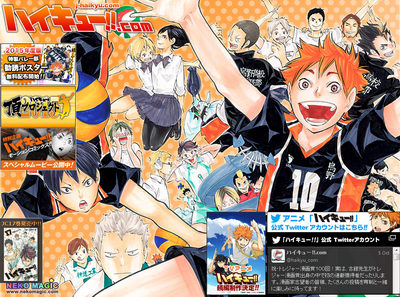 Second Haikyuu recap movie.
Inspired after watching a volleyball ace nicknamed "Little Giant" in action, small-statured Shouyou Hinata revives the volleyball club at his middle school. The newly-formed team even makes it to a tournament; however, their first match turns out to be their last when they are brutally squashed by the "King of the Court," Tobio Kageyama. Hinata vows to surpass Kageyama, and so after graduating from middle school, he joins Karasuno High School's volleyball team—only to find that his sworn rival, Kageyama, is now his teammate.
Thanks to his short height, Hinata struggles to find his role on the team, even with his superior jumping power. Surprisingly, Kageyama has his own problems that only Hinata can help with, and learning to work together appears to be the only way for the team to be successful. Based on Haruichi Furudate's popular shounen manga of the same name, Haikyuu!! is an exhilarating and emotional sports comedy following two determined athletes as they attempt to patch a heated rivalry in order to make their high school volleyball team the best in Japan.

(September 19)
Jun is a girl whose words have been sealed away. She was once a very happy girl, but because of a certain thing she said when she was very young, her family was torn apart. One day, the egg fairy appeared in front of her and sealed away her ability to talk in order to stop her from hurting anybody else. Since this traumatic experience, Jun lives in the shadows away from the limelight. But, one day, she is nominated to become an executive member of the "community outreach council." On top of that, Jun is also appointed to play the main lead in their musical…

(September 25)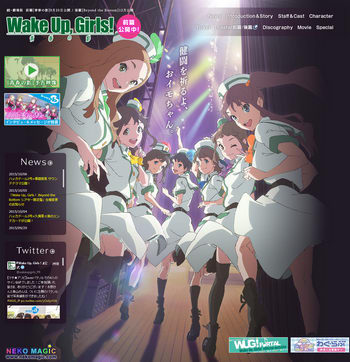 Movie sequel of Wake Up, Girls!, announced at Wake Up, Girls! Festa.2014 Winter.
Green Leaves Entertainment is a tiny production company on the verge of going out of business in Sendai, the biggest city in Japan's northeastern Tohoku region. The agency once managed the careers of magicians, photo idols, fortune-tellers, and other entertainers, but its last remaining client finally quit. In danger of having zero talent (literally), the president Tange hatches an idea of producing an idol group. On the brash president's orders, the dissatisfied manager Matsuda heads out to scout raw talent. Matsuda makes a fateful encounter with a certain girl…

(September 26)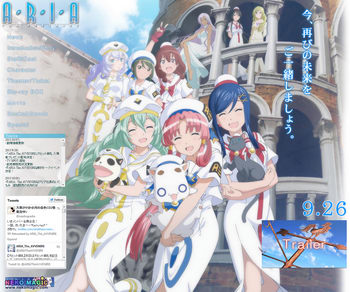 New Aria work produced for the "Ao no Curtain Call" project to celebrate the 10th anniversary of the broadcast of the first Aria TV series.
Aria The Avvenire will be previewed in theaters in Japan on September 26, 2015. It will be released in three parts with the Blu-ray Boxes of Aria The Animation, Aria The Natural, and Aria The Origination.

(October 02)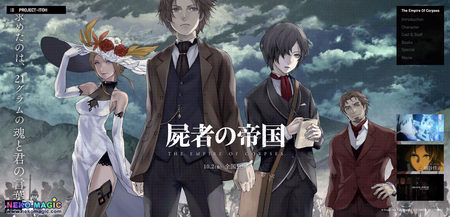 The story of Shisha no Teikoku takes place in 19th century Europe, and revolves around John Watson. He is scouted by the government to become a secret agent. However, Watson lives in a world where "Frankensteins", human corpses that are re-purposed with a false soul in order to use them as laborers, are used to improve industrial development.

(October 03)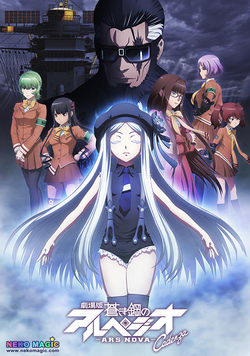 Second movie of Aoki Hagane no Arpeggio: Ars Nova which will be an entirely brand-new work.
By 2039, global warming had caused sea levels to rise and large amount of territory to be lost. As though in response, a mysterious group of warships clad in mist, "the Fleet of Mist," appeared in every corner of the ocean, and began attacking human ships. In spite of humanity mustering all their strength, they were utterly defeated by the Mist's overwhelming force. All of humanity's trade routes were blockaded by the Fleet of Mist, their political economy was destroyed, and the human race was steadily beaten down. Seven years later, the Fleet of Mist's submarine I-401 appears before cadet Gunzo Chihaya. The humanoid life form that pilots the sub, who should be their enemy, is instead offering her services to mankind.

(October 09)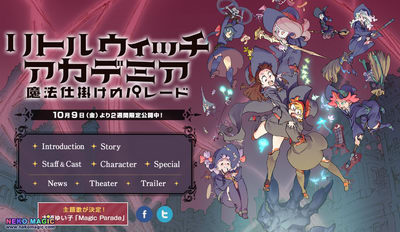 Student witches Akko, Sucy and Lotte are tasked with organizing a parade commemorating the role of witches for the annual town festival. Sleeping giants, ambitious mayors, insolent boys, the girls' own squabbling and copious amounts of magic combine to create a spectacular event.

(October 10)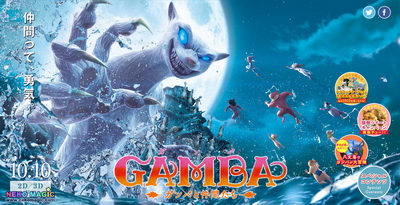 Atsuo Saitou's original 1972 novel is set in Yumemigajima, an island ruled by a fierce white weasel named Noroi. The town mouse Gamba and his friends fight to save the island's mice.

<< TV1 | TV2 | TV3 | TV4 | TV5 | OVA1 | OVA2 | OVA3 | Film1 | Film2 >>