2015 Fall anime Part 8: OVA/OAD/SP 3
Mobile Suit Gundam: The Origin (OVA)
Mini Vanguard (SP)
Jakusansei Million Arthur (SP)
Queen's Blade: Grimoire (OVA)
Triage X (OAD)
Haikyuu!! (SP)
Owari no Seraph: Owaranai Seraph (SP)
Shokugeki no Souma (SP)
Noragami (OAD)
Strike the Blood: Valkyria no Oukoku-hen (OVA)
Makura no Danshi (OAD)
Magical Suite Prism Nana (OVA)

<< TV1 | TV2 | TV3 | TV4 | TV5 | OVA1 | OVA2 | OVA3 | Film1 | Film2 >>

(October 31)
What was the tragedy that decided the fates of Char Aznable, the man later nicknamed the "Red Comet" as an ace pilot of the Zeon forces, and his sister Sayla Mass?
The two siblings' journeys, brought on by the sudden death of their father Zeon Zum Deikun who was a leader of the Spacenoids, are depicted in the four episodes of "Chronicle of Char and Sayla."
The Zabi family who seize control of Side 3 and lead the Principality of Zeon, the early days of many renowned Zeon ace pilots who later fight in the One Year War, the secrets of mobile suit development, conflicts with the Earth Federation Forces, and the road leading to the outbreak of war—all will be revealed.
(Source: Official website)

(October)
An animated flash series of the manga Mini Vanguard.
Release Date: October
Studio: DLE
Homepage: Mini Vanguard (SP)

Jakusansei Million Arthur (SP)
(October)
During the live-stream of the Majo Labo! program, it was announced that Kakusansei Million Arthur will be receiving an ONA adaptation. The ONA will be based on the official 4-koma web comic and will run for four cours, debuting in Fall.
Kakusansei Million Arthur is a card-battle game based on the legend of King Arthur. One million people also claim this title, wielding their own Excalibur. Developed by Square Enix, the game was originally released on iOS and Android in 2012 and since received a PlayStation Vita and Nintendo 3DS version in 2014.
The comic is based on the game and is drawn by Choboraunyopomi (Ai Mai Mi). It was published online in October 2014 and currently, there are 17 chapters.
Release Date: October
Studio: Square Enix
Homepage: Jakusansei Million Arthur (SP)

(October)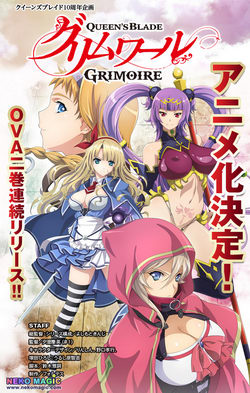 A scan of the latest issue of Hobby Japan magazine, released on April 25, announced that Queen's Blade Grimoire will be adapted into an OVA. Comprised of two disc volumes, it will be bundled with the release of the next visual combat book of the Queen's Blade series in Fall 2015. The project is made to commemorate the 10th anniversary of Queen's Blade.
The project will feature a new cast, set in a parallel multiverse, with the characters fighting using Grimoires (magical books).

(November 02)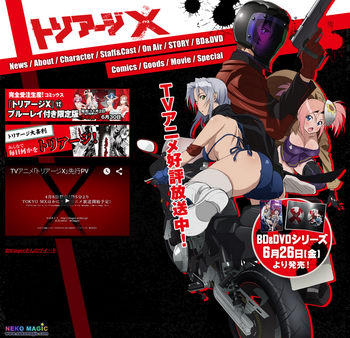 Unaired episode 11 of the Triage X series bundled with the 12th manga volume.
Mochizuki General Hospital boasts some of the most well-trained (and well-endowed) nurses in town. But though these ladies spend much of their day battling sickness, their after-hours are spent fighting a very different sort of disease… Under the leadership of the hospital chairman, a handful of staff members and local teenagers form a group of mercenary assassins, targeting the "cancers" of society and excising those individuals before their wickedness spreads.
Release Date: November 02
Studio: Xebec
Note: Bundled with Limited Edition manga Vol. 12
Homepage: http://triagex-anime.jp/

(November 03)

According to the 39th issue of Shueisha's Weekly Shounen Jump magazine, sports manga Haikyuu!! will receive a new episode set after the first anime season at Jump Special Anime Festa 2015. Works serialized in Shounen Jump magazines will be exhibited at the event, to be held November 3–15 in nine cities throughout Japan.
Release Date: November 03
Studio: Production I.G
Note: Original event anime special at this year's Jump Special Anime Festa tour
Homepage: http://www.jumpfesta.com/anime/

(November 03)

An original anime screened at Jump Festa 2015 events.
One day, a mysterious virus appeared on Earth which killed every infected human over the age of 13. At the same time, vampires emerged from the world's dark recesses and enslaved mankind. Enter Hyakuya Yuuichirou, a young boy, who along with the rest of the children from his orphanage, are treated as livestock by the vampires. Even in captivity, Yuuichirou dreams big. He dreams of killing vampires. He dreams of killing them all.

(November 03)

An original anime screened at Jump Festa 2015 events.
Ever since he was a child, fifteen-year-old Souma Yukihira has helped his father by working as the sous chef in the restaurant his father runs and owns. Throughout the years, Souma developed a passion for entertaining his customers with his creative, skilled, and daring culinary creations. His dream is to someday own his family's restaurant as its head chef.
Yet when his father suddenly decides to close the restaurant to test his cooking abilities in restaurants around the world, he sends Souma to Tootsuki Culinary Academy, an elite cooking school where only 10 percent of the students graduate. The institution is famous for its "Shokugeki" or "food wars," where students face off in intense, high-stakes cooking showdowns.
As Souma and his new schoolmates struggle to survive the extreme lifestyle of Tootsuki, more and greater challenges await him, putting his years of learning under his father to the test.

(November 17)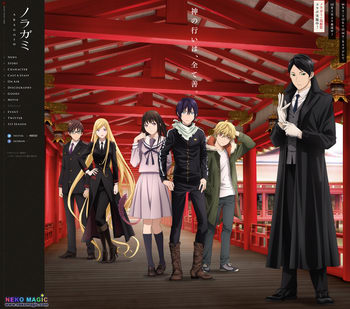 Bundled with the limited editions of the 15th and 16th volumes of the manga.
15th volume DVD is planned to be released on November 17, 2015. It will adapt the Nijikan no Teikei ni So Koto (Following A Stereotypical Two Hours) story from the first volume of the Noragami: Shuuishuu spinoff manga
16th volume DVD will adapt the manga's 41st chapter where the main characters go to "Capyper Land."

(November 25)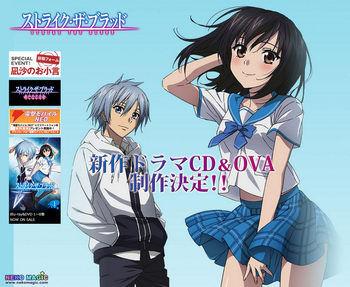 It was officially announced at the Dengeki Game Festival 2015 event that Strike the Blood will be getting a two-episode OVA series to be released at the end of 2015. The OVA will be an original story written by Gakuto Mikumo.
Release Date: November 25
Studio: Silver Link
Note: Related to the Strike the Blood TV series. A two-part project, with an original story from Mikumo
Homepage: http://www.strike-the-blood.com/

(November 27)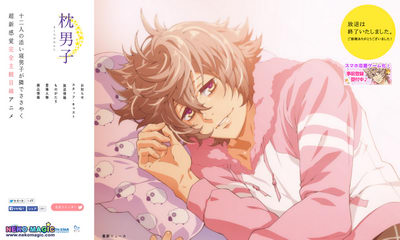 Unaired episode bundled with the Makura no Danshi DVD.
Makura no Danshi, the new television anime from Earth Star Entertainment will premiere this July. This "new and novel animation entirely in the first-person perspective" is designed to "heal tired hearts."
Natsuki Hanae will play one of 12 "makura no danshi" (pillow boys), all full of distinctly individual personalities and each catering to viewers who like a certain "type." The boys all live in the same town underneath a starry sky. Each of the "makura no danshi" will star his own weekly episode as they "sleep beside you and whisper."
Release Date: November 27
Studio: feel.
Note: Unaired episode bundled with Makura no Danshi DVD
Homepage: http://makuranodanshi.com/

(November 29)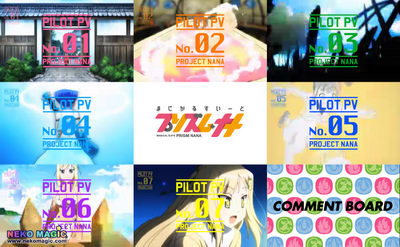 In a future not too distant from ours, Nanagoo City is a beautiful city in Japan surrounded by mountains and ocean-sides. The sensitive, adolescent girls who live there are each opening up doors to their own, unique possibilities. No one wants to forget the path they take to adulthood.

<< TV1 | TV2 | TV3 | TV4 | TV5 | OVA1 | OVA2 | OVA3 | Film1 | Film2 >>