2015 Fall anime Part 7: OVA/OAD/SP 2
Tokyo Ghou: Jack (OVA)
Big Order (OVA)
Hero Company (OVA)
Fate/stay night: Unlimited Blade Works – Sunny Day (BD)
Hantsu x Trash (OAD)
Urawa no usagi-chan (OAD)
Himouto! Umaru-chan (OVA)
Grisaia no Rakuen (OAD)
Nagato Yuki-chan no Shoushitsu (OVA)
High School DxD BorN (OAD)
To LOVE-Ru Darkness 2nd (SP)

<< TV1 | TV2 | TV3 | TV4 | TV5 | OVA1 | OVA2 | OVA3 | Film1 | Film2 >>

(September 30)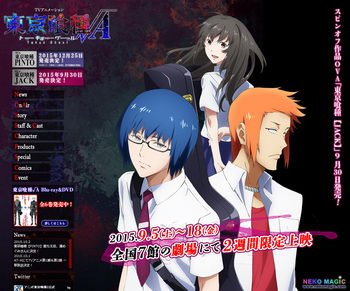 The story will focus on the high school days of Kishou Arima, the CCG's shinigami.

(September 30)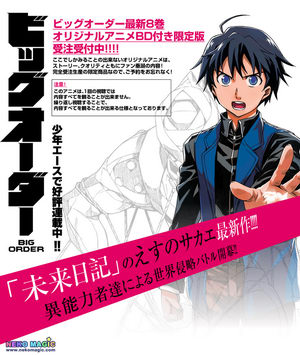 The wraparound jacket band on the seventh compiled volume of Sakae Esuno's Big Order manga is announcing on Monday that the eighth volume will bundle an original anime Blu-ray disc. The limited edition volume with the bundled anime is slated to ship in Japan on October 3.
The story centers on an introverted high school student named Eiji Hoshimiya with a huge secret—he wished for the destruction of the world when he was younger. Fairies give certain people special powers called Orders, and what Order Users can do with their power depends on their wishes. Ten years after the Great Destruction, Eiji struggles to come to terms with his immense power.

(October 05)

"A hero" is a job that in the face of danger and adversity or from a position of weakness, display courage and the will for self-sacrifice. Would you like to work as such a hero in our company? You may transform, manipulate a huge robot or fight as a squad. Shall we realize your dream in our "Hero Company"?!

(October 07)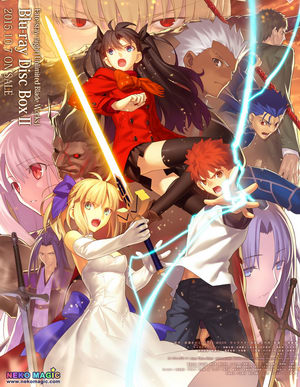 Included with the second Blu-ray box set for the series, the short adapts "sunny day," an alternate "good" ending to the "Unlimited Blade Works" route from the original Fate/stay night game.
Release Date: October 07
Studio: ufotable
Note: 10-minute short anime bundled with Limited Edition BD box (2nd)
Homepage: http://www.fate-sn.com/

(October 10)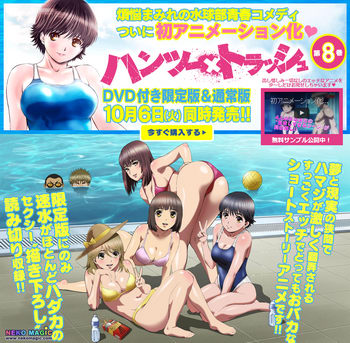 Hamaji Youhei, a high school freshman, lives his life aimlessly, lazing around all day. He can't keep up with his studies, no good at sports and won't stick with anything for long. Besides that he's a pervert who's continuously rejected by girls. A sophomore convinces him into joining a club where he could lunge at girls, fondling and touching all he wanted. Thus he joined the Water Polo Club.
Can Youhei, who never sticks with anything for long, find his place in this club?

(October 16)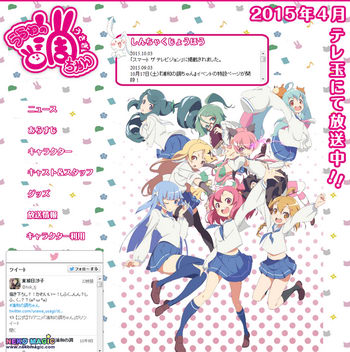 Unaired episode included in Blu-ray and DVD sets. An original anime to advertise Urawa City in Saitama, Japan.
Release Date: October 16
Studio: TBA
Note: Unaired episode bundled with BD/DVD set
Homepage: http://urawa-usagi.com/

(October 19)
Unaired episode of Himouto! Umaru-chan included with the manga's seventh compiled volume.
Umaru is a renowned beautiful 16-year-old girl in town, living with her elder brother Taihei. She acts a perfect sister with a kind heart, intelligence and popularity, who everybody admires. So who would believe how true Umaru is at home? Sleeping, gaming, watching TV, eating junk food, drinking cola… that's almost all she does at home, leaving all the housework to her brother.
Her camouflage is so perfect that when one of her classmates visits her home by surprise and witnesses "true Umaru," she pretends as if she is Umaru's younger sister. Taihei is always swayed by Umaru's gap between ostensible face and spoiled life, but he cannot hate his comical and somehow lovable cute little sister!
Release Date: October 19
Studio: Doga Kobo
Note: Unaired episode bundled with Limited Edition manga Vol. 7
Homepage: http://umaru-ani.me/

(October 23)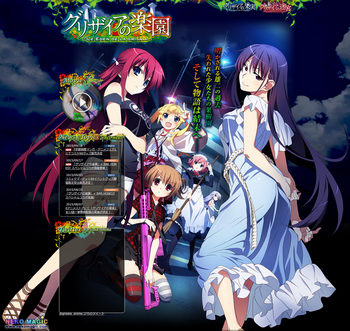 Short specials included in the Blu-ray and DVD releases.
The story picks up immediately after the events of Grisaia no Meikyuu, with Kazami Yuuji having been detained for suspected involvement with an international terrorist organization, lead by Heath Oslo, that has managed to enter Japan's borders with a devastating new weapon of mass destruction in hand. Meanwhile, at Mihama Academy, the remaining students find themselves with time running out. Due to financial issues, the school is set to close within the month. Over the past year, though, the girls of Mihama have finally begun to find their own legs, thanks to Yuuji's involvement. Are they really just going to bury their heads in the sand and let the world change around them? And are they really willing to let the man who changed their lives slip away without so much as trying to win him back? As the end of their time at Mihama Academy approaches, Amane, Makina, Sachi, Yumiko, and Michiru find themselves arriving at a single conclusion.
How much a group of students can do in the face of countries and organizations far bigger than any individual could hope to be remains to be seen. In the first place, Yuuji's position is far more complicated than any of them could have imagined, as he finds himself embroiled in an elaborate game of super-political chess revolving around both himself and an inconceivable new system slumbering in the depths of CIRS—a system that Yuuji may have more of a connection to than he thinks. One thing is for certain, though—the girls of Mihama are no longer willing to let the world steal things away from them without at least a bit of resistance first. And with help from a mysterious individual known only as Thanatos, they may just achieve their goal…

(October 26)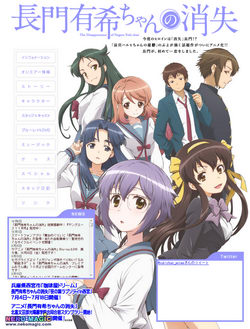 It will be bundled in Nagato Yuki-chan no Shoushitsu manga volume 9 to release on October 26, 2015.
Nagato Yuki, the shy president of the literature club, has never been very sure of herself around other people. But around Kyon, the only boy in the tiny, three-person club, Yuki finds herself faltering even more than usual. For Kyon, and for her precious club, Yuki must find her confidence and let her true personality shine!

(October 28/November 25)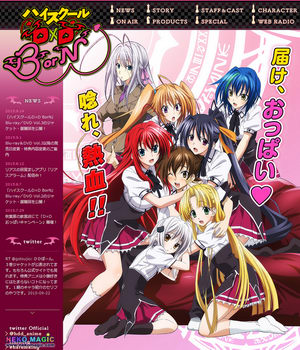 Specials included with the Blu-ray/DVD volumes. The third season of High School DxD based on the light novel series by Ichiei Ishibumi. It's following Volumes 5 till 7 in a rearranged order by Ishibumi-sensei himself.
Release Date: October 28/November 25
Studio: Genco
Note: Bundled with BD/DVD Vol. 3 & 4
Homepage: http://www.haremking.tv/

(October 29)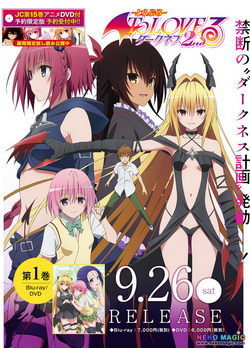 Episodes 13 and 14 of To LOVE-Ru Darkness 2nd received a one-hour advance broadcast on October 29, 2015.

<< TV1 | TV2 | TV3 | TV4 | TV5 | OVA1 | OVA2 | OVA3 | Film1 | Film2 >>