2015 Fall anime Part 5: TV Anime 5
Gochuumon wa Usagi Desu Ka??
Owari no Seraph S2
Valkyrie Drive -Mermaid-
Monster Strike
World Trigger: Toubousha-hen
Brave Beats
Cardfight!! Vanguard G: Gears Crisis-hen
Doushitemo Eto ni Hairitai
Ketsuekigata-kun 3
Anitore! EX
Neko no Dayan, Nihon e Iku
Pokemon XY & Z

<< TV1 | TV2 | TV3 | TV4 | TV5 | OVA1 | OVA2 | OVA3 | Film1 | Film2 >>

(October 10@21:30)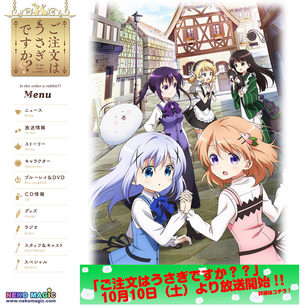 Second season of Gochuumon wa Usagi Desu ka?
Cocoa arrives at the cafe Rabbit House one day, excited for rabbits. She actually all but lives in that cafe. She meets lots of different girls there, including a tiny and cool girl named Chino, a tough and soldier-esque girl named Rize, a spacey and quintessentially Japanese girl named Chiyo, and the ordinary but dignified Sharo.

(October 10@22:00)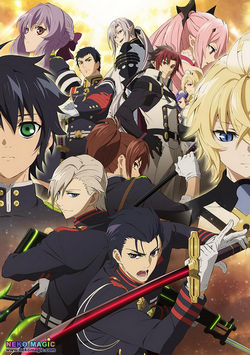 Yuuichirou has reunited with Mikaela at the Shinjuku Battle. But Mikaela was turned into a vampire… To save the "family," and to protect his fellow members, Yuuichirou needed to gain knowledge and power. He searched for ways to bring back vampire to human beings, and at the same time, trained hard working on the Cursed Gear.
Meanwhile, Kureto calls Guren and tells him a shocking truth. That in one month, the main unit of the vampire will start attacking Tokyo. To get a head start against vampires, Kureto orders Guren to go to Nagoya. The noble extermination mission is about to open fire!

(October 10@23:30)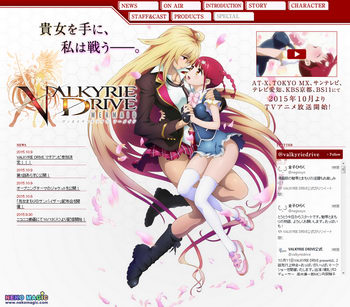 The "beautiful girl sexy battle action" anime is set on five artificial islands. Mamori is a "mermaid" transferred to one of those islands. When Mamori is attacked, a newly transferred girl named Mirei saves her. The enemy doesn't stop, however, and the two are soon cornered. Just when they think all hope is lost, Mirei kisses Mamori, and Mamori turns into a sword. Mirei then wields the sword and launches a counterattack against their enemies.

(October 10)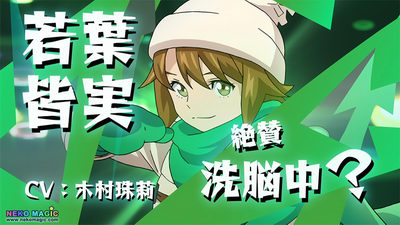 Hiroki Morita, the president of the social networking service mixi, announced on Tuesday that an anime adaptation of his company's Monster Strike mobile action role-playing game has been green-lit for broadcast this year. He added that a Nintendo 3DS version of the game is in development for release this year. He did not give any more details on both new projects during Monday's financial results presentation in Tokyo.

(October 11@6:30)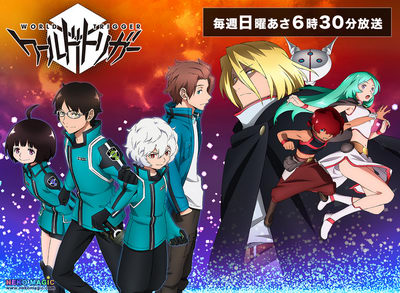 A gate to another dimension has burst open, and from it emerge gigantic invincible creatures that threaten all of humanity. Earth's only defense is a mysterious group of warriors who have co-opted the alien technology in order to fight back!

(October 11@7:00)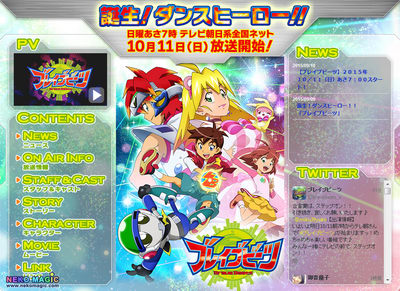 Hibiki Kazaguruma, a sixth grader, meets an amusing little robot named Bureikin while coming home from school one day. Bureikin, a dancer from an alternate-dimension dance world, challenged the dance king for the throne and lost. He has been deprived of Dance Stones (the stones of dance power) and sent to the human world. To restore his power, Bureikin must collect all the Dance Stones scattered around Earth.

(October 11@10:00)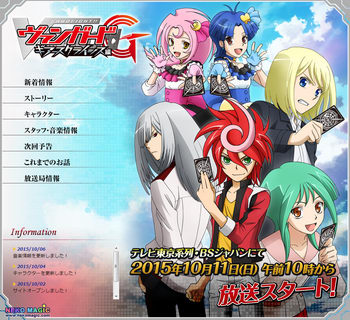 Second season of Cardfight!! Vanguard G series.
Taking place after a three-year time skip, the series will follow Shindou Kurono, Kiba Shion, and Anjou Tokoha as the new protagonists of G.
Kurono uses the never-before-seen clan Gear Chronicle, which brings together the destinies of these three toward an "impossible future, an impossible self signifying 'Generation.'"


(October 12@25:08)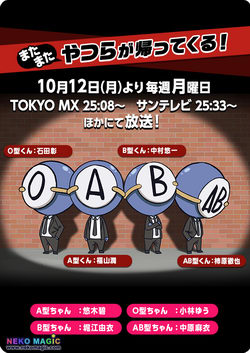 Third season of the Ketsuekigata-kun! series.
The anime adapted from the manga remake version of the Korean webtoon "A Simple Thinking about Bloodtypes" involving the faceless and nameless characters of four different blood types to discuss about popular anthropomorphized blood types (the stereotypes about the blood types) in Japan and Korea.

(October 12@25:11)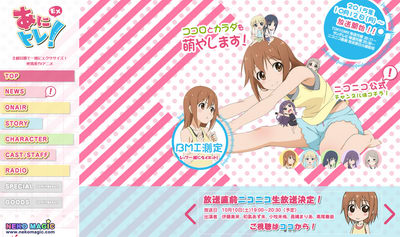 "Move your soul and body!" Each episode contains a variety of routines, such as push-ups, sit-ups, spine twists, dance, yoga, stretches, trunk training, and taichi. Five girls aiming to become idols will exercise with you, and that troubling body fat percentage will go down by 1000%…!?

(October 17)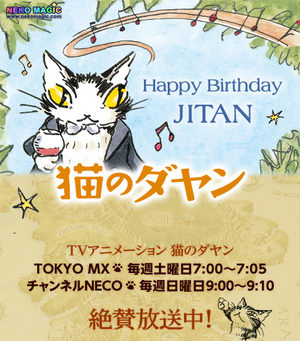 Second season of Dayan the Cat.
Dayan the cat came to Wachi Field from the Earth through Snow magic. Wachi Field was originally part of the Earth, but separated by Snow God because of the War between Gods and Titans, which destroyed the land. After the war, the Earth's time flow faster than Wachi Field, which the life is slow with animals and fairies and full of mischief.


<< TV1 | TV2 | TV3 | TV4 | TV5 | OVA1 | OVA2 | OVA3 | Film1 | Film2 >>