2015 Fall anime Part 4: TV Anime 4
Hidan no Aria AA
DD Fist of the North Star 2
Hokuto no Ken: Ichigo Aji
Tantei Team KZ: Jiken Note
Shomin Sample
Dance with Devils
Fushigi na Somera-chan
Sakurako-san no Ashimoto I wa Shitai ga Umatteiru
Taimadou gakuen 35 Shiken Shoutai
Subete ga F ni Naru The Perfect Insider
Shinmai Maou no Testament BURST

<< TV1 | TV2 | TV3 | TV4 | TV5 | OVA1 | OVA2 | OVA3 | Film1 | Film2 >>

(October 06@23:00)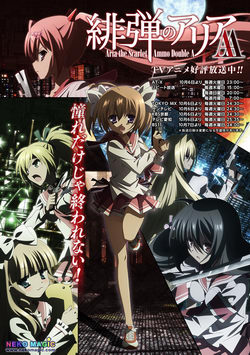 A young girl idolizes the world-renowned S-ranked butei Kanzaki H. Aria and plans to follow in her footsteps; however, her test grades turn out as only an E-rank! All is not lost, however, as Aria agrees to give her some pointers. Can Aria help this newcomer become a first-rate butei?

(October 06@25:35)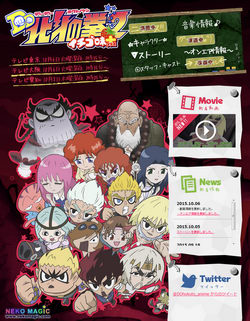 Super-deformed version of Hokuto no Ken, Buronson & Hara Tetsuo's post-apocalyptic fighting manga.

(October 06@25:35)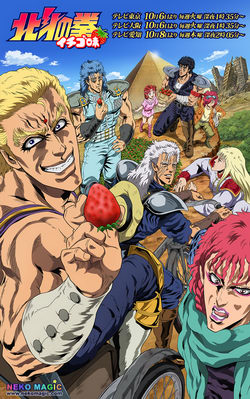 Serving as a spinoff gag manga of the original Hokuto no Ken series, the story is a parody of Fist of the North Star by Buronson and Tetsuo Hara. It consists of page-long gags centered mainly on Souther, both within his final battle with Kenshiro and inserting himself into other parts of the series where he doesn't belong. One recurring gag involves the kid with a turban repeatedly stabbing Souther in the leg every time he climbs the pyramid's staircase, and another involves Rei suddenly transforming into Souther in his iconic moments.

(October 07@18:45)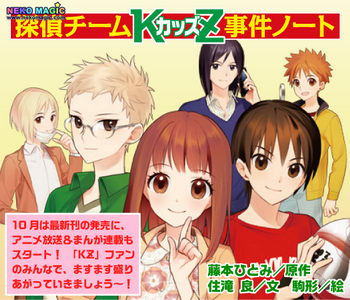 Aya Tachibana is a sixth-grader who frets and obsesses over friends, family, grades, and more. One day, she joins the "Tantei Team KZ" with four very idiosyncratic boys she met at cram school. There is the glib and attention-grabbing leader Kazuomi Wakatake, the mysterious "expert of personal relationships" Takakazu Kuroki, the smart and stoic math genius Kazunori Uesugi, and the sweet-hearted Kazuhiko Kozuka who is good at social matters and science. Aya finds her place among them as the "language expert." "Tantei Team KZ" gets involved in modern-day cases, and even if they bicker from time to time, they collaborate by pooling each of their talents and skills to solve these cases.

(October 07@23:30)
In a hidden school surrounded by mountains, young ladies of good families are taught everything a high class lady needs to know. They are also completely cut off from the outside world, keeping them sheltered and innocent; however, a problem has come up recently—more and more graduates are failing to cope with the modern world after graduation. To deal with this problem, they've decided to kidnap a male commoner student, and enroll him as a student. They hope that this will be a gentle way to introduce the girls to the outside world.
Kagurazaka Kimito is chosen for this dubious honor, mostly because he seems utterly average; however, the school leaders also seem to have concluded he's a homosexual with a muscle fetish. When Kimito hears that the alternative may be castration (to protect the girls' purity), he eagerly plays along with this misconception. Now he'll just have to survive the attention of many high class young ladies that are completely out of touch with the world!

(October 07@23:30)
"Daß ich erkenne, was die Welt im Innersten zusammenhält, schau' alle Wirkenskraft und Samen, und thu' nicht mehr in Worten kramen."
"That I realize what keeps the world together at heart, look at all effectualness and seeds and don't rummage in words anymore."
At a street that looks nostalgic, in Shikou Village.
Ritsuka Tachibana, a second year high schooler who attends Shikou Gakuen.
She spends a peaceful school life with her mother Maria, but the balance will collapse one day—.
Is that a person or a devil?
This is a story of a girl who is being loved and charmed by beautiful devils.

(October 07@23:55)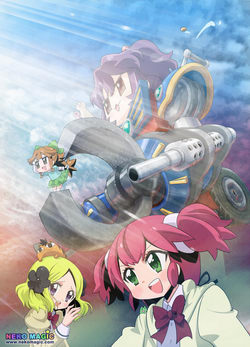 The story follows the everyday life of Somera Nonomoto who can use the strongest kenpo, Nonomoto Mahou-ken, which is inherited from her mother with her younger sister Kukuru.

(October 07@24:30)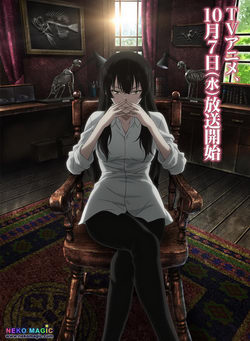 Shoutarou Tatewaki, a high schooler living in Asahikawa City, Hokkaido, meets Sakurako Kujou, a bone-loving ojou-san who has an ability to analyze specimen. Because of meeting her, he has to accompany her to various cases.

(October 07@25:05)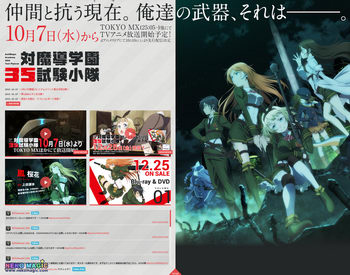 The 35th Test Platoon of Antimagic academy, they're one of squads enrolled at academy specializing in raising the witch hunters, whose job is to find, neutralize any magical threats!
Unfortunately they're a group of failures nicknamed "Small Fry Platoon," a platoon formed from bunch of self-centered people who can't cooperate and have personality problems.
Will they manage to overcome their weaknesses and shine as the strongest platoon?

(October 08@24:55)
The story of the original novel revolves around Souhei Saikawa, a member of the Saikawa Research Lab. On a vacation held for the lab, he meets Moe Nishinosono, the daughter of his mentor, who joins the group on their vacation despite not being a part of the lab. After meeting each other, the two end up finding a corpse. The two work together to solve the mysteries of what becomes a serial murder case.

(October 09@25:40)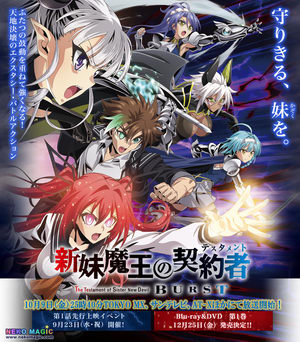 Second season of Shinmai Maou no Testament series.
Hey, you said you wanted a little sister, right?" First-year high school student, Toujo Basara, was suddenly asked by his father and fell into a state of panic. On top of that, the eccentric father told him he will be getting remarried.
He then departed overseas after bringing Basara two beautiful step-sisters. But Mio and Maria's true forms are actually the newbie Demon Lord and a succubus!?

<< TV1 | TV2 | TV3 | TV4 | TV5 | OVA1 | OVA2 | OVA3 | Film1 | Film2 >>