2015 Fall anime Part 3: TV Anime 3
Ame-Iro Cocoa S2
Komori-san wa Kotowarenai!
Comet Lucifer
Concrete Revolutio
One Punch Man
High School Star Musical
Teekyuu S6
Osomatsu-san
Yuru Yuri San Hai
JK Meshi!
Shin Atashin'chi

<< TV1 | TV2 | TV3 | TV4 | TV5 | OVA1 | OVA2 | OVA3 | Film1 | Film2 >>

(October 04@22:15)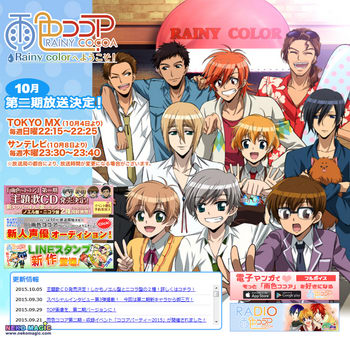 Life at the Rainy Color café can never be described as boring. The arrival of the Koga brothers from England—Noel, always brimming with curiosity, and Nicola, somewhat shy and conservative—ensures that their sibling, café manager Shion, is kept on his toes. There's also another newcomer, cameraman/photographer Jun Arisawa, who holds a mysterious connection to café owner Koji Amami. Last but not least, there's a special photograph that incites all kinds of heartfelt and comedic reactions from the Rainy Color crew!

(October 04@22:27)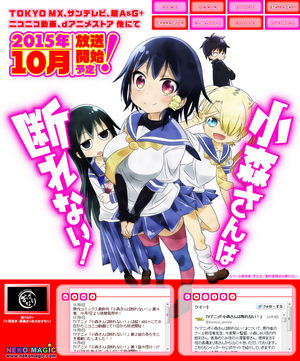 Fifteen-year-old Komori Shuri is a junior high school girl who is too nice to decline requests. Constantly doing favors for other people has given her incredible strength?! But even so, she is also an adolescent junior high school girl.
An anime overflowing with the ups and downs of everyday life!

(October 04@22:30)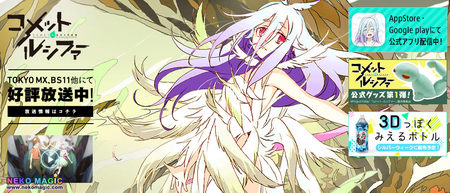 Gift, a world covered in glittering blue crystals called gifdium. Sougo Amagi is a boy who lives in the town of Garden Indigo, which has prospered from the mining of these crystals. Sougo, whose hobby is collecting rare crystals, one day becomes involved in a dispute between classmates Kaon, Roman, and Otto. He wanders deep into the ruins of a mine and discovers an underground lake. There, Sougo meets a mysterious girl with blue hair and red eyes. Who is this girl, and what will their meeting bring? The door to an adventure opens with their newly formed bond.

(October 04@23:00)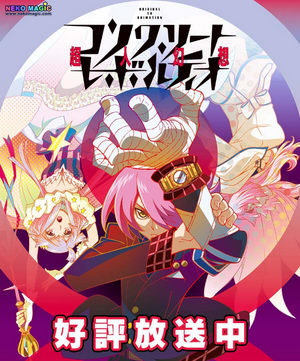 The stage is set in "another Japan" as a banquet of diverse superhumans unfolds…
In an imaginary "age of gods" about 20 years after the war, Japan has grown and developed by leaps and bounds. What if all the superhumans ever written about in fictional stories existed at the same time? Superhumans who came into existence through different circumstances, and who are special in different ways—Titans from outer space, lifeforms from a mystical world, phantoms and goblins from ancient times, cyborgs created by scientists, relics that rose out of the ruins of ancient civilizations, and the list goes on. One segment of these superhumans makes no secret of their existence and has gained popularity in society. Others cloak their identities and fight in secrecy.
There are enemies of superhumans as well, organizations that operate in the shadows.
The Japanese government has taken many measures to secure peace and order.
One is the establishment of an organization under the Ministry of Health and Welfare—the Overpopulation Research Laboratory, a.k.a. the Superhuman Bureau.
Their mission is to identify and approach superhumans, then oversee and safeguard them. One member of the Superhuman Bureau, Jirou Hitoyoshi, is protagonist of this series.

(October 04@25:05)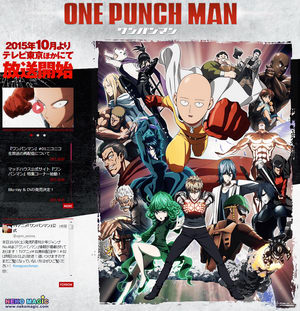 In this new action-comedy, everything about a young man named Saitama screams "AVERAGE," from his lifeless expression, to his bald head, to his unimpressive physique. However, this average-looking fellow doesn't have your average problem… He's actually a superhero that's looking for tough opponents! The problem is, every time he finds a promising candidate he beats the snot out of them in one punch. Can Saitama finally find an evil villain strong enough to challenge him? Follow Saitama through his hilarious romps as he searches for new bad guys to challenge!

(October 05@24:00)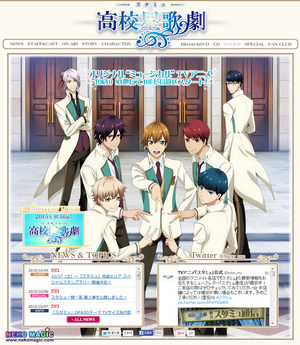 The story involves a group of high school students at Ayana Academy, a school with music as its main focus. A trio of students called Hanasakura-kai, designate from the most talented of the music department. To get in, individuals must enter through a Star Frame class.
The series tells the story of Yuuta Hoshiya, Tooru Nayuki, Kaito Tsukikage, Shou Tengeiji, and Shuu Kuga as they aim for a position in the musical department after being spotted by Ootori, one of the Hanasakura-kai members.

(October 05@25:05)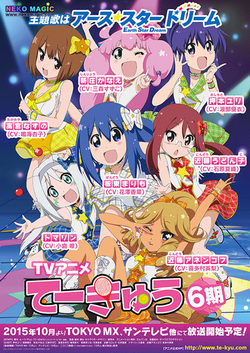 Sixth season of Teekyuu series. Teekyuu is based on a sports comedy manga of the same name featuring four high school girls who belong to a tennis club.

(October 05@25:35)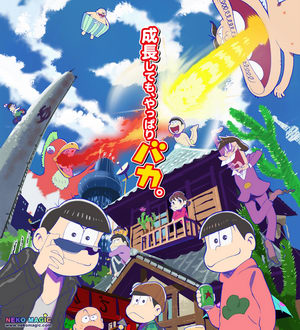 Matsuno household has six naughty and mischievous sons (who are sextuplets), led by the eldest Osomatsu. They were grade schoolers back in the Shouwa period, but despite of still living in the same old household, the street view as well as the life style of modern day society have changed drastically.

(October 05@26:05)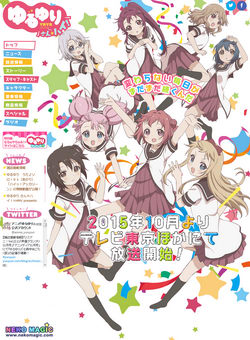 Third season of Yuru Yuri.
Four mischievous girls illegally occupy the former Traditional Tea Ceremony clubroom, in order to create the "Amusement Club." These scamps…who ignore repeated warnings – in direct rebellion with the righteous directives of the Student Council – decide to remain in the room until they finally get off their bums and do something! In this slightly sluggish manga, full of fits and starts, the four girls set off from their homes for a walk together with days full of a little this and that! ♪

(October 05)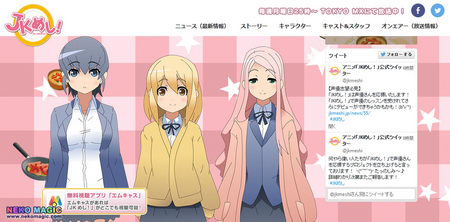 Three high school girls (joshikousei) explore cooking.

(October 06@19:00)
Outrageous misadventures of an almost normal family with a housewife, her husband, and their two kids Yuusuke and Mikan. Wacky humor about this weird family's daily life.

<< TV1 | TV2 | TV3 | TV4 | TV5 | OVA1 | OVA2 | OVA3 | Film1 | Film2 >>