2015 Fall anime Part 2: TV Anime 2
Itoshi o Muco 3
Kindaichi R S2
Gakusen Toshi Asterisk
Rakudai Kishi no Cavalry
Owarimonogatari
Utawarerumono Itsuwari no Kamen
Kowabon
Shingeki! Kyojin Chuugakkou
Haikyuu S2
Gundam Iron Blooded Orphans
Onsen Yousei Hakone-chan

<< TV1 | TV2 | TV3 | TV4 | TV5 | OVA1 | OVA2 | OVA3 | Film1 | Film2 >>

(October 03@9:14)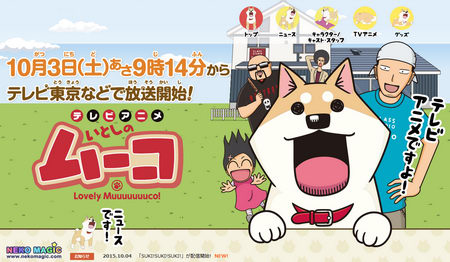 The seventh compiled volume of Takayuki Mizushina's Itoshi no Muco manga is announcing on Thursday that a television anime adaptation has been green-lit for this fall.
The manga depicts the life of the pet dog Muco and its owner Komatsu, who lives in his glass-making workshop in the mountains.

(October 03@17:30)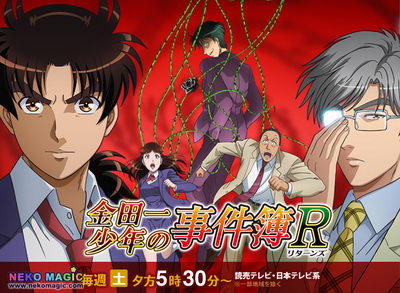 Hajime Kindaichi once again becomes embroiled in solving baffling cases and deciphering puzzling crimes that would confound the most seasoned of detectives. Whether it's a gruesome murder and shady circumstances surrounding the Japanese board game Go; a perplexing and macabre case involving a mysterious character, "Rosenkreutz," and blue roses; or blood curdling crimes associated with an urban legend at a winter ski resort – Hajime is out to crack them all!

(October 03@20:30)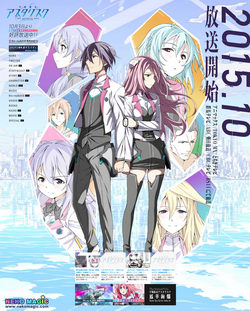 The Academy City on the water, Rikka (otherwise known as Asterisk) is the world's largest stage for the integrated battle entertainment, "Star Wars Festival." The young boys and girls of the "Starpulse Generation" belonging to the six academies made their wishes with Shining Armaments in their hands, vying for supremacy—Amagiri Ayato is one of them.
Ayato arrived at Rikka at the invitation of the Student Council President of the Seidoukan Academy, Claudia, and right after that he incurred the wrath of the "Petalblaze Witch" Julis, and ended up having to duel her.
The greatest academy battle entertainment, begins here!

(October 03@23:00)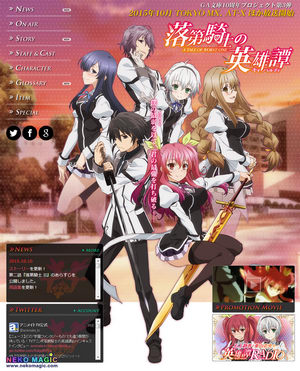 The "school sword action" story revolves around Magic Knights, modern magic-users who fight with weapons converted from their souls. Ikki Kurogane goes to a school for these Magic Knights, but he is the "Failed Knight" or "Worst One" who is failing because he has no magical skills. However, one day, he is challenged to a duel by Stella, a foreign princess and the "Number One" student. In this duel, "the loser must be obedient for life."

(October 03@24:00)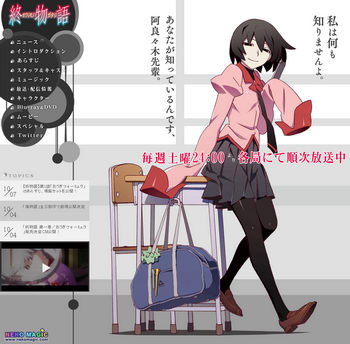 According to a notice displayed at Shosen Book Tower in Akihabara, the anime adaptation of Monogatari Series: Final Season's Owarimonogatari will air on TV in Fall 2015. Production of the series was hinted last week when animator Hiroko Kazui listed Owarimonogatari on her online portfolio. In 2012, animation studio Shaft announced it would be animating all of Nisio Isin's Monogatari Series novels.

(October 03@25:00)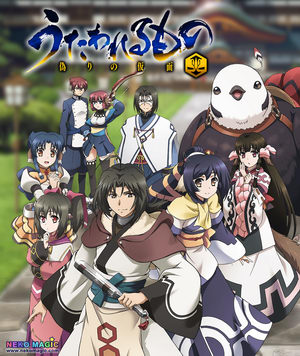 When I came to, I realized I was standing in the middle of a vast, snowy plain I knew nothing of. I didn't know how I got there. And to add to that, I couldn't remember anything, not even my name. I stood there, dumbfounded at my absurd situation. But then, as if to spite me further, a gigantic monster suddenly appeared, an insect-like creature that began to bear down on me. I tried desperately to run, but it cornered me into a hopeless situation. It was then that the girl appeared. Her name was Kuon. It was this beautiful girl, who bore an animal's ears and tail, that saved my life.

(October 03@25:42)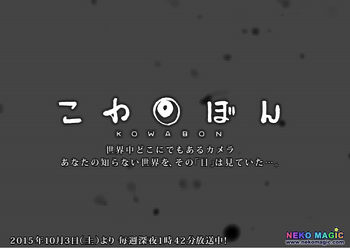 Kowabon, a horror story, will be animated using a technique called rotoscoping. Animators will trace live-action footage frame-by-frame to recreate it as animation.

(October 03@25:58)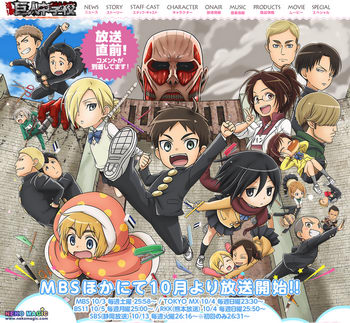 The school comedy story is set in a junior high school and centers on the original manga's characters such as Eren and Mikasa as they battle with Titans. The spin-off incorporates gags while using Shingeki no Kyojin's story and notable scenes as its basis.

(October 03@26:58)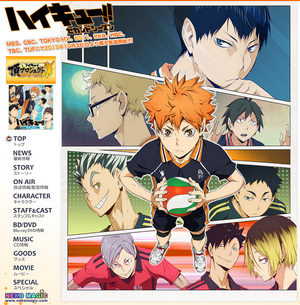 The second season of Haikyuu!!
After losing against Aoba Jousai, the whole Karasuno team feels at a loss. Especially Kageyama and Hinata, who seem to be the most devastated about the defeat. However, the team soon cheers up when a chance for them to go to Tokyo appears. During their training camp there, Karasuno will meet new formidable opponents.

(October 04@17:00)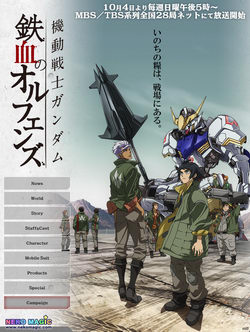 300 years after the Calamity War's end.
The powers which ruled the Earth Sphere have been overthrown, giving way to new rulers of a new world, exhausted of battle. Meanwhile, far away on Mars, the sparks which threaten to ignite a new war have been struck…
Our protagonist Mikazuki Augus, a member of the private security firm Chryse Guard Security (CGS), takes on a mission as bodyguard of Kudelia Aina Bernstein, a young girl who agitates for Chryse's independence from Earth. However, when the elite Gjallarhorn unit, charged with suppressing revolutionaries, raids CGS, its higher-ups deliberately use Mikazuki and the other boys as a decoy to cover their own retreat. Orga Itsuka, leader of the boys' squad, takes this abandonment by the adults as motivation to launch a full-fledged coup d'état. With orders from Orga to hold back Gjallarhorn, Mikazuki sorties in Calamity War-era scrap that CGS had been

(October 04@20:55)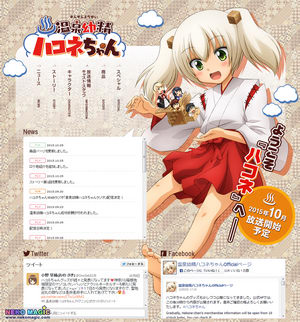 After many years of dormant rest, a hot springs fairy awakens in modern-day Japan. However, while she slept, she took on the appearance of a young girl. She decides to cooperate with the locals whilst trying to regain her powers.

<< TV1 | TV2 | TV3 | TV4 | TV5 | OVA1 | OVA2 | OVA3 | Film1 | Film2 >>