2015 Summer anime Part 6: OVA/OAD/SP 1
Hibike! Euphonium (BD)
The Seven Deadly Sins: Ban's Side Story (OVA)
Haiyore! Nyaruko-san F (OVA)
Gatchaman Crowds Insight: Inbound (ONA)
Charlotte: Arata na "Unmei" no Hajimari (SP)
Sanzoku Diary (OVA)
Owari no Seraph: Owaranai Seraph (BD)
Yankee-kun na Yamada-kun to Megane-chan to Majo (BD)
Shinmai Maou no Testament (OVA)
Angel Beats!: Hell's Kitchen (BD)
Mahou x Shonen x Days!!!!! (OVA)

<< TV i | TV ii | TV iii | TV iv | TV v | OVA i | OVA ii | OVA iii | Film i | Film ii >>

(June 17)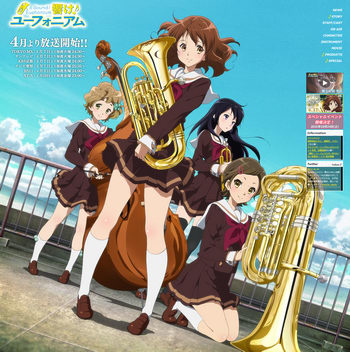 Short specials included in the Blu-ray/DVD releases. Hibike!
Euphonium begins when Kumiko Oumae, a girl who was in the brass band club in junior high school, visits her high school's brass band club as a first year. Kumiko's classmates Hazuki and Sapphire decide to join the club, but Kumiko sees her old classmate Reina there and hesitates. She remembers an incident she had with Reina at a brass band club contest in junior high school.
Release Date: June 17
Studio: Kyoto Animation
Note: 2 unaired shorts; found on BD vol.1
Homepage: http://anime-eupho.com/

(June 17, August 12)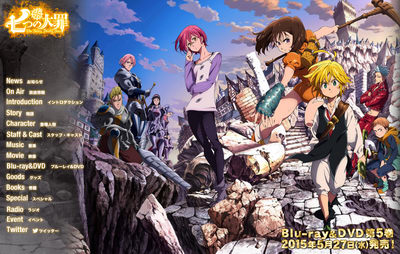 OVA bundled with the 15th and 16th volume of the manga. 15th volume DVD will feature the sin of greed as the central character. 16th volume DVD will feature side stories of the main characters in omnibus format.
Release Date: June 17 (ep 1), August 12 (ep 2)
Studio: A-1 Pictures
Note: 1st ep; bundled with LE manga vol.15
2nd ep; bundled with LE manga vol.16
Homepage: http://www.7-taizai.net/

(June 19)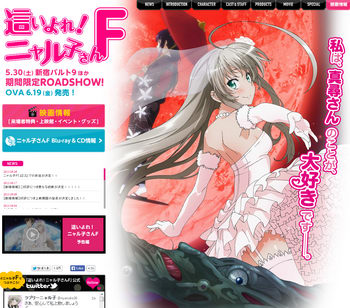 A new OVA of the light novel Haiyore! Nyaruko-san, titled Haiyore! Nyaruko-san F, has been green-lit.

(June 20)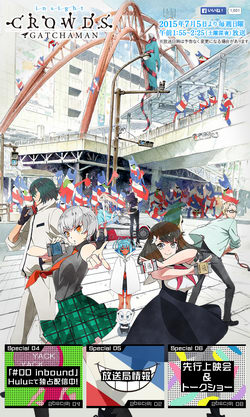 Continuation of Gatchaman Crowds series. Episode 1 will be previewed at a screening at Cinema Two Studio A in Tachikawa, Tokyo, on July 3, 2015. Regular broadcasting will begin on July 5, 2015.

(June 20)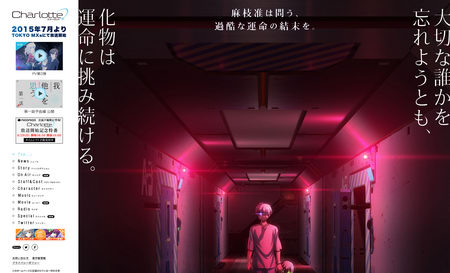 Very few adolescent boys and girls have an onset of special abilities. Yu Otosaka uses his ability unbeknownst to others in order to lead a satisfying school life. And then, a girl named Nao Tomori suddenly appears before him. Their encounter reveals the destiny for wielders of special abilities.

(June 23)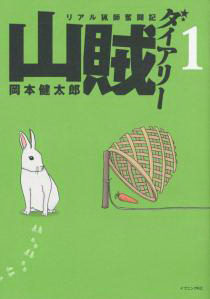 Bundled with the limited edition sixth volume of the manga. It will be between 10 to 15 minutes long and will adapt the events of the first volume.
The hero and author of Sanzoku Diary is Okamoto Kentarou. When he was young, he lived out in the country, and he knew an old man who was a hunter. In 2009, Kentarou was inspired to leave Tokyo and return to Okayama Prefecture to become a hunter himself. Using an air rifle and traps, Kentarou hunts, prepares, and eats various animals. The manga covers all his hunting-related activities in close detail.

(June 24)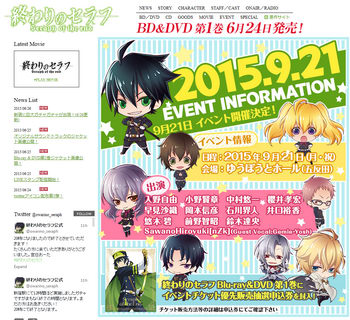 Special Tokuten bonus included in Blu-ray/DVD Volume 1.
One day, a mysterious virus appeared on Earth which killed every infected human over the age of 13. At the same time, vampires emerged from the world's dark recesses and enslaved mankind. Enter Hyakuya Yuuichirou, a young boy, who along with the rest of the children from his orphanage, are treated as livestock by the vampires. Even in captivity, Yuuichirou dreams big. He dreams of killing vampires. He dreams of killing them all.

(June 24)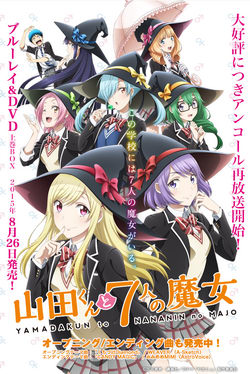 The official website for the Yamada-kun and the Seven Witches television anime series revealed on Sunday that the anime's first Blu-ray Disc and DVD box sets will include a Yankee-kun to Megane-chan collaborative manga and anime.

(June 24)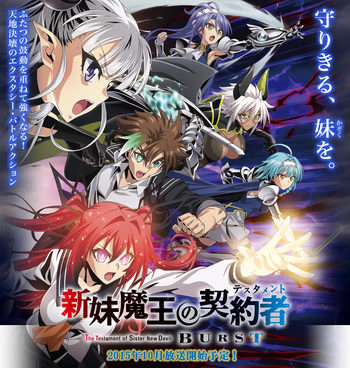 Basara Tōjō met his two cute little sisters, Mio Naruse and Maria Naruse. The two sisters revealed themselves as a member of the demon clan and Basara as a member of hero clan, demon clan's enemy, and is not related by family. Mio is the future Demon Lord and since Mio's power is not fully awakened, Basara will protect her from the demons who are after the power she inherited from her deceased father, Demon Lord Wilbert.

(June 24)
Unaired episode of Angel Beats! included in the seventh volume of the Blu-ray and DVD, and another included in the Blu-ray Box.
The 2010 Angel Beats! anime revolves around protagonist Yuzuru Otonashi, who wakes to find himself in a strange high school setting. Otonashi has no memories prior to waking, but learns that the location is a strange afterlife and all of its inhabitants are deceased. He joins a group which rebels against the afterlife and its primary enforcer, Angel. A young woman named Yuri Nakamura leads the group, called "Shinda Sekai Sensen" (Afterlife War Front).

(June 24)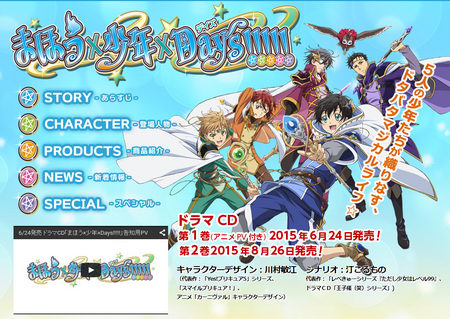 Toei Animation and Frontier Works unveiled a new project on Thursday titled Mahō × Shōnen × Days!!!!!, which will begin with a drama CD that will bundle an animated promotional video.
Korumono Migiwa is writing the "slapstick magical life" scenario, which follows the five "Magic Sabers," a team of boys who are candidates to be the heir to the throne of a kingdom of magic, but can't keep up in school. The king gives them a mission to perform good deeds in the human world, and they can't return until they've grown up. They transform in order to use their magic, but they must all transform at the same time―if they don't the transformation will be halted and they'll end up naked.

<< TV i | TV ii | TV iii | TV iv | TV v | OVA i | OVA ii | OVA iii | Film i | Film ii >>