2015 Summer anime Part 5: TV anime 5
Junjou Romantica 3 (TV)
Himouto! Umaru-chan (TV)
Suzakinishi the Animation (TV)
Gakkou Gurashi! (TV)
Prison School (TV)
Makura no Danshi (TV)
The Idolmaster Cinderella Girls Second Season (TV)
Chu Feng: BEE (TV)
Fate/kaleid liner Prisma☆Illya 2wei Herz! (TV)

<< TV i | TV ii | TV iii | TV iv | TV v | OVA i | OVA ii | OVA iii | Film i | Film ii >>

(July 08 @25:05)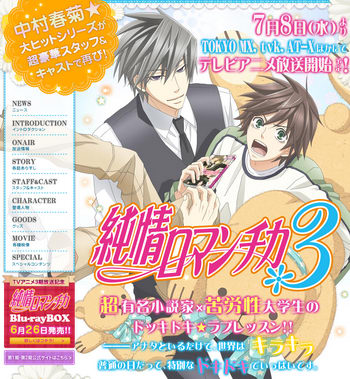 Sequel to the Junjou Romantica 2 TV series. Misaki is suddenly having some unexpected and odd problems. What started as a need for some college entrance exam tutoring has somehow led him to being romanced by a suave older man who also happens to be his big brother's best friend. Confused by all of his brand new emotions, Misaki struggles to deal with his suddenly very odd life.

(July 08 @26:14)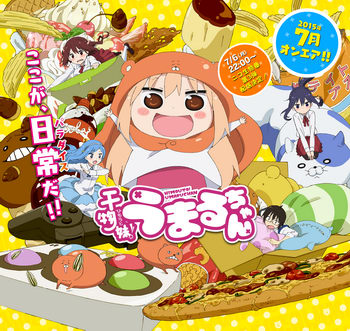 The sibling gag comedy manga centers around Umaru, Taihei's little sister who boasts beautiful looks as well as prowess in both school and sports; however, "Himouto" (beautiful little sister) has a certain secret.

(July 08 @21:55)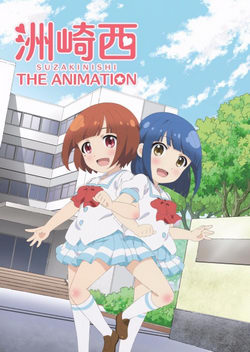 Voice actresses Aya Suzaki and Asuka Nishi announced at an event in Tokyo on Sunday that their Suzakinishi radio program will get a television anime adaptation starting in July. The Suzakinishi The AanimationN anime will air on Tokyo MX TV, TV Kanazawa, and Sun TV.

(July 09 @21:30)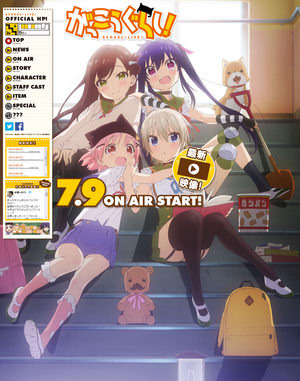 Takeya Yuki is in love with the school. For her, it's a wonderful place, where she enjoys her school activities, especially the activities of her club: School Life Club. The club has Rii-chan as the president, Kurumi-chan as another member, and the teacher, Megu-nee, always there for them. Yes, she is in love with her school… in her mind. Because, for her, the reality of the school and their club's activities is way too hard to be perceived…

(July 10 @25:05)
On the outskirts of Tokyo stands Hachimitsu Private Academy, a storied all-girls boarding school for elite young women full of potential and good breeding. But as the new school year rolls around, one tradition is going out the window: For the first time in the school's long history, boys are being allowed to enroll. But on the first day of school, only five boys make the cut. Kiyoshi Fujino, one of the lucky few, is thrilled by this discovery, his heart leaping with joy at the thought of being surrounded by all those girls, day in and day out. But little does he know of the shocking fate that awaits him.

(July 13 @25:16)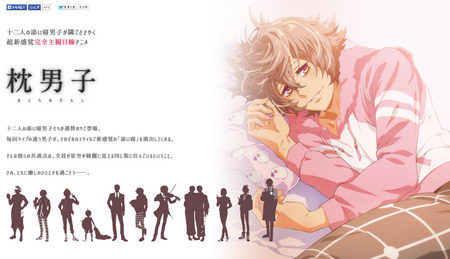 Makura no Danshi, the new television anime from Earth Star Entertainment will premiere this July. This "new and novel animation entirely in the first-person perspective" is designed to "heal tired hearts."
Natsuki Hanae will play one of 12 "makura no danshi" (pillow boys), all full of distinctly individual personalities and each catering to viewers who like a certain "type." The boys all live in the same town underneath a starry sky. Each of the "makura no danshi" will star his own weekly episode as they "sleep beside you and whisper."

(July 17 @24:00)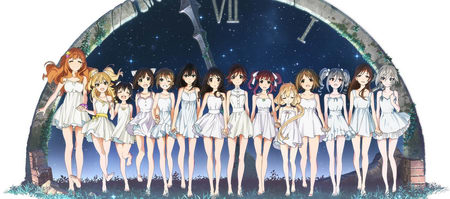 Second season of The iDOLM@STER Cinderella Girls. A girl aiming to become an idol named Uzuki Shimamura is informed that she has been accepted into the Cinderella Project, a new project that collects girls and polishes them to become idols. After meeting Rin Shibuya, Mio Honda, and the other eleven fellow members of the group, the girls begin their journey at the 346 Pro talent agency, overcoming many trials and hoping to one day stand on the same stage as their senior idols.

(July 23 @–:–)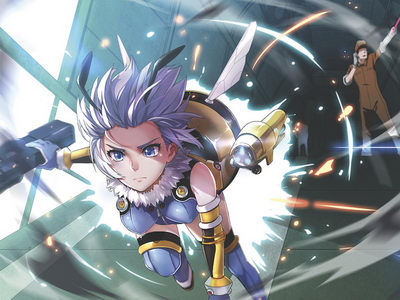 In XX AD, a new generation of arms race is emerging. "Vanguards" are the new type of weapons being used on the battlefield. Liu Li is a Vanguard that is about to retire. In her last 380 days she receives her final mission…

(July 24 @25:40)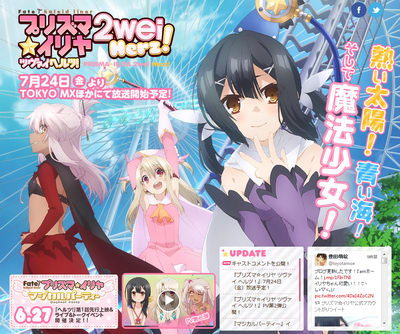 Based on the Fate/Kaleid Liner Prisma☆Illya 2wei! manga by Hiroshi Hiroyama, itself a spin-off of the Fate/stay night erotic visual novel by Type-Moon. Episode 1 will be previewed at a screening at Yomiuri Land in Tokyo on June 27, 2015. Regular broadcasting will begin on July 25, 2015.

<< TV i | TV ii | TV iii | TV iv | TV v | OVA i | OVA ii | OVA iii | Film i | Film ii >>