2015 Summer anime Part 4: TV anime 4
Teekyuu 5 (TV)
Jitsu wa Watashi wa (TV)
Non Non Biyori Repeat (TV)
Million Doll (TV)
Kaiju Sakaba Kanpai! (TV)
Sore ga Seiyuu! (TV)
Over Lord (TV)
Bikini Warriors (TV)
Monster Musume no Iru Nichijou (TV)
Kuusen Madoushi Kouhosei no Kyoukan (TV)

<< TV i | TV ii | TV iii | TV iv | TV v | OVA i | OVA ii | OVA iii | Film i | Film ii >>

(July 06 @25:05)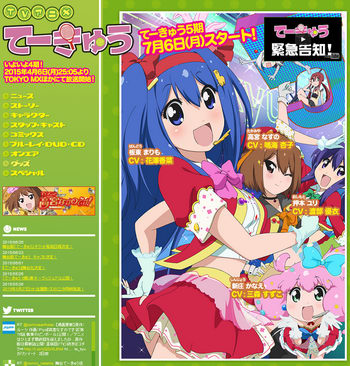 Fifth season of Teekyuu series. The story centers around four high school girls who belong to a tennis club.

(July 06 @25:35)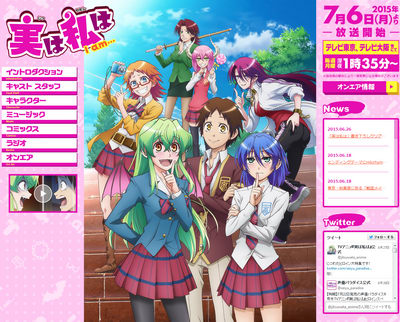 Meet Kuromine Asahi, "the man who can't lie." On the way home, he learns an important secret. His crush, Shiragami Youko, is actually a vampire! Can Asahi actually keep her secret? It's a fun, clumsy, one-of-a kind vampire romantic comedy!

(July 06 @26:05)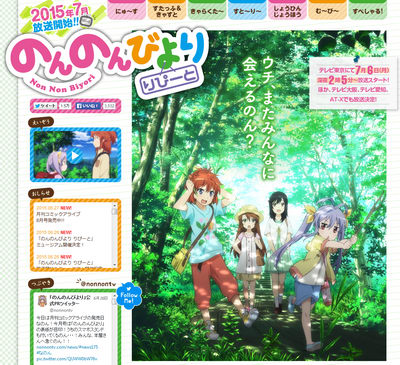 Second season of Non Non Biyori. Episode 1 will be previewed at a screening at Hibiya Kokaido in Tokyo on June 14, 2015. Regular broadcasting will begin on July 7, 2015.

(July 06 @25:11)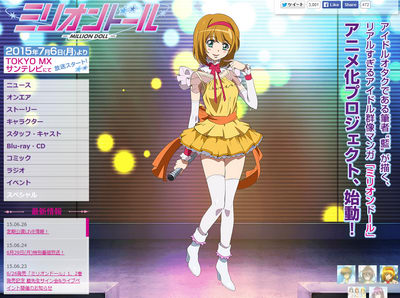 Million Doll revolves around Suuko, an idol-loving hikikomori (shut-in) who has one ability: To make any idol popular through the power of blogging. She puts her sights on the Fukuoka idol Itorio and tries to make her sell more, but she is impeded by the charismatic idol Ryuu-san and the underground idol Mariko.

(July 07 @21:55)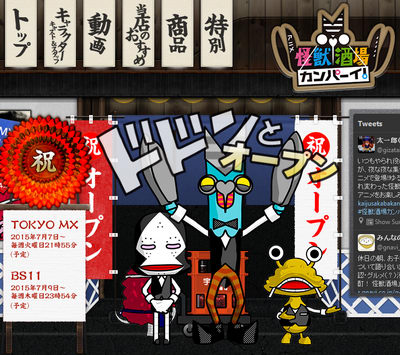 A bar in Kawasaki city in Japan whose concept is a place for the monsters featured in the tokusatsu franchise Ultra to relax and drink their stresses away is getting a series of television anime shorts titled Kaijū Sakaba Kanpai! (Monster Bar Cheers!). The series will premiere on July 7.

(July 07 @23:00)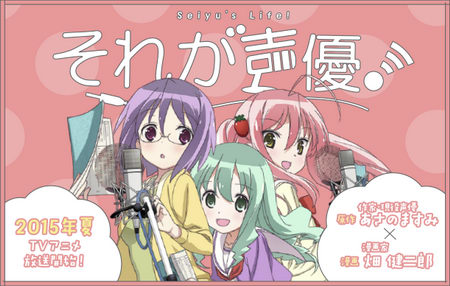 The series centers on Futaba Ichinose, Ichigo Moesaki, and Rin Kohana, three rookie voice actresses. The manga features small but humorous observations of the voice actor industry. Episode 1 will be previewed at a screening at Animate Ikebukuro on June 27, 2015. Regular broadcasting will begin on July 7, 2015.

(July 07 @23:00)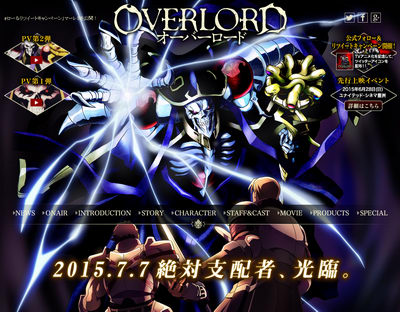 The story begins with Yggdrasil, a popular online game which is quietly shut down one day; however, the protagonist Momonga decides to not log out. Momonga is then transformed into the image of a skeleton as "the most powerful wizard." The world continues to change, with non-player characters (NPCs) begining to feel emotion. Having no parents, friends, or place in society, this ordinary young man Momonga then strives to take over the new world the game has become.

(July 07 @25:35)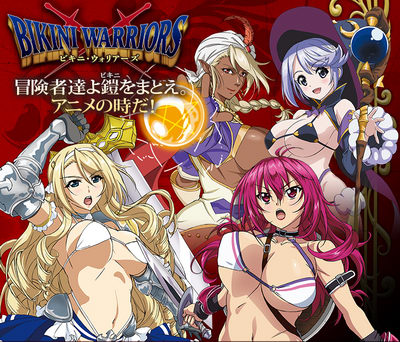 Set in an RPG world with swords and magic, warriors must form a party to defeat the demon lord. But, these warriors are all wearing Bikini armor!!

(July 07 @24:30)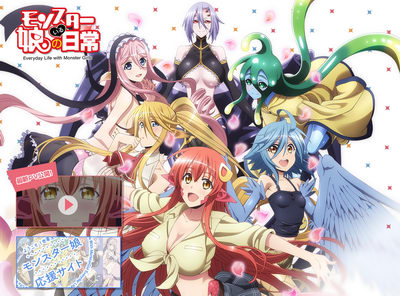 Monsters—they're real, and they want to date us! Three years ago, the world learned that harpies, centaurs, catgirls, and all manners of fabulous creatures are not merely fiction; they are flesh and blood—not to mention scale, feather, horn, and fang. Thanks to the "Cultural Exchange Between Species Act," these once-mythical creatures have assimilated into society, or at least, they're trying.
When a hapless human named Kurusu Kimihito is inducted as a "volunteer" into the government exchange program, his world is turned upside down. A snake-like lamia named Miia comes to live with him, and it is Kurusu's job to take care of her and make sure she integrates into his everyday life. Unfortunately for Kurusu, Miia is undeniably sexy, and the law against interspecies breeding is very strict. Even worse, when a ravishing centaur girl and a flirtatious harpy move in, what's a full-blooded young man with raging hormones to do?!
Episodes 1 and 2 will be previewed at a screening at Odaiba Cinema Mediage on June 27, 2015. Regular broadcasting will begin on July 8, 2015.

(July 08 @24:30)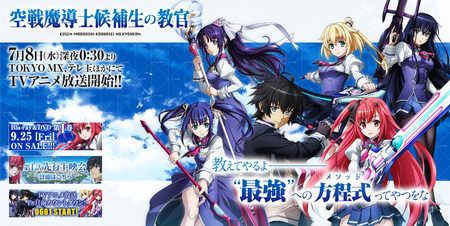 The story is set in a world where humanity, driven off the land by the threat of magical armored insects, now live in aerial floating cities. Thus wizards—aerial combat mages who fight the insects with magical powers—came into being.
Kanata Age is a young man who lives on the floating wizard academy city of "Misutogan." He was once celebrated as the "Black Master Swordsman," the elite ace of the S128 special team; however, he is now despised as the "traitor of the special team." One day, he is assigned as the instructor of E601, a team that has suffered ten consecutive defeats. E601 has three girls—Misora Whitale, Lecty Eisenach, and Rico Flamel—with one or two peculiar quirks.
Episode 1 will be previewed at a screening at Kadokawa Cinemas Shinjuku on June 21, 2015. Regular broadcasting will begin on July 9, 2015.

<< TV i | TV ii | TV iii | TV iv | TV v | OVA i | OVA ii | OVA iii | Film i | Film ii >>