2015 Summer anime Part 3: TV anime 3
Rokka no Yuusha (TV)
Charlotte (TV)
Boo Boo Boy (TV)
Dragon Ball Super (TV)
Venus Project: Climax (TV)
Wakako-zake (TV)
God Eater (TV)
Kurayami Santa (TV)
To LOVE-Ru Darkness 2nd (TV)
Akagami no Shirayuki-hime (TV)

<< TV i | TV ii | TV iii | TV iv | TV v | OVA i | OVA ii | OVA iii | Film i | Film ii >>

(July 04 @26:58)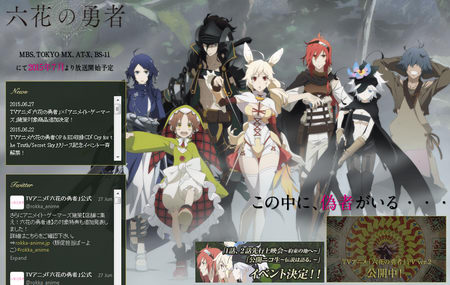 When the Majin awoke from the depths of darkness, the deity of fate chose six heroes and bequeathed them with the power to save the world. Adlet, a boy who proclaims himself the strongest on Earth, has been selected among the Rokka no Yuusha (Heroes of the Six Flowers), and he goes to the rendezvous point — but seven have gathered there. The heroes suspect that someone among the seven is the enemy, and the initial suspicion falls on Adlet.

(July 04 @24:00)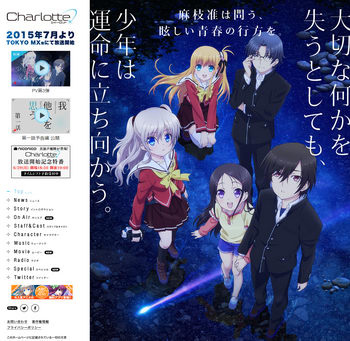 Very few adolescent boys and girls have an onset of special abilities. Yu Otosaka uses his ability unbeknownst to others in order to lead a satisfying school life. And then, a girl named Nao Tomori suddenly appears before him. Their encounter reveals the destiny for wielders of special abilities.

(July 04 @11:25)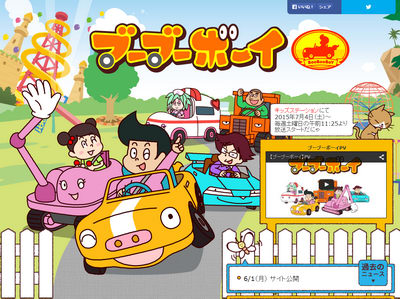 A young boy has adventures with his transforming car.

(July 05 @09:00)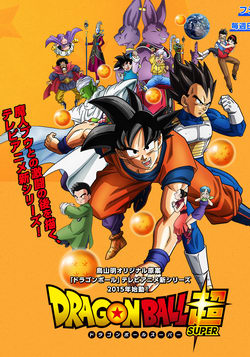 Reuniting the franchise's iconic characters, Dragon Ball Super will follow the aftermath of Goku's fierce battle with Majin Buu as he attempts to maintain earth's fragile peace.

(July 05 @22:00)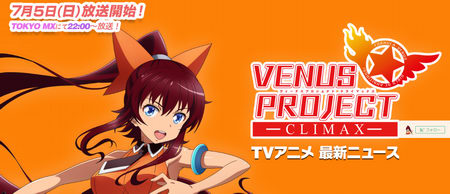 In the near future, Japan has developed sophisticated digital and image technology. People are enthusiastic for a new type of entertainment called "FORMULA VENUS." Abbreviated as "F-V," it is a sorted live battle of the top idol performances based on the idols' power, techniques, and developed experience. The story is about the drama that happens among the girls in VENUS PROJECT as they aim for the top by concentrating on difficult battles, passion, and friendship.

(July 05 @22:27)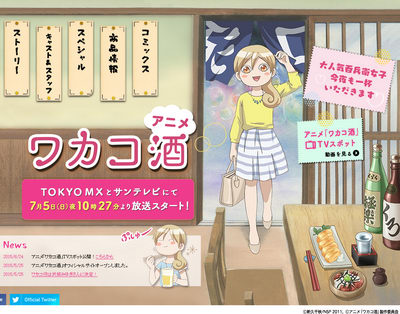 Murasaki Wakako, who is 26 years old, loves going out alone to enjoy eating and drinking, especially when something unpleasant happens at work. This manga follows Wakako through many solitary outings, where she enjoys different combinations of food and drink!

(July 05 @22:30)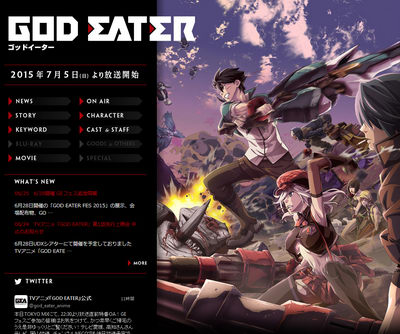 Anime adaptation of Bandai Namco's PSP action game series "God Eater."
Set in Japan in the year 2071 where the world has been mostly destroyed by mysterious monsters known as the Aragami. An organization known as Fenrir was made to exterminate Aragami using weapons called God Arcs which is made from the cells of an Aragami. Those who specialize in exterminating Aragami are known as God Eaters. Originally God Eaters had one type in which their God Arcs can only keep gun form or blade form, however a new type has been discovered that can switch between gun and blade form. Since then, they have been classified new-types and the previous as old-types.

(July 05 @25:42)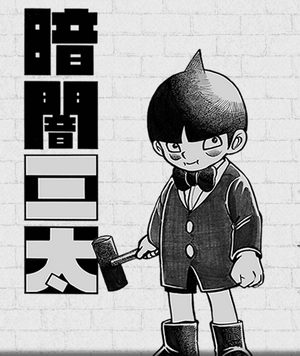 Kurayami Santa overlays animation on archived footage from the 1960s in order to recreate a Showa-era atmosphere. The protagonist, Santa, is tasked with maintaining the balance between the spirit and human worlds.

(July 06 @24:00)
New season of To LOVE-Ru Darkness announced at Jump Festa 2015. Episode 1 will be previewed at a screening at TOHO Cinemas Shinjuku on June 21, 2015. Regular broadcasting will begin on July 7, 2015.

(July 06 @24:00)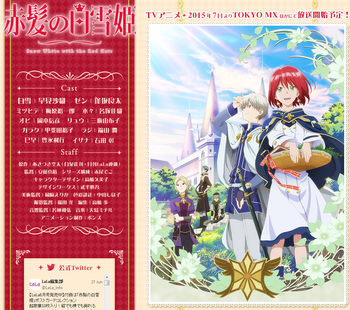 Shirayuki was a young girl born with unique apple-red hair. She meets a famous but foolish Prince Raji, who falls in love with her at first sight and orders her to become his concubine. With nowhere else to go, Shirayuki cuts her hair and escapes to a neighboring country. While traversing through the forests, she meets a young boy, Zen, who helps her after she boldly cures his wounds but then gets poisoned by an apple given to Shirayuki. Meanwhile, Prince Raji sends out henchmen to search for her. What will happen to Shirayuki? What is Zen's true character? A refreshing fantasy story between an optimistic heroine and a prince who constantly stays on her watch.

<< TV i | TV ii | TV iii | TV iv | TV v | OVA i | OVA ii | OVA iii | Film i | Film ii >>