2009 Summer anime Part 4: Movie
Evangelion: 2.0 You Can [Not] Advance (June 27)
The Asylum Session (June 2009)
Miyamoto Musashi: Souken Ni Haseru Yume (June 2009)
Pocket Monster Diamond & Pearl: Arceus' Conquering of Space-Time (July 18)
Naruto Shippuden: The Will of Fire Still Burns (August 01)
Summer Wars (August 01)
Hottarake no Shima – Haruka to Mahou no Kagami (August 22)
Yatterman (August 22)
Kara no Kyoukai 7: Satsujin Kousatsu ~ Part 2 (August 2009)
<< Part 1: TV | Part 2: TV | Part 3: OVA | Part 4: Movie >>
Evangelion: 2.0 You Can [Not] Advance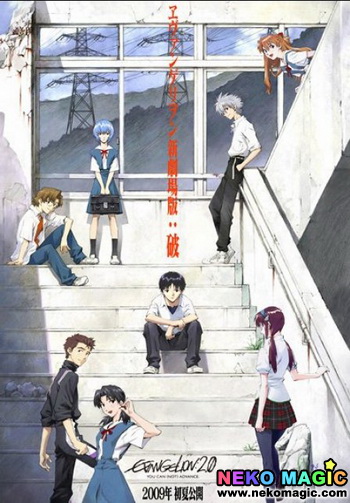 (June 27) http://www.evangelion.co.jp/
[youtube]PDscbi2kgsw[/youtube]
After the second impact, all that remains of Japan is Tokyo-3, a city that's being attacked by giant creatures that seek to eradicate the human kind, called Angels. After not seeing his father for more than eight years, Shinji Ikari receives a phone call, in which he is told to urgently come to the NERV Headquarters, an organization that deals with the destruction of the Angels through the use of giant mechs called Evas.Shinji's objective is to pilot the Eva Unit 01,while teaming up with the Eva Unit 00 pilot, Ayanami Rei.
The Asylum Session

(June 2009) http://www.cwfilms.jp/as/
[youtube]ln0pV0Y7CqM[/youtube]
The Asylum Session's story follows the trials and coming-of-age of teenaged boys and girls in the distant future. In this era, the development of civilization has stopped and even declined. Hiyoko is a runaway girl who goes to live in tents with other people at a stadium nicknamed "Asylum." There, she meets Akira, a leader of a band of street children. Profiteering police want to tear down the stadium, so its denizens create a street culture event called "The Asylum Session" to counter those plans.
Miyamoto Musashi:
Souken Ni Haseru Yume

(June 2009) http://musashi-souken.com/
[youtube]MpqxPDkDzjQ[/youtube]
Miyamoto Musashi (1584-1645) was an unrivalled swordsman in the days when internal wars in Japan had virtually ended. Nevertheless, he wrote a master treatise on military strategy, The Book of Five Rings and sought the way to enlighten his spirit and cultivate his mind. But could this image have been manufactured by the generations that followed…?
Pocket Monster Diamond & Pearl:
Arceus' Conquering of Space-Time

(July 18) http://www.pokemon-movie.jp/
[youtube]xOYdHi-bKKw[/youtube]
Continuing on their journey, Ash's party arrives at Michiina, a riverside town surrounded by flourishing nature. In this town are the countless millenia-old ruins of a temple, and Ash and friends start towards the ruins, which are on top of a huge, rocky mountain. Doing so, they find that there is a big lake at the peak of the mountain, and the ruins stand beside that lake. Ash and friends admire the beautiful lake. Then suddenly, the waves of the lake crash noisily and come together into a water-tornado that bears down on Ash and co. Just when it looks like the tornado is going to grab them, a girl flies into view with a cry of, Dialga, please! In the next instant, Dialga appears!
Naruto Shippuden:
The Will of Fire Still Burns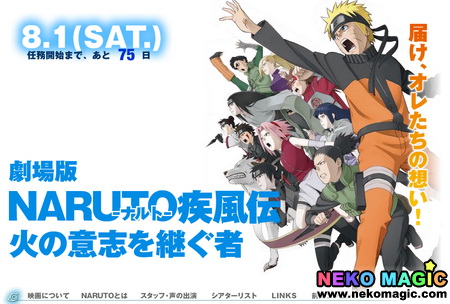 (August 01) http://www.naruto-movie.com/
[youtube]4LEDPZF35uQ[/youtube]
Summer Wars

(August 01) http://s-wars.jp/
[youtube]Ra26GtulFP0[/youtube]
Hottarake no Shima –
Haruka to Mahou no Kagami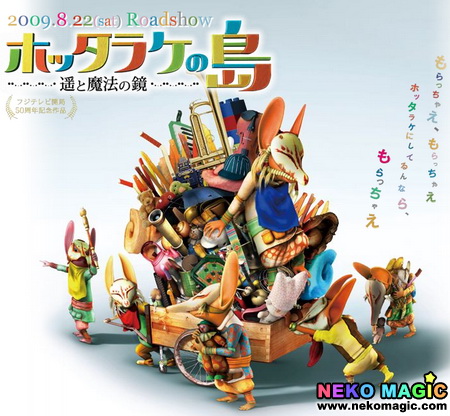 (August 22) http://www.hottarake.jp/
[youtube]CpBESrsUBqY[/youtube]
Your favourite teddy bear. That model kit that took so long to complete. The picture book you used to read over and over again. The shining stone you found that day in the park. Where do all your childhood's treasures go when you grow up? In this story, we meet fantastic creatures that gather all these little objects that fall into oblivion as they are forgotten by their owners when they step into adulthood. These creatures sneak into our world from a different dimension, and unseen by humans, they take all the ditched and forgotten "treasures" into their world. Here, they use their booty to build their own city, a fairy tale-like place called… Oblivion Island!
Yatterman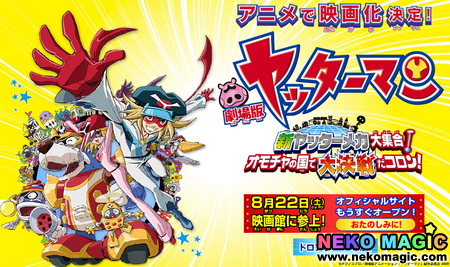 (August 22) http://www.yattereiga.com/
Kara no Kyoukai 7:
Satsujin Kousatsu Part 2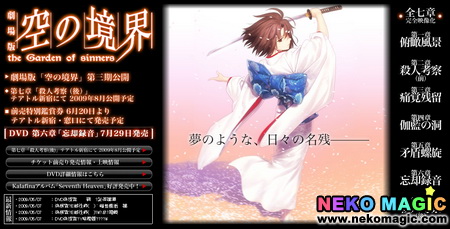 (August 2009) http://www.karanokyoukai.com/
[youtube]5_UWZ2WA0ZA[/youtube]
Mikiya Kokuto finds himself intrigued by two things. The first is by Shiki Ryougi a beautiful, yet rather unsociable, girl and the other is the strange series of violent deaths that start occuring in his town. As he attempts to get closer to Shiki, he soon learns that the two are connected and that there are many supernatural forces at work which could very likely get him killed as well.
<< Part 1: TV | Part 2: TV | Part 3: OVA | Part 4: Movie >>