Reviewed – by kokoda_koji
This ep is an exciting ep, the fighting is exciting, esp Karen,Donut and Coco!! Many things can be seen in this ep as well. Milk is the main character in this ep, but her action is really selfish , she still didn't grow up after ep 46… In the last part, there is a prompt that Milk may be Milky Rose, but I don't wish that she is Milky as I think her personality doesn't match Milky cool look. Also, we can see CocoNozo and NutsKoma moment.
What we can see in this ep:
Palmier Kingdom (but it is still under construction)
New enemy (I forget how to spell his name, his human form like Dr. Agasa in Conan, and his monster form is like cuttlefish. His voice is Nagajima in You're under arrest), he looks strong in this ep.
Milk's jealousy (she write this letter to Coco and Nuts (may be specially for Coco only) just because she mind that they go to find Nozomi and others leaving her alone)
Coco and Nuts' popularity in Palmier Kingdom (as the kings)
Donut's power (he has the power to confuse the enemy, but he is hurt badly afterwards)
Where the blue rose petal from and Milk pick it up
group transformation (See, as I mention before, there should be a group transformation with 5 cures landing)
Palmier Kingdom food (from Pc5 expression, it is juicy and delicious)
Let's go! pictorial comments!
Although this ep's director is Kawano, his drawing seems improved
Coco and nuts' hair seem growing longer…(but the drawing is better than ep 2) Komachi here is better than last season ep 41, this one: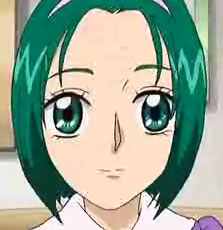 Today's Milk
Milk naugthy look, even Papaya scold her, she still thinks that she is right.
Today's Coco & Nuts
They are like Koala here, grabbing Nozomi's leg and Komachi's back
Coco x Nozomi moment in the left picture. Is he a gentleman? asking a girl to carry bricks..He can use human form for doing construction work, but his citizens can't, quite pity to his citizens
After that, Nuts x Komachi moment, they are slacking….|||
Today's Pc5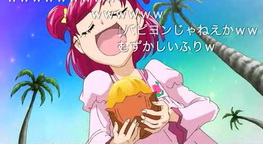 They have the chance to try palmier food, they should thanks to Milk.
Yes! 5 people transformation, nicer than last season
Reply to rakuem: The transformation had been edited to a very short version, and the landing is updated. It had updated, but not much, may be it's not what you expect
Today's enemy
Is he a relative of Kamao?
The fight
Coco has the talent to be a bad guy…XD Want to see the same action in human form
How cool …Donut! if he recovers, he can attack the enemy as well..
Another cool scene in the fight
Last part
Look like Flora ask her to pick the petal up
There are 2 Extra in the post:
Fujiyoshi's corner–Precure 5 pairing (from Zetsubou sensei 2 ep 10)
Precure 5 Movie intro and op
Precure 5 parody appears again in Zetsubou sensei. This time is Coco, nuts and Nightmare members.
This is from one of the section in ep 10, saying that normally the things is impossible to happen, but when somebody says it will, after spreading rumours, it become true.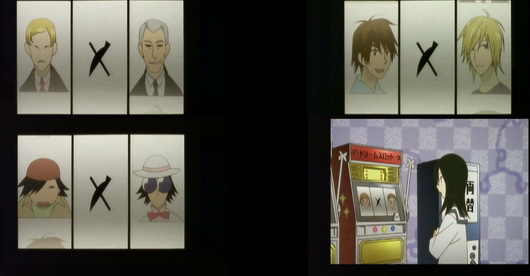 First pairing: A fusion of Bunbee and Kawarino x Bloody (looks like)=maybe
Second pairing: Kamao x Kiriman=impossible
Third pairing; Coco x Nuts=yes! it's nice!
(the answers by Fujiyoshi Harumi)
For those who can't watch Precure 5 Movie intro and op from nicovideo, can download from here:
Movie op:
http://www.mediafire.com/?zib1b2isynd
Movie intro: (it's very funny, Coco, nuts and Milk explain how to use miracle light) http://www.mediafire.com/?dde241lmm9i
The clips are from nicovideo
<br>