2015 Spring anime Part 10: Film 2
Persona 3 the Movie 3: Falling Down (Film)
Crayon Shin-chan Movie 23: Ora no Hikkoshi Monogatari – Saboten Daisuugeki (Film)
Detective Conan Movie 19: The Hellfire Sunflowers (Film)
Dragon Ball Z Movie 15: Fukkatsu no F (Film)
Code Geass: Boukoku no Akito 3 – Kagayaku Mono Ten yori Otsu (Film)
Sarusuberi: Miss Hokusai (Film)
New Initial D Movie: Legend 2 – Dokusou (Film)
Durarara!!x2 Shou: Watashi no Kokoro wa Nabe Moyou (Film)
Uru in Blue: Overture (Film)

<< TV 1 | TV 2 | TV 3 | TV 4 | TV 5 | OVA 1 | OVA 2 | OVA 3 | Film 1 | Film 2 >>

(April 04)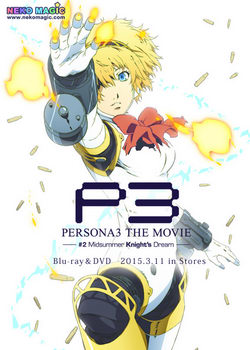 "I kind of understand now… You're afraid of losing things, right?"
The season turns to autumn. The fight of the protagonist and his group S.E.E.S. with the strange monsters called 'Shadows' is getting closer to the end. Makoto and his allies engage in life-or-death battles with Shadows in order to end the Dark Hour. Through the battles, some must face the deaths of friends and family, some must notice what precious things must be protected, and some must find meaning in the battles that have occurred.
In front of Makoto, the mysterious transfer student Ryouji Mochizuki appears. When the group greets a new morning, the gears of fate begin to turn. A fight revolving around each of the heroes' bonds begins…


(April 18)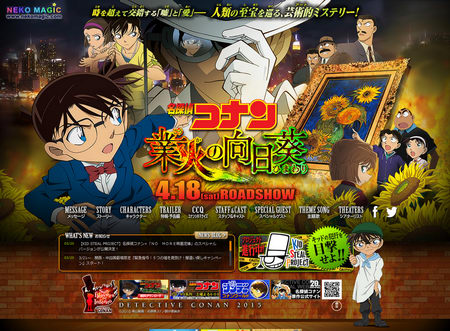 Kaitou Kid and Vincent van Gogh's artworks feature heavily in the movie, according to an interview with Gosho Aoyama. The teaser preview at the end of Dimensional Sniper included references to van Gogh's "Sunflowers" series.

(April 25)
An Earth where peace has arrived. However, remnants of Frieza's army Sorbet and Tagoma (from the Japanese word for 'egg') arrive on the planet. Their goal is to revive Frieza with the dragon balls. Their dastardly wish is granted, the "F" that plans its revenge against the Saiyans is revived…!

(May 02)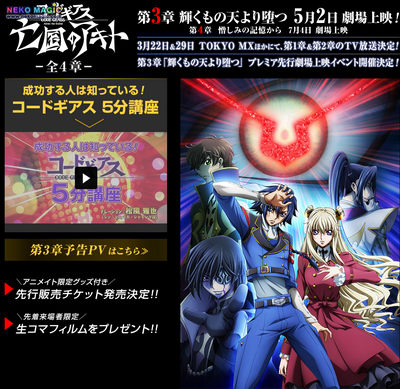 Third episode of Code Geass: Boukoku no Akito.
The story takes place in Europe in the year a.t.b. 2017. A Knightmare unit made of boys and girls from Area Eleven are thrown into a military operation with a 5% chance of survival. They must rescue an allied unit left behind on the European warfront.

(May 09)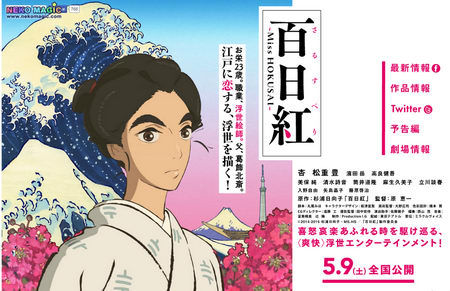 The time: 1814. The place: Edo, now known as Tokyo.
One of the highest populated cities in the world, teeming with peasants, samurai, townsmen, merchants, nobles, artists, courtesans, and perhaps even supernatural things.
A much accomplished artist of his time and now in his mid-fifties, Tetsuzo can boast clients from all over Japan, and tirelessly works in the garbage-loaded chaos of his house-atelier. He spends his days creating astounding pieces of art, from a giant-size Bodhidharma portrayed on a 180 square meter-wide sheet of paper, to a pair of sparrows painted on a tiny rice grain. Short-tempered, utterly sarcastic, with no passion for sake or money, he would charge a fortune for any job he is not really interested in.
Third of Tetsuzo's four daughters and born out of his second marriage, outspoken 23-year-old O-Ei has inherited her father's talent and stubbornness, and very often she would paint instead of him, though uncredited. Her art is so powerful that sometimes leads to trouble. "We're father and daughter; with two brushes and four chopsticks, I guess we can always manage, in a way or another."
Decades later, Europe was going to discover the immense talent of Tetsuzo. He was to become best known by one of his many names: Katsushika Hokusai. He would mesmerize Renoir and van Gogh, Monet and Klimt.
However, very few today are even aware of the woman who assisted him all his life, and greatly contributed to his art while remaining uncredited. This is the untold story of O-Ei, Master Hokusai's daughter: a lively portrayal of a free-spirited woman overshadowed by her larger-than-life father, unfolding through the changing seasons.

(May 23)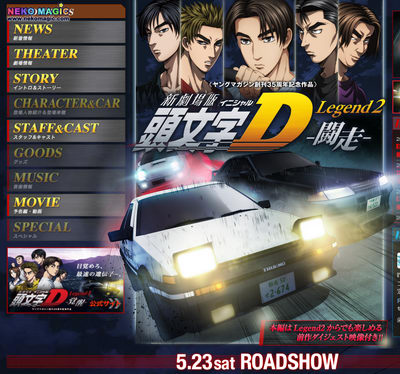 The second movie in a trilogy. The film trilogy retells the beginning of the story from Shuuichi Shigeno's original car-racing manga. High school student Takumi Fujiwara works as a gas station attendant during the day and a delivery boy for his father's tofu shop during late nights. Little does he know that his precise driving skills and his father's modified Toyota Sprinter AE86 Trueno make him the best amateur road racer on Mt. Akina's highway. Because of this, racing groups from all over the Gunma prefecture issue challenges to Takumi to see if he really has what it takes to be a road legend.

(May 30)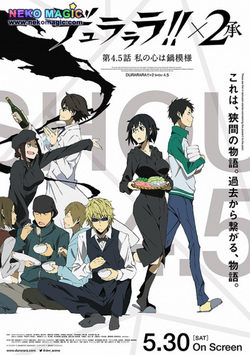 Extra episode bundled with the sixth Durarara!!x2 Shou Blu-ray and DVD volume. This special will be previewed at screenings in several theaters on May 30, 2015. It will be released with the sixth Blu-ray and DVD volume of Durarara!!x2 Shou on July 22, 2015.

(Spring 2015)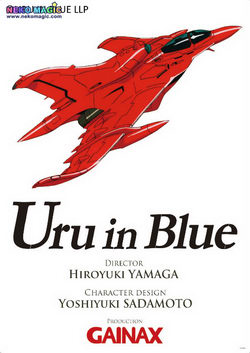 A short special created by a newly launched Uru in Blue LLP (Limited Liability Partnership) in Singapore that will pre-streamed on Spring 2015 and will be a lead up/preview to the full film, set for 2018.

<< TV 1 | TV 2 | TV 3 | TV 4 | TV 5 | OVA 1 | OVA 2 | OVA 3 | Film 1 | Film 2 >>