2015 Spring anime Part 9: Film 1
Sidonia no Kishi Movie (Film)
Pri Para Movie: Mi~nna Atsumare! Prism☆Tours (Film)
Doraemon Movie 35: Nobita no Space Heroes (Film)
Kyoukai no Kanata Movie: I'll Be Here (Film)
Precure All Stars Movie: Haru no Carnival♪ (Film)
Kumi to Tulip (Film)
Ongaku Shoujo (Film)
Aki no Kanade (Film)
Happy ComeCome (Film)
Tamayura: Sotsugyou Shashin Part 1 – Kizashi (Film)

<< TV 1 | TV 2 | TV 3 | TV 4 | TV 5 | OVA 1 | OVA 2 | OVA 3 | Film 1 | Film 2 >>

(March 06)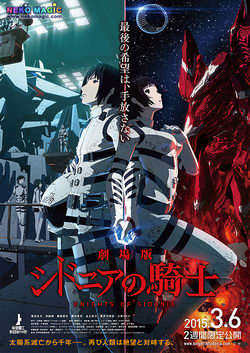 A recap of the first season of Sidonia no Kishi with additional scenes and re-edited sound effects.
Outer space, the far future.
A lone seed ship, the Sidonia, plies the void, ten centuries since the obliteration of the solar system. The massive, nearly indestructible, yet barely sentient alien life forms that destroyed humanity's home world continue to pose an existential threat.
Nagate Tanikaze has only known life in the vessel's bowels deep below the sparkling strata where humans have achieved photosynthesis and new genders. Not long after he emerges from the Underground, however, the youth is bequeathed a treasured legacy by the spaceship's coolheaded female captain.
Meticulously drawn, peppered with clipped humor, but also unusually attentive to plot and structure for the international cult favorite, Knights of Sidonia may be Tsutomu Nihei's most accessible work to date even as it hits notes of tragic grandeur as a hopeless struggle for survival unfolds.

(March 07)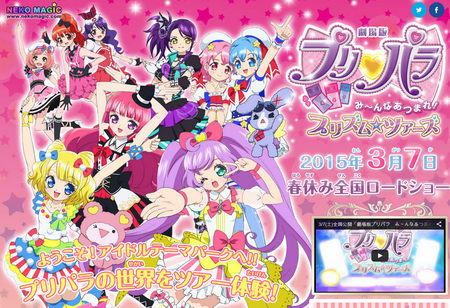 PriPara the Movie: Everyone, Assemble! Prism ☆ Tours is the film based on and starring the characters from PriPara. The film is scheduled to begin showing in theaters across Japan from March 7, 2015. The plot will focus on Laala Manaka finding out about Saints' top idol journey, and will feature the return of many characters from across all the Pretty Rhythm series.

(March 07)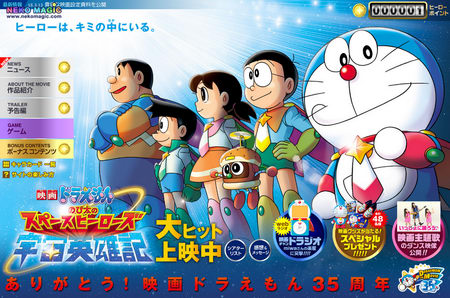 The film will feature Doraemon, Nobita, Shizuka, Gian, and Suneo as heroes in space that fight against monsters. Doraemon has the power of a super punch, Nobita can use a cat's cradle move, the bath-loving Shizuka can control water, Gian has super strength, and Suneo has a drill on his arm.

(March 14, April 25)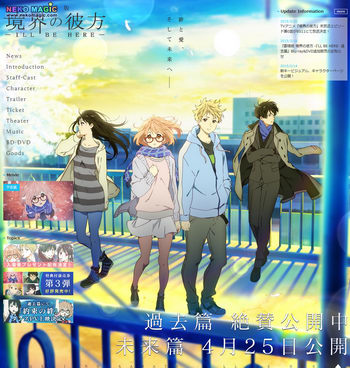 (March 14)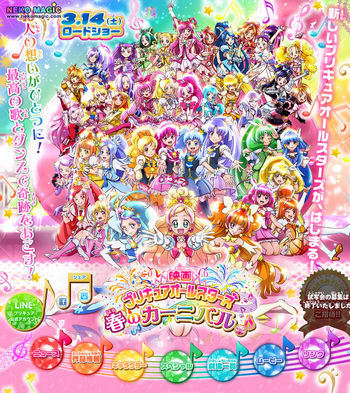 Animation studio Toei unveiled a dance video clip from the upcoming Eiga Precure All Stars: Haru no Carnival film on Saturday. The clip shows the forty Precure warriors from the past anime series, as well as the upcoming series Go! Princess Precure. The song featured in the video is "Ima Koko Kara".

(March 21)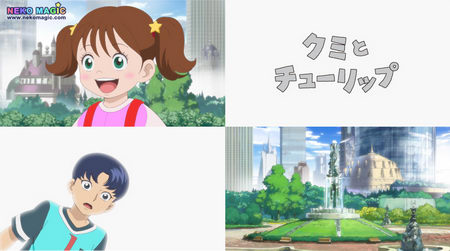 Kumi is a little girl who lives in a world with sparkling metal skyscrapers, and where robots support everything. Kumi's playground is a garden by one of those skyscrapers with a man-made water fountain, artificial vegetation, and digital water and butterflies.
Kumi meets an old man who visits the park every day to paint the artificial flowers. The old man tells Kumi of when he discovered a "breathing" tulip sprouting amidst the artificial flowers, and the two decide to watch over the tulip together as it grows.

(March 21)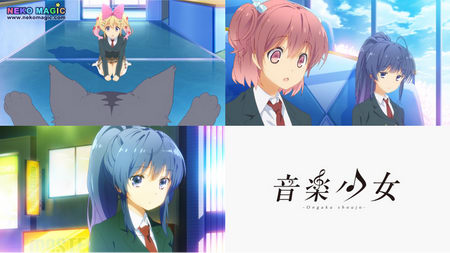 Eri, a girl who likes to stay indoors, meets a mysterious but enthusiastic transfer student named Haru. Eri used to love to sing and Haru loves Eri's singing. The story follows the two during one summer of their high school life as their love sometimes overlaps and sometimes passes by each other.

(March 21)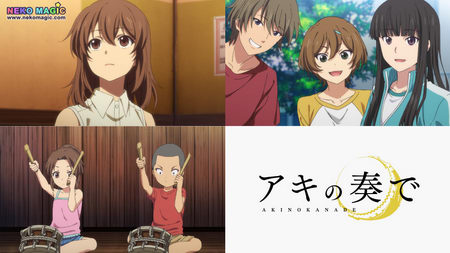 Aki Miyagawa moved to Tokyo to pursue her dream to be a taiko drummer, but had a hard time balancing her strict training regimen with her part-time job. Now, after 15 years, she's returning to coach others for a taiko festival.

(March 21)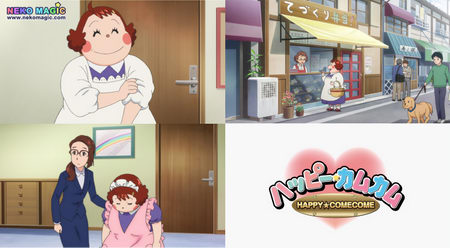 Hiroshi is tired of living alone so he orders a maid robot from a company called Happy ComeCome, but ends up with the robot mom Yoshiko instead. Yoshiko acts more motherly than Hiroshi's real mother, and over time she is able to heal his heart.

(April 04)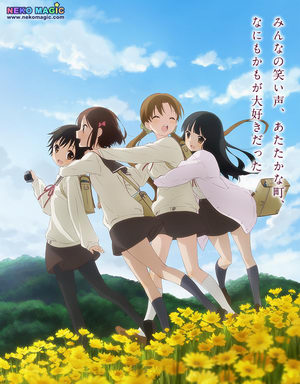 The first movie of a four-part finale of Tamayura.

<< TV 1 | TV 2 | TV 3 | TV 4 | TV 5 | OVA 1 | OVA 2 | OVA 3 | Film 1 | Film 2 >>