2015 Spring anime Part 7: OVA/OAD/SP 2
Trinity Seven (OAD)
Gugure! Kokkuri-san Special (OVA)
Grisaia no Kajitsu (OVA)
Senran Kagura: Estival Versus – Shoujo-tachi no Sentaku (OVA)
Assassination Classroom (OVA)
Yama no Susume 2nd Season (OVA)
Amagi Brilliant Park: Wakuwaku Mini Theater (OVA)
Hyakka Ryouran: Samurai After (OVA)
Nisekoi (OAD)
To LOVE-Ru Darkness (OAD)
Gintama (OAD)
Suisei no Gargantia: Meguru Kouro, Haruka (OVA)
Shingeki no Kyojin: Kuinaki Sentaku (OVA)

<< TV 1 | TV 2 | TV 3 | TV 4 | TV 5 | OVA 1 | OVA 2 | OVA 3 | Film 1 | Film 2 >>

(March 25)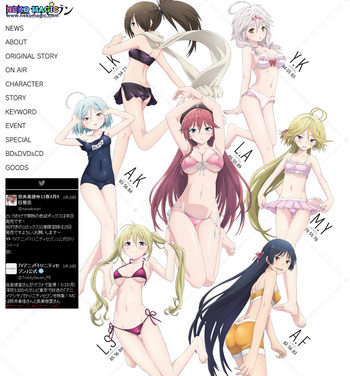 Bundled with limited edition of the 11th compiled volume of the manga. The premise of the OVA will be written by Kenji Saitou and will deal with a "hilarious festival." The 11th volume is scheduled to be shipped on March 25th.
Release Date: March 25
Studio: Seven Arcs
Note: bundled w/ LE manga vol.11
Homepage: http://trinity-7.com/

(March 25; April 24; May 27)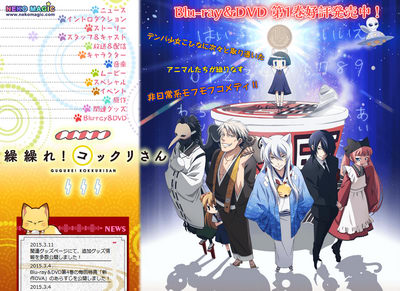 Short specials included with the Blu-ray/DVD volumes.
Kohina Ichimatsu, the self-proclaimed doll, called out the fox ghost Kokkuri-san with a suspicious incantation! But it was a story of the past where Kokkuri-san was able to answer any question you had. Nowadays, it relies on a certain search engine, but is actually bad at anything digital. He was going to possess Kohina, but got worried about her living all alone and devotes himself to do chores as if he was her mother. On top of that, the dog ghost Inugami who is infatuated with Kohina and the old good-for-nothing supernatural raccoon dog Shigaraki decide to root themselves with her as well!
Release Date: March 25 (ep.4); April 24 (ep.5); May 27 (ep.6)
Studio: TMS Entertainment
Note: ep.4 of 6, bundled w/ BD LE vol.4;
ep.5 of 6, bundled w/ BD LE vol.5;
ep.6 of 6, bundled w/ BD LE vol.6
Homepage: http://www.gugukoku.com/

(March 25)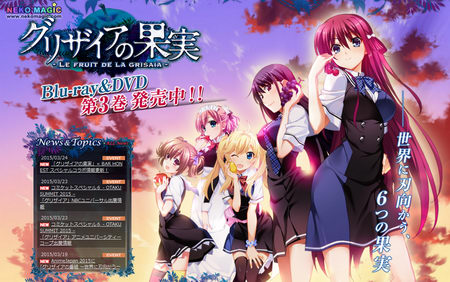 Short specials added to Blu-ray/DVD volumes.
Mihama Academy is a prison-like school built to preserve "fruit" that has fallen too far from its tree. It is home to five female students who each have their own reasons for enrolling in the academy and live their life idly within the walls of Mihama. One day, Kazami Yuuji—the institute's first male student—arrives and throws the orderly rhythm of Mihama off balance. Is Yuuji what the girls need to grab hold of their lives once more, or will the weight of their pasts prove too steep a wall to overcome? Or, is his past even heavier than any of the others?

(March 26)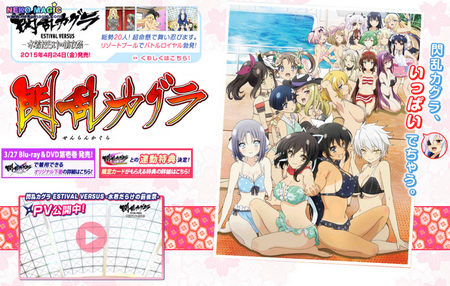 A letter arrives at Death Cram School. Inside is a an invitation to a spa resort.
Yumi declares to the four excited girls that, "No. This is evil itself," points out that they are slacking off too much. Shiki proposes, "When opinions are divided, it's time for boob rock-paper-scissors!" and then wins so they all go to the pool.
There, girls from Hanzoo Academy, Homura Crimson Squad, and Hebijo Clandestine Girls' Academy also come, but Asuka says, "Let's have fun together today" and they call a temporary truce.
However, a trivial matter sets off a sour quarrel and, at Yumi's suggestion, they settle it with a showdown in the style of the ancient shinobi.

(March 27)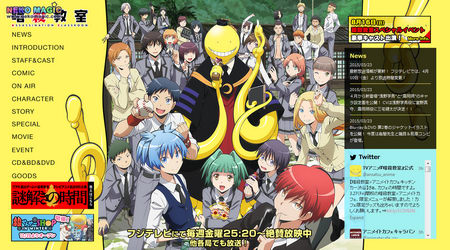 A humorous and action-packed story about a class of misfits who are trying to kill their new teacher—an alien octopus with bizarre powers and super strength! The teacher has just destroyed the moon and is threatening to destroy the earth—unless his students can destroy him first. What makes things more complicated is that he's the best teacher they've ever had!

(March 27)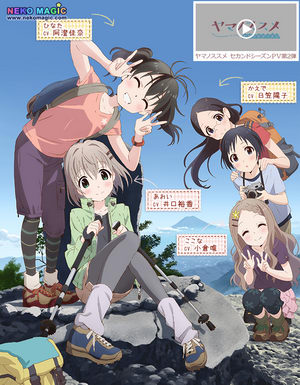 Unaired episodes included in the Blu-ray/DVD releases of Volume 2 and Volume 7.
The title tells the story of the childhood friends Aoi, a girl who prefers staying inside and who has acrophobia, and Hinata, a girl who loves mountains. The two decide to climb a mountain in order to once again see the morning sun from its peak as they did when they were young.

(March 27; April 24; May 29)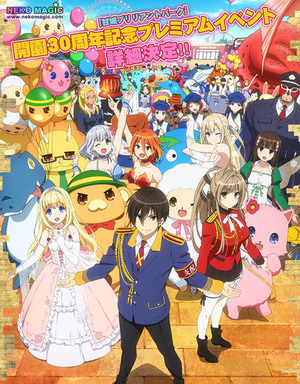 Mini-theater specials bundled with Blu-ray/DVD volumes of Amagi Brilliant Park.
Seiya was forced to accept an invitation to an amusement park by the mysterious and beautiful girl Isuzu. What he didn't know was that she would bring him to the decrepit Amagi Brilliant Park, Japan's most disappointing amusement park. Seiya is introduced to the leader of the Park, the "real princess" Latifah, who suddenly entrusts him with saving the park, which is in danger of shutting down. Amagi Brilliant Park, it turns out, is not just any amusement park, but rather one populated by fairies.
Release Date: March 27; April 24; May 29
Studio: Kyoto Animation
Note: ep.4 of 7, bundled w/ BD LE vol.4;
ep.5 of 7, bundled w/ BD LE vol.5;
ep.6 of 7, bundled w/ BD LE vol.6
Homepage: http://www.tbs.co.jp/anime/amaburi/

(March 2015)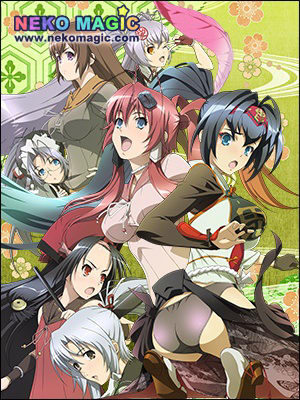 An OVA featuring a new character named Kagekatsu Uesugi.
The series takes place in an alternate version of Japan called Great Japan, in an alternate timeline where the Tokugawa shogunate remained active and has remained isolated from the rest of the world. The story takes place at Buou Academic School, an academy located at the base of Mount Fuji where children of military families train to become samurai warriors. The academy is in the middle of a power struggle between Yukimura Sanada and Matabei Goto of the Toyotomi faction and the powerful student council that rules the school, and Muneakira Yagyu, the owner of the Yagyu Dojo, and the mysterious Jubei Yagyu are dragged in the middle of the conflict.
The series features famous historical figures from Japan's Sengoku period and early Edo period. The character Charles d'Artagnan also comes from the same age in Europe.

(April 03)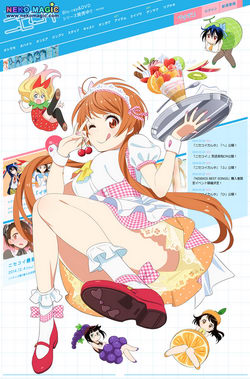 Three unaired episodes, released on DVDs, bundled with the 14th, 16th, and 17th volumes of the Nisekoi manga.
Vol. 14: released on October 3, 2014; the episode adapts chapter 58 "Funshitsu" and chapter 64 "Mikosan"
Vol. 16: released on February 4, 2015; the episode adapts chapter 65 "Henbou" and chapter 71 "Oshigoto"
Vol. 17: released on April 3, 2015; the episode adapts chapter 81 "Sentou" and chapter 105.5 "Service"

(April 03)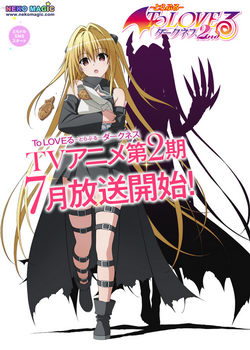 Chapters "Photography ~Gekishase yo!~", "Technique ~Otome no Tobira~", and "Holiday ~Oryori no ☆ wa ikusu?~"

(April 03)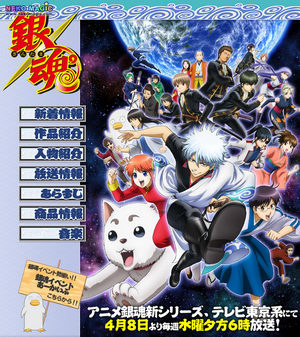 Bundled with limited edition of the 58th Gintama manga volume.
The tagline for the bundled anime reads, "It's time for all the Yorozuya members …to wake up just one more time."

(April 04)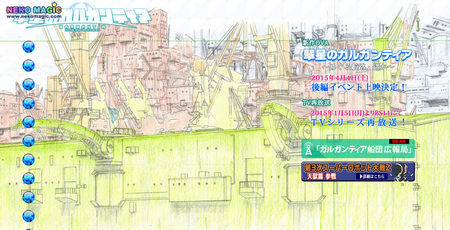 The story begins in the distant future in the far reaches of the galaxy. The Human Galactic Alliance has been constantly fighting for its survival against a grotesque race of beings called "Hidiaazu." During an intense battle, the young lieutenant Ledo and his humanoid mobile weapon Chamber are swallowed up into a distortion of time and space. Waking from his artificially induced hibernation, Ledo realizes that he has arrived on Earth, the planet on the lost frontier. On this planet that was completely flooded by the seas, people live in fleets of giant ships, salvaging relics from the seas' depths in order to survive. Ledo arrives on one of the fleets called Gargantia. With no knowledge of the planet's history or culture, he is forced to live alongside Amy, a 15-year-old girl who serves as a messenger aboard the Gargantia fleet. To Ledo, who has lived a life where he knows nothing but fighting, these days of peace continue to surprise him.

(April 09)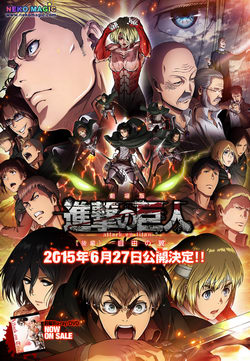 The young Erwin Smith is a rising star in the Survey Corps, humanity's only hope of defeating the man-eating monsters known as Titans. Ruthless and dispassionate, Erwin's mind is devoted to strategies and intrigue. But beneath Erwin's feet is another world, the "Underground," where humans are born and die surrounded by the garbage the Capital throws away. Here, the criminal Levi survives on his wits and agility. But when these two ambitious men cross paths, who will prove himself stronger?
The long-awaited origin story of Levi and Erwin, two of Attack on Titan's most beloved characters!

<< TV 1 | TV 2 | TV 3 | TV 4 | TV 5 | OVA 1 | OVA 2 | OVA 3 | Film 1 | Film 2 >>