2015 Spring anime Part 6: OVA/OAD/SP 1
Haikyuu!! (OAD)
Seirei Tsukai no Blade Dance Special (OVA)
Shouwa Genroku Rakugo Shinjuu: Yotarou Hourou-hen (OVA)
Tsubasa to Hotaru (SP)
Ima, Futari no Michi (ONA)
High School DxD (OVA)
Hitsugi no Chaika (OVA)
Ace of Diamond (OAD)
Saki Achiga-hen: Episode of Side-A – Kuro no Tanjoubi (OVA)
Papa no Iukoto wo Kikinasai! (OVA)
Free!: Eternal Summer (OVA)
Nekota no Koto ga Ki ni Natte Shikatanai. (OVA)

<< TV 1 | TV 2 | TV 3 | TV 4 | TV 5 | OVA 1 | OVA 2 | OVA 3 | Film 1 | Film 2 >>

(March 04)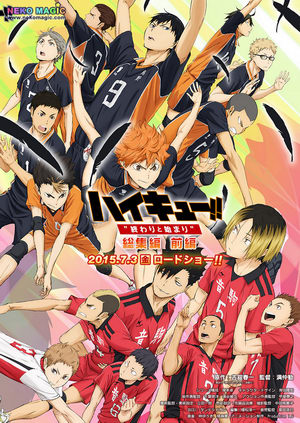 A chance event triggered Shouyou Hinata's love for volleyball. His club had no members, but somehow persevered and finally made it into its very first and final regular match of middle school, where it was steamrolled by Tobio Kageyama, a superstar player known as "King of the Court." Vowing revenge, Hinata applied to the Karasuno High School volleyball club… only to come face-to-face with his hated rival, Kageyama!
A tale of hot-blooded youth and volleyball from the pen of Haruichi Furudate!!

(March 04)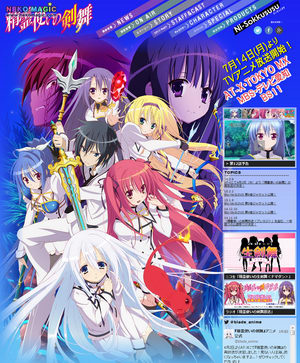 Mini specials bundled on each Blu-ray/DVD volume of Seirei Tsukai no Blade Dance. Each special is tied to the new 32-page short story that original light novel author Shimizu Yuu is writing for the limited first pressing of every Blu-ray/DVD volume.
Only a pure maiden can have the privilege to contract with a spirit. In here, Areishia Spirit Academy, trained maidens of noble families are gathered and given an elite's education to become spirit contractors. A boy, Kamito, peeped by accident at a girl, Claire, while she was taking a bath and he ended up making a contract with the spirit she wanted. Yes, Kamito is an irregular boy spirit contractor whose existence was thought impossible until now. "You stole…my spirit…you have to take responsibility for it!" "Huh?" "You have to become my contracted spirit!" What will Kamito's destiny lead to?

(March 06)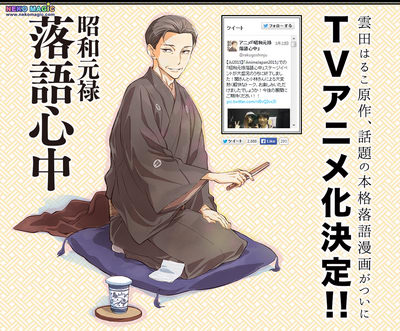 When a certain man is released from prison, he knows exactly where he's heading first. After falling in love with a traditional comic storyteller's rendition of the story called "Shinigami," he is determined to become his apprentice. The performer, Yakumo, has never taken an apprentice before, but to everyone's surprise, he accepts the eager ex-prisoner, nicknaming him "Yotaro."
As Yotaro happily begins his new life, he meets others in Yakumo's life, including Yakumo's ward Konatsu. Konatsu was the daughter of a famous storyteller, and Yakumo took her in after her father's tragic death. Konatsu loved her father's storytelling, and would love to become a performer in her own right—but that path is not available for women.

(March 06, 13, 20, 27 @06:45)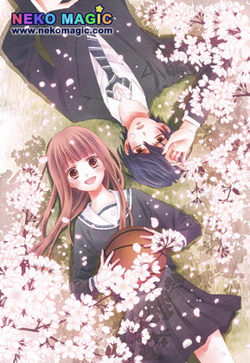 Four episodes that will be aired on TV as segments within the children's television program Oha Suta.
The story revolves around Tsubasa Sonokawa, a 15-year old high school girl who fell in love with her upperclassman when he saved her after she fainted at the train station from anemia. She thought it was a meeting of fate, and visited him at his class every day. However, he told her that her feelings were "heavy," and he dumped her. She once again meets a boy after taking over her friend Yuri's job as boy's basketball team manager. She learns that she might have more of a connection with this boy named Aki than she first thought…

(March 08)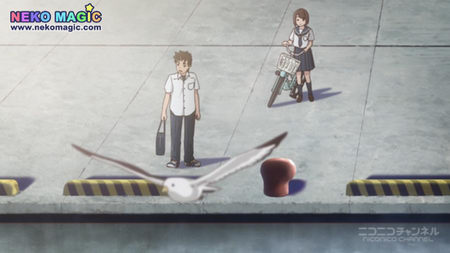 The purpose of the short is to thank people for help during the prefecture's reconstruction efforts and prevent victims' memories of the 2011 disaster from fading away.
The anime's story focuses on a pair of 16-year-old high school students who experience the Tohoku disaster and grow in the aftermath. Jun Agatsuma's father is a doctor, and she worries about the future. Kunpei Satou's father is a fisherman, and it was decided that the boy will succeed his father in the job. The pair's lives are suddenly disrupted when the 2011 earthquake and tsunami hit their area. The two determine their futures as Miyagi Prefecture recovers in the wake of the disaster.
Three people connected to Miyagi Prefecture were chosen to voice the short's characters.

(March 10)
Unaired anime episode bundled the limited edition High School D×D DX.1 Blu-ray.
Hyodo Issei is a (perverted) high school boy. When he goes out on a date with his first girlfriend Asano Yuma, he is killed by her. Her true identity is Reinare, a fallen angel sent by a secret society Grigori to eliminate dangerous divine weapons. Issei is reincarnated as a devil by his senpai Rias Gremory, a Duke of Hell. Issei serves as Rias's low rank devil and fights against the fallen angels.

(March 10)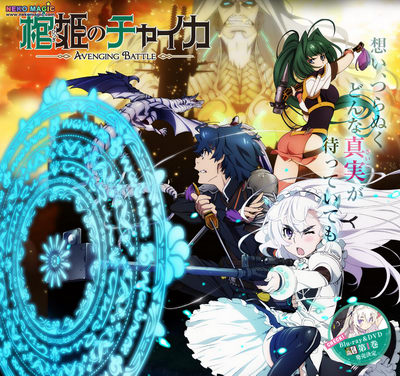 Unaired anime-original OVA bundled with 12th volume of the Hitsugi no Chaika novel.
The search for the remains of Emperor Gaz continuous. Chaika still in search of knowing who she really is and what her purpose is. Similarly, the Red Chaika continues the search for the rest of Emperor Gaz's remains. The Gillette corporation continues the mission to catch every last Chaika. In their adventure they give a revealing account kept secret by the Emperor, which Chaika, Fredrica, Toru, and Akari decide to uncover.

(March 17)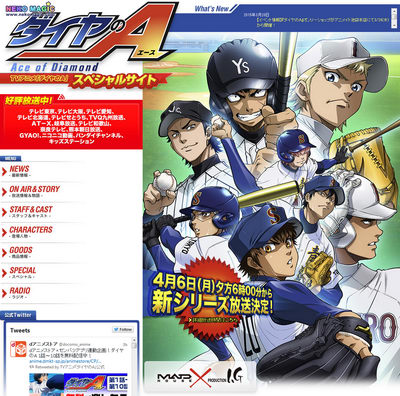 The story follows Eijun Sawamura, a pitcher who joins an elite school with a brilliant catcher named Kazuya Miyuki. Together with the rest of the team, they strive for Japan's storied Koushien championships through hard work and determination.
Release Date: March 17
Studio: Madhouse, Production I.G
Note: ep.2; bundled w/ LE manga vol.46
Homepage: http://diaace.com/

(March 18)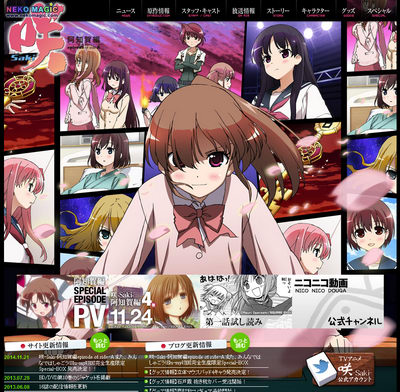 Short original anime bundled with the limited edition Blu-ray Box of Saki Achiga-hen: Episode of Side-A.
The Achiga Girls' Academy in Nara once defeated regional mahjong powerhouse Bansei High School. It advanced into the national team semifinals but lost to the eventual champion, and the mahjong club was later disbanded.
Six years later, elementary school student Shizuno Takakamo befriends transfer student Nodoka Haramura. The two eventually enter Achiga Girls', but Nodoka transfers out of the school in the second year.
When Shizuno sees Nodoka on television the following year as the national middle school individual mahjong champion, she decides to revive Achiga's mahjong club.

(March 18)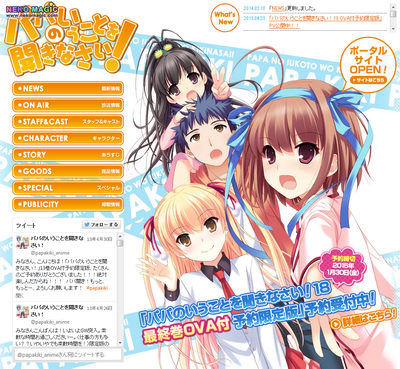 Limited edition episode included with pre-orders for the 13th and 18th light novel volumes.
Segawa Yuta is a freshman of a university. He lost his parents when he was small and was raised by his sister Yuri. Yuta has been living alone since Yuri got married to a middle aged man when Yuta was a junior high student.
One day, Yuri visited Yuta's apartment and asked him to take care of her three daughters while Yuri and her husband were on a trip. He unwillingly accepted the job but the plane Yuri took went missing. In order to prevent the daughters from being adopted separately by relatives, Yuta decided to take in all three girls.

(March 18)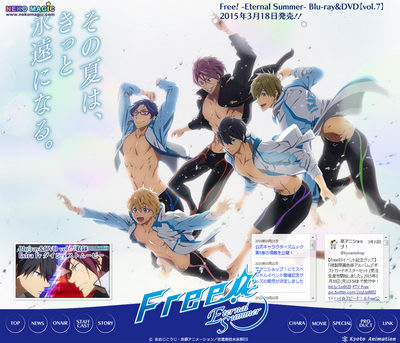 Unaired episoded included with volume 7 of the Blu-ray/DVD.
The Iwatobi Swim Club returns! As their third year begins, Haruka, Makoto and Rin are still swimming strong, but choosing plans for their futures loom, and as friends both new and old make their way into the picture, rivalries will take root once again. Will the team make it out stronger than before or sink under pressure?

(March 22)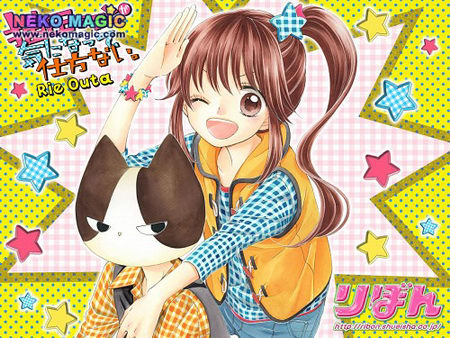 An anime adaptation of the Nekota no Koto ga Kininatte Shikatanai. manga screened at the Ribon Festa 2015 event.
A girl named Mikiko sees the face of a popular boy in her class as a cat's face.

<< TV 1 | TV 2 | TV 3 | TV 4 | TV 5 | OVA 1 | OVA 2 | OVA 3 | Film 1 | Film 2 >>