2015 Spring anime Part 4: TV anime 4
Takamiya Nasuno Desu!: Teekyuu Spin-off (TV)
Mikagura Gakuen Kumikyoku (TV)
Sound! Euphonium (TV)
Yu-Gi-Oh! Duel Monsters Remaster: Battle City Arc (TV)
Gintama° (TV)
Triage X (TV)
Ore Monogatari!! (TV)
Houkago no Pleiades (TV)
Etotama (TV)
Punchline (TV)
Urawa no Usagi-chan (TV)
Nisekoi: 2nd Season (TV)
Sidonia no Kishi: Daikyuu Wakusei Seneki (TV)

<< TV 1 | TV 2 | TV 3 | TV 4 | TV 5 | OVA 1 | OVA 2 | OVA 3 | Film 1 | Film 2 >>

(April 06 @25:08)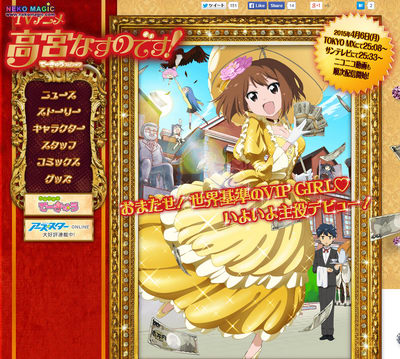 As the title implies, the "full-burst gag comedy" spinoff manga centers on the daily life of Nasuno Takamiya, the "exceedingly airheaded" school tennis club member in Teekyū, and her friends.

(April 06 @26:35)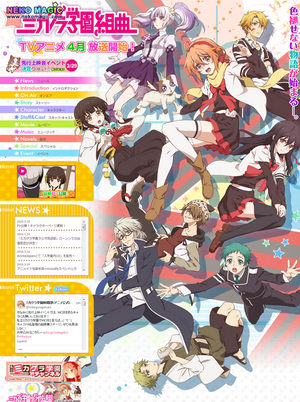 A story based on the super popular song series from NND. Eruna Ichinomiya, a freshman who dreamed of a school life filled with cuteness, entered a boarding school—Mikagura Private School. In this school, each of the cultural club representatives have to battle each other, with unique powers…!! What will happen to Eruna, who somehow ended up becoming the representative of a certain club?!

(April 07 @24:30)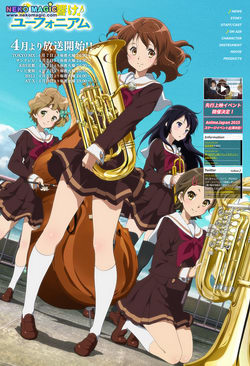 Hibike! Euphonium begins when Kumiko Oumae, a girl who was in the brass band club in junior high school, visits her high school's brass band club as a first year. Kumiko's classmates Hazuki and Sapphire decide to join the club, but Kumiko sees her old classmate Reina there and hesitates. She remembers an incident she had with Reina at a brass band club contest in junior high school.

(April 07 @26:05)
A remaster of the Yu-Gi-Oh! Duel Monsters TV series (2000).
The story centers around the journey of the spirit of an ancient Egyptian pharaoh who is trying to re-discover who he was many years ago, since he has lost his memories. With the help of a boy, Yugi Mutou, the one who awakened the spirit, and his friends, he battles many villains and adversaries. Many of the villains have been linked to the Nameless Pharaoh's past, due to the Millennum Puzzle he holds and many try to take the puzzle and his power away from him.

(April 08 @18:00)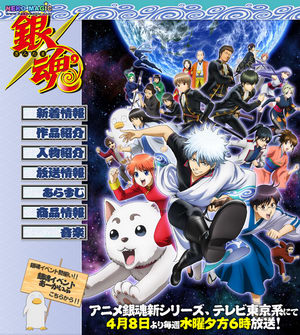 The Gintama event at Jump Festa 2015 announced on Sunday that a new television anime series has been green-lit. The new series will premiere on TV Tokyo and its affiliates in April 2015.

(April 08 @25:05)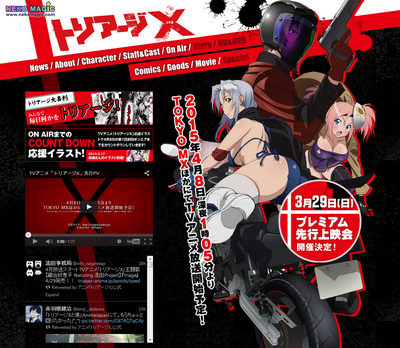 Mochizuki General Hospital boasts some of the most well-trained (and well-endowed) nurses in town. But though these ladies spend much of their day battling sickness, their after-hours are spent fighting a very different sort of disease… Under the leadership of the hospital chairman, a handful of staff members and local teenagers form a group of mercenary assassins, targeting the "cancers" of society and excising those individuals before their wickedness spreads.s

(April 08 @25:29)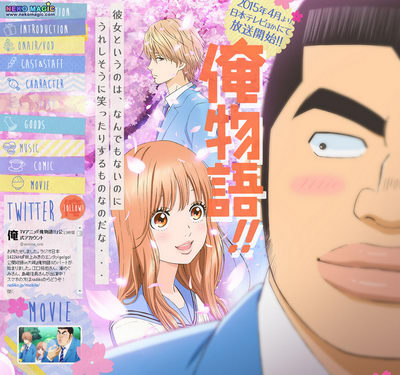 Gouda Takeo is a freshman in high school. (Both estimates) Weight: 120kg, Height: 2 meters. He spends his days peacefully with his super-popular-with-girls, yet insensitive childhood friend, Sunakawa. One morning, on the train to school, Takeo saves a girl, Yamato, from being molested by a pervert. Could this be the beginning of spring for Takeo?

(April 08 @26:44)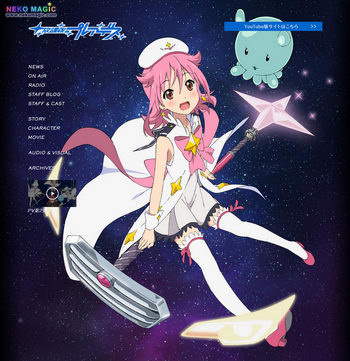 Subaru is a young girl who discovers that her best friend Aoi is part of magical group trying to gather engine fragments so that a little being from Pleiades can return to his home. Subaru considers joining them as she was chosen by the Pleiadian, president of this afterschool club.

(April 09 @23:00)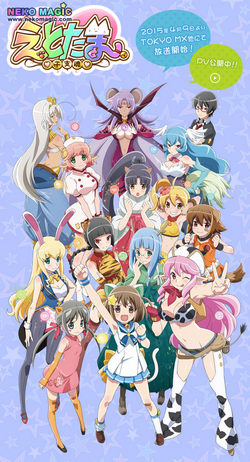 The anime's story revolves around Nya-tan, the cat of Chinese astrology who wants to become a member of the Chinese zodiac. Nya-tan is simple and suffers from memory loss, and she tries various foolish ways to become a member. She meets Takeru Tendo, a high school student who lives alone in Akihabara, and becomes a freeloader at his house. Little by little, she gets closer to her goal.

(April 09 @24:55)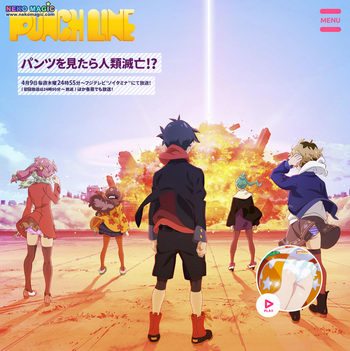 The series follows Yuuta Iridatsu, whose spirit has been separated from his body.

(April 09 @25:35)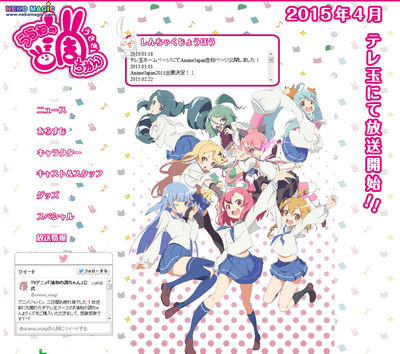 An original anime to advertise Urawa City in Saitama, Japan.

(April 10 @23:30)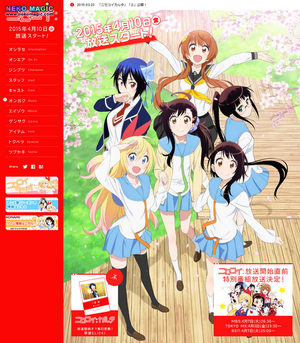 Second season of the Nisekoi series.
Raku Ichijou is an average high school student. He also happens to be the sole heir to the head of a Yakuza Family called the Shuei-gumi. Ten years ago, Raku made a promise… a secret promise with a girl he met. They promised one another that they will "get married when they reunite." Since then, Raku never let go of the pendant the girl gave him.
Then one day, a beautiful girl named Chitoge Kirisaki transfers into Raku's class. Their chemistry was more than off. There was not a moment where they were not fighting. But by a weird turn of events, Raku and Chitoge agree to become fake lovers. Although his heart is really interested in his classmate Kosaki Onodera, Raku must continue pretending to be Chitoge's boyfriend.

(April 10 @25:55)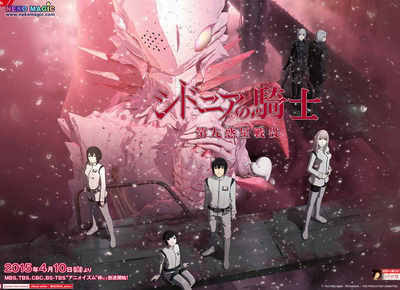 Having narrowly avoided the collision with the asteroid, the Sidonia sets a course for the Lem system in order to wipe out the Gauna nest.

<< TV 1 | TV 2 | TV 3 | TV 4 | TV 5 | OVA 1 | OVA 2 | OVA 3 | Film 1 | Film 2 >>