2015 Spring anime Part 3: TV anime 3
Kekkai Sensen (TV)
Duel Masters VSR (TV)
Arslan Senki (TV)
Baby Steps 2nd Season (TV)
Show By Rock!! (TV)
Ame-iro Cocoa (TV)
Ghost in the Shell: Arise – Alternative Architecture (TV)
Hello!! Kiniro Mosaic (TV)
Diamond no Ace: Second Season (TV)
Kaitou Joker 2nd Season (TV)
Nyuru Nyuru!! Kakusen-kun 2nd Season (TV)
Teekyuu 4 (TV)

<< TV 1 | TV 2 | TV 3 | TV 4 | TV 5 | OVA 1 | OVA 2 | OVA 3 | Film 1 | Film 2 >>

(April 04 @26:58)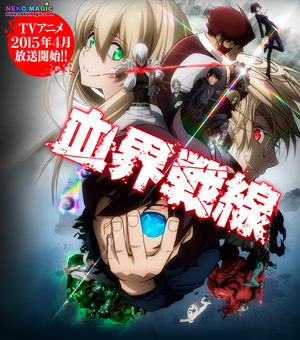 A breach between Earth and the netherworlds has opened up over the city of New York, trapping New Yorkers and creatures from other dimensions in an impenetrable bubble. They've lived together for years, in a world of crazy crime sci-fi sensibilities. Now someone is threatening to sever the bubble, and a group of stylish superhumans is working to keep it from happening.

(April 05 @08:30)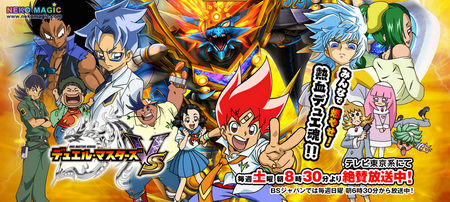 Katta Kirifuda, the younger brother of the previous franchise lead Shōbu Kirifuda, has been starring in the various television anime since 2011's Duel Masters Victory. His name is pronounced the same way as the Japanese phrase for "the trump card won the game."

(April 05 @17:00)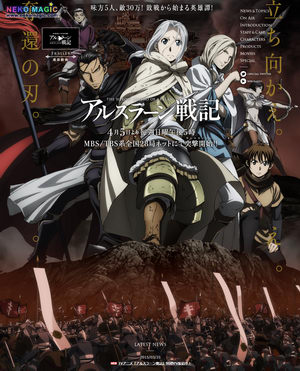 Arslan Senki PV (90-sec ver) by pKjd
In the prosperous kingdom of Pars lies the Royal Capital of Ecbatana, a city of splendor and wonder, ruled by the undefeated and fearsome King Andragoras. Arslan is the young and curious prince of Pars who, despite his best efforts, doesn't seem to have what it takes to be a proper king like his father.
At the age of 14, Arslan goes to his first battle and loses everything as the blood-soaked mist of war gives way to scorching flames, bringing him to face the demise of his once glorious kingdom. However, it is Arslan's destiny to be a ruler, and despite the trials that face him, he must now embark on a journey to reclaim his fallen kingdom.

(April 05 @17:30)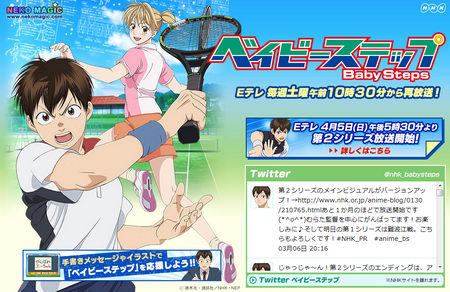 Second season of Baby Steps series.
Maruo Eiichirou (Ei-Chan), a first year honor student, one day decides he's unhappy with the way things are and lacks exercise. He finds a flyer for the Tennis Club and decides to check it out. He's instantly captivated by it.
With no prior experience and poor physical conditioning, join Ei-Chan as he embarks on a tennis journey using his smarts, dedication, and work ethic.

(April 05 @22:00)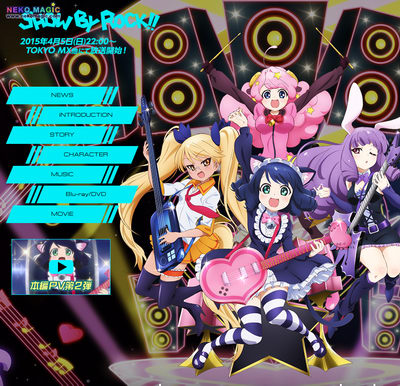 Metropolis of music, MIDICITY. A kitty girl wearing gothic lolita clothing named Cyan is scouted by Maple Arisugawa, the president of a music agency. From there, she meets Chuchu (a pun off of the sound that rabbits make) the honor student rabbit girl, a net geek dog girl named Retoree (from "Retriever"), and an alien sheep (?) girl named Moa. Together, they form the band named "Plasmagica," and aim for the top of the world.
However, the path there is long and tough, and keeping in high spirits is important. By battling against other strange bands, Plasmagica slowly grows toward a top-grade band. In the end, they'll be a band that becomes the driving force of MIDICITY's music industry… Maybe?
Gonna be a music millionaire!

(April 05 @22:27)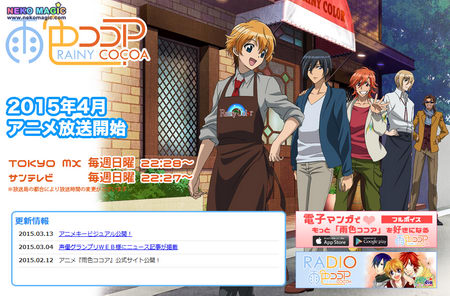 An ordinary college student, Aoi Tokura, was having a bad day. It was so bad because he was called ugly by a good-looking guy on the train. Walking down the street in the rain, Aoi found a small, but cozy cafe, Rainy Color. He started to work part-time as he enjoyed a cup of hot chocolate he was served. Then a guy came into Rainy Color… It was Keiichi Iwase, the one who told Aoi was ugly!!??

(April 05 @22:30)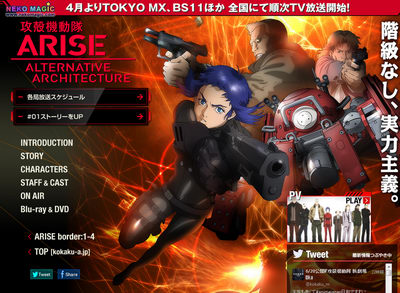 TV series for Ghost in the Shell: Arise.
The anime's story is set in 2027, one year after the end of the fourth non-nuclear war. New Port City is still reeling from the war's aftermath when it suffers a bombing caused by a self-propelled mine. Then, a military member implicated in arms-dealing bribes is gunned down.

(April 05 @24:00)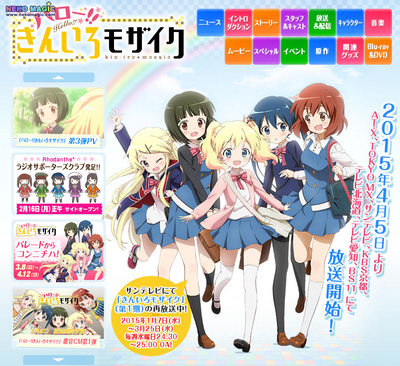 Second season of Kiniro Mosaic.
The story begins with Oomiya Shinobu, a 15-year-old, seemingly pure Japanese girl who actually did a homestay in Great Britain. Even after coming back to Japan, she still misses her time overseas. One day, an airmail letter arrives from Alice, the girl in Shinobu's host family in Great Britain. The letter reads: Shinobu, I'm coming to Japan! The Japanese/British girls' mixed comedy follows the lives of Shinobu, Alice, and other girls from both Japan and Great Britain.

(April 05 @18:00)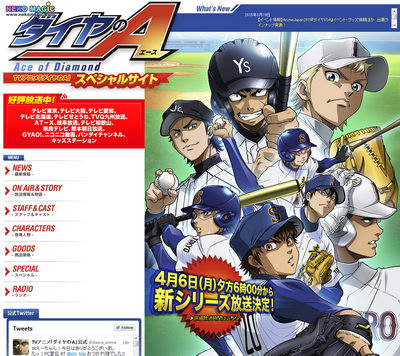 Second season of Diamond no Ace.
The story follows Eijun Sawamura, a pitcher who joins an elite school with a brilliant catcher named Kazuya Miyuki. Together with the rest of the team, they strive for Japan's storied Koushien championships through hard work and determination.

(April 06 @19:00)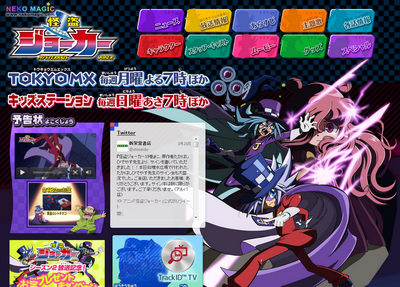 Second season of Kaitou Joker series.
The thief Mysterious Joker doesn't just steal things. An audacious and elusive miracle-maker, he travels the world searching for treasure with his partner and cook Hachi. As they circle the globe, they must avoid traps set by the police and compete in various competitions to reach their final goal, the Timeslip Treasure.

(April 06 @23:54)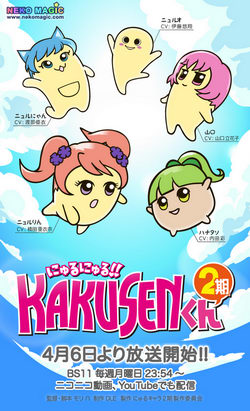 The anime revolves around little creatures called "Kakusen" who live in the skin pores of humans. Child actor Yuuto Itou will return as the title character Nyuruo, a newborn Kakusen who was born in the nose. Nyuruo is ignorant of the world around him, but he is honest. His hobby is stamp rallies and his dream is to become a government worker.

(April 06 @25:05)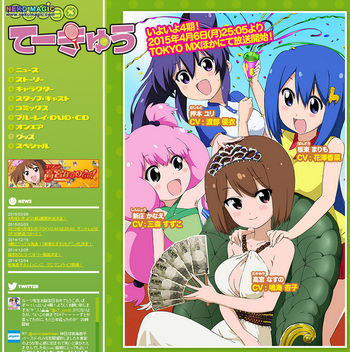 Fourth season of Teekyuu series.
The four girls of the Kameido High School tennis club play and don't play tennis in their side-splittingly funny daily lives. The new club member, Yuri Oshimoto, is forced to be the straightman to her idiotic upperclassmen. Then there's Kanae Shinjou, the stupidity-machine who can't play tennis even though she's in the tennis club; Marimo Bandou, the unpredictable super-pervert from Kansai; and Nasuno Takamiya, the air-headed, mysterious rich girl who tries to solve everything with money. Today, tomorrow, and the day after, regardless if they're all there or not, it's a tennis manga you can't help but roar in laughter at?! And in the fall of 2012, you might get caught up in the "Teekyuu" whirlwind even further?!

<< TV 1 | TV 2 | TV 3 | TV 4 | TV 5 | OVA 1 | OVA 2 | OVA 3 | Film 1 | Film 2 >>