2015 Spring anime Part 2: TV anime 2
Shokugeki no Souma (TV)
Jewelpet Magical Change (TV)
PriPara 2nd Season (TV)
Kyoukai no Rinne (TV)
Denpa Kyoushi (TV)
Owari no Seraph (TV)
High School DxD BorN (TV)
Gunslinger Stratos: The Animation (TV)
Fate/stay night: Unlimited Blade Works 2nd Season (TV)
Plastic Memories (TV)
Uta no☆Prince-sama♪ Maji Love Revolutions (TV)
Tesagure! Bukatsumono Spin-off Purupurun Sharumu to Asobou (TV)

<< TV 1 | TV 2 | TV 3 | TV 4 | TV 5 | OVA 1 | OVA 2 | OVA 3 | Film 1 | Film 2 >>

(April 03 @26:40)
Yukihira Souma's dream is to become a full-time chef in his father's restaurant and surpass his father's culinary skill. But just as Yukihira graduates from middle schools his father, Yukihira Jouichirou, closes down the restaurant to cook in Europe. Although downtrodden, Souma's fighting spirit is rekindled by a challenge from Jouichirou which is to survive in an elite culinary school where only 10% of the students graduate. Can Souma survive?

(April 04 @09:30)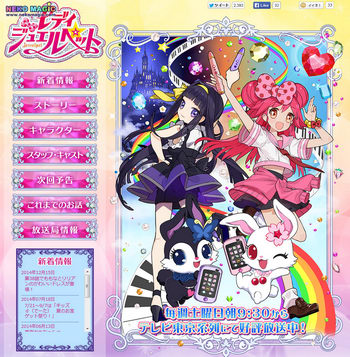 The story follows the rabbit-shaped Jewelpet Ruby and the other Jewelpets on their mission to restore the Jewe Castle, which had fallen from the skies into the middle of the town because of humanity's lack of faith in magic. In order to rekindle human's "magic-believing hearts," Jewelpets transform into humans and come down to earth to study them.

(April 04 @10:00)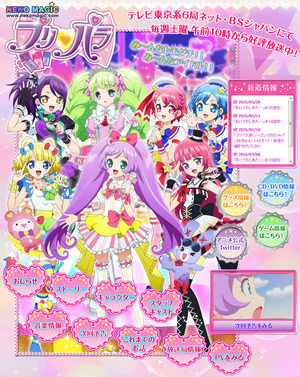 PriPara (Prism Paradise) is the successor to the popular Pretty Rhythm series. The first episode aired on July 5th, 2014. The new anime is set in the Pri-Para world, filled with girls' dreams and yearnings for fashion, dance, and music. Every day, there are auditions that send top idols to worldwide fame on television and online. However, Laala's school prohibits Pri-Para for elementary school children. An unexpected chance leads Laala to make her first entrance into the world of Pri-Para, where she will make her debut. PriPara is also a new game which is replacing Pretty Rhythm. Like Pretty Rhythm, PriPara has an anime which is based off of the game, and has a story line to it. The main characters that we know so far, Laala, Mirei, and Sophie, are also on the game.

(April 04 @17:30)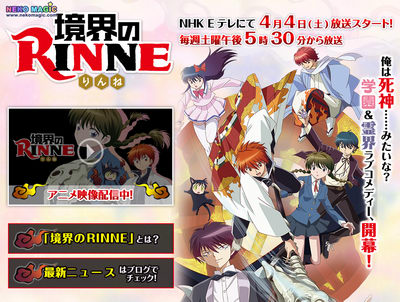 As a child Sakura Mamiya mysteriously disappeared in the woods behind her grandma's home. She returned whole and healthy, but since then she has had the power to see ghosts. Now a teenager, she just wishes the ghosts would leave her alone! At school, the desk next to Sakura's has been empty since the start of the school year, then one day her always-absent classmate shows up, and he's far more than what he seems!

(April 04 @17:30)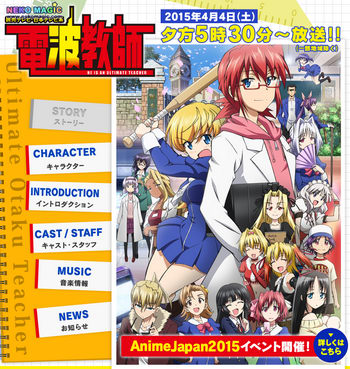 Kagami Junichirou was known as a physics genius when he was a teenager, and he was even published in "Nature." However, after college, he suddenly lost all interest in science. As a NEET, he's devoted himself to his anime blog and nerdy collecting habits. He claims he has a serious illness called "I can't do anything I don't want to do." Desperate to get him to do something with his life, his little sister manages to get him a job teaching physics at his old high school. He's certainly an unconventional teacher, but he becomes fairly popular with the students. After helping a girl who's being ruthlessly bullied, Kagami finds that he actually likes teaching. Will he continue his career as a weird teacher? Will he go back into physics? Or will he end up back where he started?

(April 04 @22:00)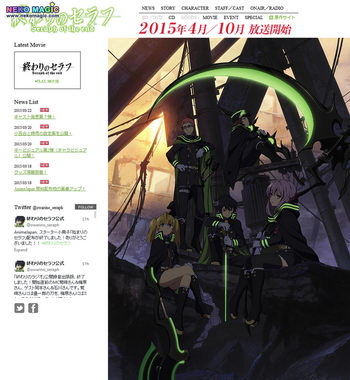 One day, a mysterious virus appeared on Earth which killed every infected human over the age of 13. At the same time, vampires emerged from the world's dark recesses and enslaved mankind. Enter Hyakuya Yuuichirou, a young boy, who along with the rest of the children from his orphanage, are treated as livestock by the vampires. Even in captivity, Yuuichirou dreams big. He dreams of killing vampires. He dreams of killing them all.

(April 04 @23:00)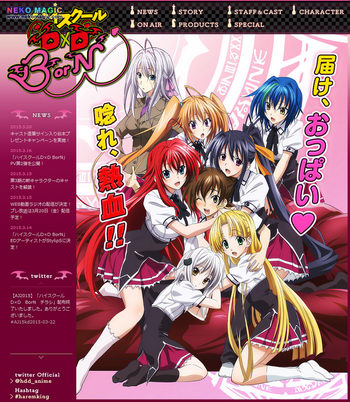 The third season of High School DxD based on the light novel series by Ichiei Ishibumi.
Hyodo Issei is a (perverted) high school boy. When he goes out on a date with his first girlfriend Asano Yuma, he is killed by her. Her true identity is Reinare, a fallen angel sent by a secret society Grigori to eliminate dangerous divine weapons. Issei is reincarnated as a devil by his senpai Rias Gremory, a Duke of Hell. Issei serves as Rias's low rank devil and fights against the fallen angels.

(April 04 @23:30)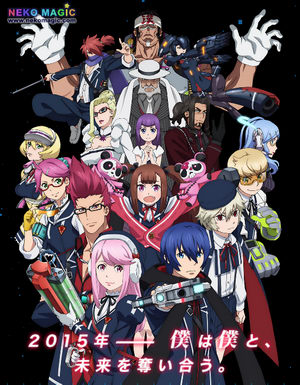 Anime adaptation of Square Enix's arcade action game Gunslinger Stratos.

(April 04 @24:00)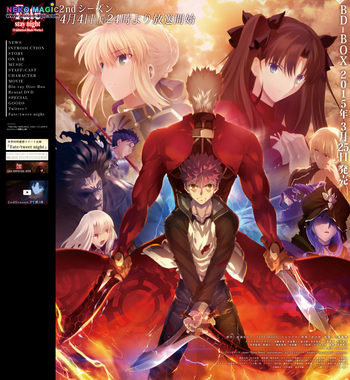 Fuyuki City—a city surrounded by the ocean and the mountains becomes the setting for an age-old ritual. To realize the mythical Holy Grail, which is said to grant any wish from its possessor, seven masters are given seven heroic spirits chosen by the Grail. These heroic spirits or servants are: Saber, Lancer, Archer, Rider, Caster, Assassin, Berserker.
Each master will enter into a contract with their assigned servants and battle the other masters and servants to the death until only one pair remains…
This is the "Holy Grail War."

(April 04 @24:30)
This story takes place in a future not too far away when androids that look exactly like humans begin to spread across the world. The android production company SA Corp. produced Giftia, a new kind of android that has the most amount of emotion and human-like qualities out of any other model ever seen.
However, due to problems in technology, the androids have a service life, and once they pass that, they… Well, it gets pretty bad. For this sake, SA Corp. creates a terminal service in order to retrieve Giftia that have gone past their service life. A new employee at the terminal service named Tsukasa Mizugaki forms a team with the Giftia Isla to retrieve the other androids, but…

(April 04 @25:00)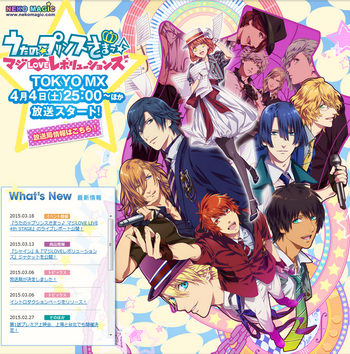 Entering her Master's course, Nanami Haruka is facing an even more difficult time. And she isn't the only one. The main six members of Starish are assigned new seniors to watch over them! But the seniors aren't having the best attitudes about it.

(April 04 @25:55)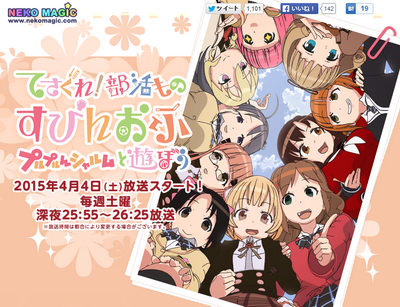 A spin-off of the Tesagure! Bukatsumono series.
The anime will feature 30-minute episodes as opposed to the 10-minute episodes of the previous two seasons, and will be a collaboration anime with Ryū Jikō and K dani L's Minarai Megami: Puru Purun Sharumu manga that serializes in Kodansha's Shonen Sirius magazine.

<< TV 1 | TV 2 | TV 3 | TV 4 | TV 5 | OVA 1 | OVA 2 | OVA 3 | Film 1 | Film 2 >>