2015 Spring anime Part 1: TV anime 1
Funassyi no Funafunafuna Hiyori (TV)
Omakase Mamitasu (TV)
Bishoujo Senshi Sailor Moon Crystal (TV)
Battle Spirits: Burning Soul (TV)
Tamagotchi! Tamatomo Daishuu GO (TV)
Danna ga Nani wo Itteiru ka Wakaranai Ken 2 Sure-me (TV)
Yahari Ore no Seishun Love Comedy wa Machigatteiru. Zoku (TV)
Re-Kan! (TV)
Mahou Shoujo Lyrical Nanoha ViVid (TV)
Dungeon ni Deai wo Motomeru no wa Machigatteiru Darou ka (TV)
Nagato Yuki-chan no Shoushitsu (TV)
Vampire Holmes (TV)

<< TV 1 | TV 2 | TV 3 | TV 4 | TV 5 | OVA 1 | OVA 2 | OVA 3 | Film 1 | Film 2 >>

(March 30)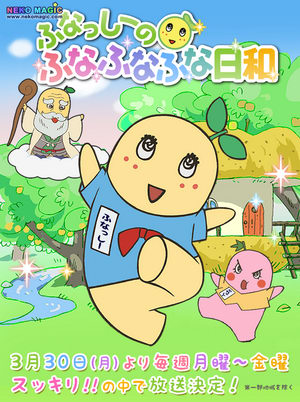 Funassyi, the popular pear-shaped mascot character of the Tokyo suburb Funabashi, will premiere its own series of television anime shorts on March 30. The Funassyi no Funafunafuna Hiyori (Funassyi's Aimless Days) shorts will run every weekyday within the morning variety program Sukkiri!! Besides Funassyi, the anime will feature the brand-new character Guressyi (voiced by Lynn) and Nashigami-sama (Naoki Tatsuta).

(March 31 @18:45)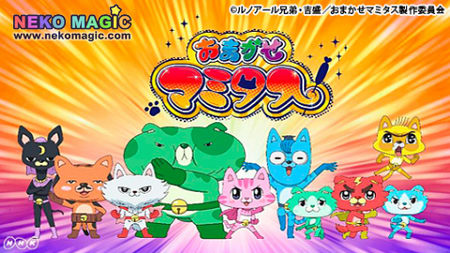 Nakagawa owns 10 cats in real life, and she adores one in particular named Mamitasu, the anime's namesake. The anime depicts the slapstick comedy of the idiosyncratic 10 cats and the folks in the unusual "Nakagawa family."

(April 01 @17:30)
https://www.youtube.com/watch?v=t3peVVNQtGA
New Sailor Moon anime commemorating the 20th anniversary of Sailor Moon.
Usagi Tsukino is a second-year middle school girl who is a little clumsy and a crybaby, but she is full of energy. One day, she meets Luna, a black cat with a crescent moon on her forehead, and she transforms into Sailor Moon, a sailor-uniformed pretty guardian of love and justice! As a chosen guardian of justice, Usagi seems to have a mission to find the Illusionary Silver Crystal with the other guardians and to protect the princess.
Meanwhile, the queen of the Dark Kingdom, Queen Beryl, also sends minions to the town where Usagi lives to obtain the Illusionary Silver Crystal, which has immense power. This causes strange events to unfold…
Can Sailor Moon really find the Illusionary Silver Crystal with the other Sailor guardians, and protect the princess…?!

(April 01 @18:30)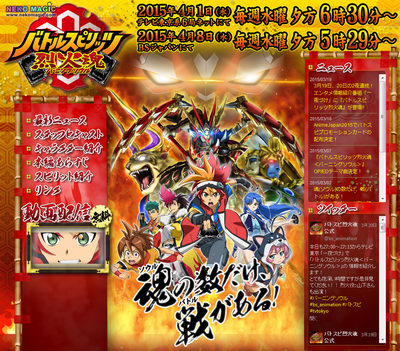 In the near future, a battle card game called "Battle Spirits" has gained enormous popularity. Players of the game — known as "Battlers" — start duelings everywhere using their color-coded cards with different attributes, creating a "Sengoku (Warring States) period" for the game.


(April 02 @25:00)
The anime follows the daily life of an earnest, hardworking office lady named Kaoru and her otaku husband, Hajime, who is totally immersed in a certain huge net bulletin board system.

(April 02 @25:46)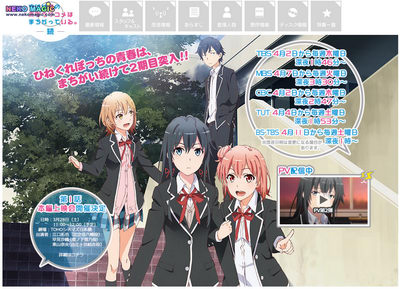 Second season of Yahari Ore no Seishun Love Comedy wa Machigatteiru.
This romantic comedy revolves around an antisocial high school student named Hikigaya Hachiman with a distorted view on life and no friends or girlfriend. When he sees his classmates talking excitedly about living their adolescent lives, he mutters: "They're a bunch of liars." When he is asked about his future dreams, he responds, "Not working." A teacher gets Hachiman to join the "Volunteer Service" club, which happens to have the school's prettiest girl, Yukinoshita Yukino.

(April 02 @26:16)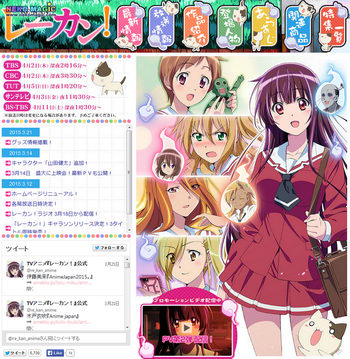 Amami Hibiki is a girl who can see ghosts and other supernatural phenomena in her surroundings. The stories follow her daily life with both her friends and the otherworldly.

(April 03 @22:30)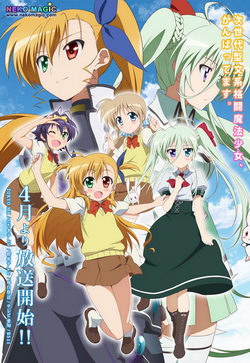 Set four years after StrikerS, Nanoha finally has time to get off her feet. Now explore the Nanoha world in Vivio Takamichi's shoes and her device, Sacred Heart.

(April 03 @25:05)
Commonly known as the "Dungeon," the city of Orario possesses a huge labyrinth in the underground. Its strange name attracts excitement, illusions of honor, and hopes of romance with a pretty girl. In this city of dreams and desires, new adventurer Bell Cranel has his fateful encounter with the tiny Goddess Hestia.
Thus begins the story of a boy striving to become the best adventurer and a lonely goddess searching for followers both hoping to reach their goals and perhaps have some romance on the side.

(April 03 @25:40)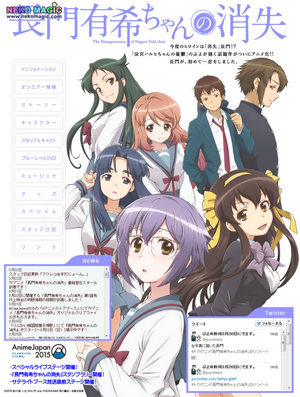 Nagato Yuki, the shy president of the literature club, has never been very sure of herself around other people. But around Kyon, the only boy in the tiny, three-person club, Yuki finds herself faltering even more than usual. For Kyon, and for her precious club, Yuki must find her confidence and let her true personality shine!

(April 03 @25:55)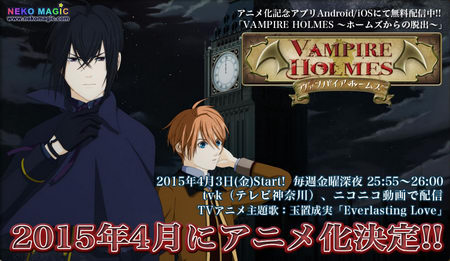 An anime adaptation of the smartphone game that features a character named Holmes in London, but against his name, he is a private detective who does not reason or even explain mysteries. However, he always solves the cases requested. He secretly undertakes a mission from the Metropolitan Police of London to search vampires.

<< TV 1 | TV 2 | TV 3 | TV 4 | TV 5 | OVA 1 | OVA 2 | OVA 3 | Film 1 | Film 2 >>