2015 Winter anime Part 7: OVA/OAD/SP
The Disappearance of Conan Edogawa: The Worst Two Days in History (SP)
Kaitou Tenshi Twin Angel: Kyun Kyun Tokimeki Paradise!! (OVA)
Witch Craft Works (OAD)
Mushibugyou (OAD)
Nisekoi (OAD)
Anime de Wakaru Shinryounaika (ONA)
Seitokai Yakuindomo* (OAD)
Nozo x Kimi (OVA)
Hoozuki no Reitetsu (OAD)
Shirobako Specials (BD)
Diabolik Lovers (OAD)
Bishoujo Senshi Sailor Moon: Crystal 2nd Season (ONA)

<< TV i | TV ii | TV iii | TV iv | OVA i | OVA ii | OVA iii | Film >>

(December 26, 2014)
It's been announced that a new Detective Conan anime special project is launching. The "astonishing collaboration" is titled "Edogawa Conan Shissou Jiken: Shijou Saiaku no Futsukakan" (The Disappearance of Conan Edogawa: The Worst Two Days in History).
The anime special will celebrate the 20th anniversary of Gosho Aoyama's original manga, and it will recount a previously untold story from Conan's past.

(December 28, 2014)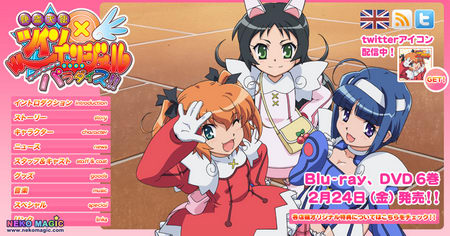 The OVA will be pre-sold during the Comiket 87 starting on December 28, 2014, regular retail distribution of the limited edition package will start on January 30, 2015.
Haruka Minazuki and Aoi Kannazuki are two students at St. Cherine academy. Haruka is always filled with bubbly energy while Aoi is more mature and a top student in all her classes – but despite their differences the two are the best of friends. The two girls look like any other girls, attending the academy, but the truth is they are hiding a little secret, that they can't let anybody know about…
During the day they really are just students at St. Cherine academy, but they can also become the Twin Angel duo, and fight against the evils of the town!
The lovely Angels are back, and it's time for them to get ready for some action!

(January 07, 2015)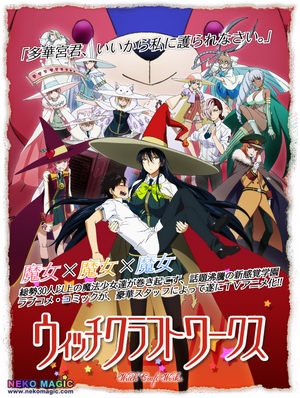 DVD OVA of Witch Craft Works bundled with the eighth manga volume.
Takamiya Honoka is a regular student whose only problem seems to be that he sits next to Kagari Ayaka, the school's #1 beauty. They have never spoken to each other before and any small interaction between them immediately results in her fanclub beating him. Yet when a falling part of the school's building is about to send him to the afterlife, it's Kagari that comes to his rescue. Only… she's dressed as a witch, carrying him in her arms and floating on a broom?! Kagari tells him it is her mission to protect him and that now she can finally protect him openly rather than undercover.

(January 16, 2015)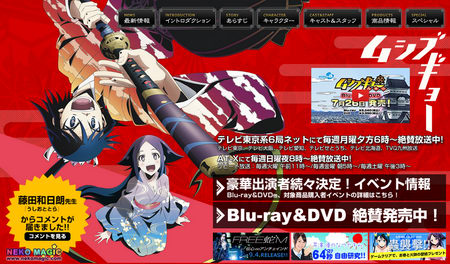 The action story is set in Edo-era Tokyo in the early 1700s. The eighth shogun Tokugawa Yoshimune ordered boxes to be installed so commoners can submit their thoughts. After hearing their voices, the shogun creates a new magistrate unit—Mushibugyou—to protect the people in the heart of the city. Each member is a specialist with unique fighting skills.
Release Date: January 16, 2015
Studio: Seven Arcs
Note: ep.3, bundled w/ LE manga vol.17
Homepage: http://mushibugyo.jp/

(February 04, 2015)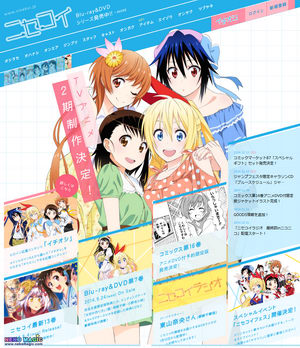 Bundled with the 14th, 16th, and 17th volumes of the Nisekoi manga.
Vol. 1: Adapts chapter 58 "Funshitsu" and chapter 64 "Mikosan."
Vol. 2: Adapts chapter 65 "Henbou" and chapter 71 "Oshigoto."
Vol. 3: Adapts chapter 81 "Sentou."
Release Date: February 04, 2015
Studio: Shaft
Note: ep.1 of 2, bundled w/ LE manga vol.16
Homepage: http://www.nisekoi.jp/

(February 13, 2015 @05:00)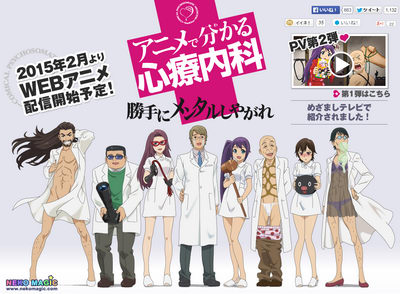 The psychologist Ryou and his cheerful nurse Asuna explain many aspects of mental illness to the reader. They cover topics such as the validity, prevalence, and origins of mental disorders, in addition to addressing specific disorders. The information is imparted in a cheerful and comic manner, with various jokes, puns, and pop culture references.

(February 17, 2015)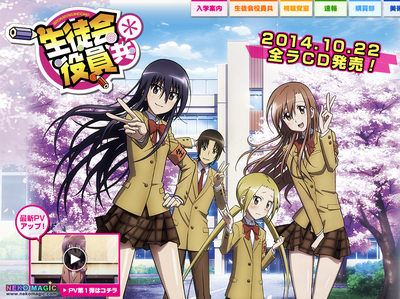 OVAs of Seitokai Yakuindomo* which were either bundled with the limited editions of the manga volumes or as standalone OVAs.
It is the start of Takatoshi Tsuda's second year as the put-upon vice president of the student council and his sister Kotomi is entering school as a first year. New friends and double entendres are made.

(February 18, 2015)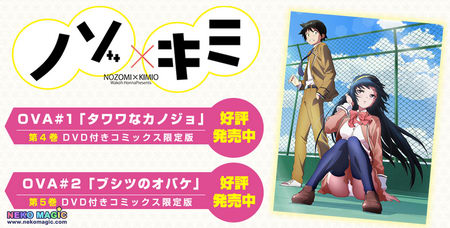 Suga Kimio finds himself hiding in the girls locker room, unable to move or escape the situation as the girls in his school crowd in. Although he originally had no ulterior motives, he found himself panicking as he heard the girls coming in and hid in a locker. Komine Nozomi, one of the shy girls in his class finds him, but surprisingly covers for him. Perplexed but glad, Kimio goes home.
Later that night, he gets a text from Nozomi who happens to live across the way on the same floor of the complex they both live in. She blackmails him into agreeing to show each other's bodies when she texts him. Kimio has to abide by Nozomi's insane demands or risk ruining his school life so they both start their little peep show through each other's windows….

(February 23, 2015)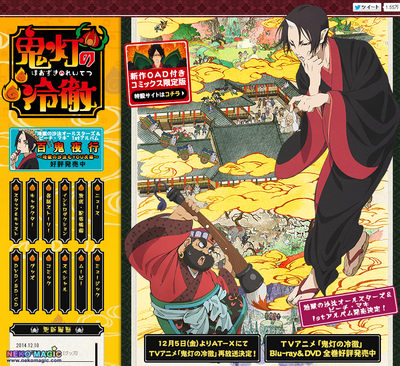 Bundled with the limited editions of 17th, 18th, and 19th volumes of the Hoozuki no Reitetsu manga.
The dark comedy revolves around the fierce god aide to the Great King Yama, Hoozuki. Calm and super-sadistic, he tries to resolve problems that often occur in Hell.

(February 25, 2015)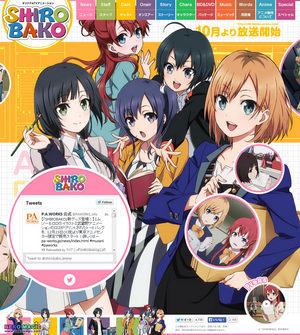 Specials included with third and seventh volumes of the Blu-ray and DVD releases.

(February 26, 2015)
VA of Diabolik Lovers included with the upcoming game Diabolik Lovers DARK FATE.
Release Date: February 26, 2015
Studio: Production I.G
Note: bundled w/ Dark Fate game
Homepage: http://dialover.net/

(Winter 2015)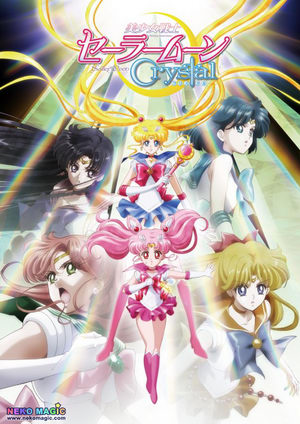 New Sailor Moon anime commemorating the 20th anniversary of Sailor Moon.
Usagi Tsukino is a second-year middle school girl who is a little clumsy and a crybaby, but she is full of energy. One day, she meets Luna, a black cat with a crescent moon on her forehead, and she transforms into Sailor Moon, a sailor-uniformed pretty guardian of love and justice! As a chosen guardian of justice, Usagi seems to have a mission to find the Illusionary Silver Crystal with the other guardians and to protect the princess.
Meanwhile, the queen of the Dark Kingdom, Queen Beryl, also sends minions to the town where Usagi lives to obtain the Illusionary Silver Crystal, which has immense power. This causes strange events to unfold…
Can Sailor Moon really find the Illusionary Silver Crystal with the other Sailor guardians, and protect the princess…?!

<< TV i | TV ii | TV iii | TV iv | OVA i | OVA ii | OVA iii | Film >>