2015 Winter anime Part 6: OVA/OAD/SP
Tari Tari Special (BD)
Hayate no Gotoku! (OAD)
Magi: Sinbad no Bouken (OAD)
Ane Log (OVA)
Hyakka Ryouran: Samurai After (OAD)
Brothers Conflict (OVA)
Hybrid Child (OVA)
Gugure! Kokkuri-san Specials (BD)
DRAMAtical Murder OVA: Data_xx_Transitory (BD)
New Prince of Tennis (OVA)
Daitoshokan no Hitsujikai Special (BD)

<< TV i | TV ii | TV iii | TV iv | OVA i | OVA ii | OVA iii | Film >>

(December 17, 2014)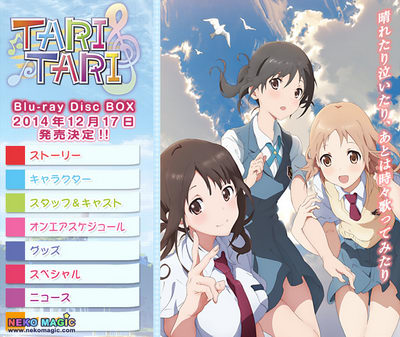 The story centers around five Japanese high school students who are too young to be called adults, but who no longer think of themselves as children. Wakana Sakai once took music lessons, but she withdrew from music after losing her mother. Konatsu Miyamoto is a positive-thinking girl who loves singing and spends time after school at the choir club. Sawa Okita is a spirited archery club member who dreams of becoming a horse rider. Taichi Tanaka is a chronically late badminton team member who lives with his college student sister. "Wiin" just transferred into Wakana's class after 12 years abroad in Australia. Music brings Wakana, Konatsu, Sawa and the others together into an ensemble during their last summer in high school.
Release Date: December 17, 2014
Studio: P.A. Works
Note: bundled w/ BD boxset
Homepage: http://taritari.jp/

(December 18, 2014)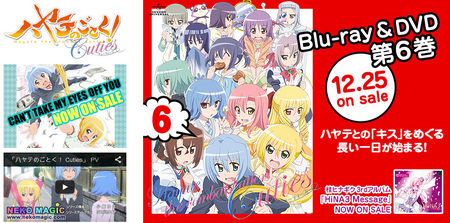 New OVA series of Hayate no Gotoku!, which is part of the manga's 10th anniversary project. One episode each will be bundled with volumes 41 to 43 of the manga.

(December 18, 2014)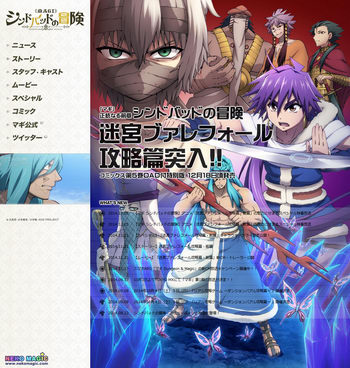 OVA series that bundle in volumes 3, 4, 5 of the manga. It tells the story of Sinbad's early life, when he captured the first Dungeon, Baal.

(December 18, 2014)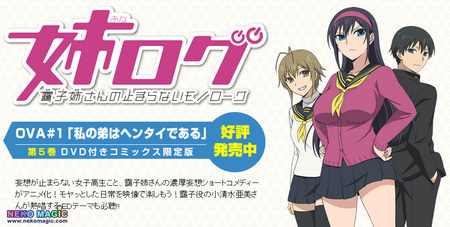 When Konoe Moyako and her little brother, Akira, were young, he said he wanted to marry her. Naturally, Moyako decided that her little brother was a complete pervert who was obsessed with her. Now that they're both teenagers, Moyako is convinced she needs to "rehabilitate" him. However, it seems that the "perversion" is entirely in her imagination, and she can't seem to help turning completely innocent situations into creepy ones in her mind!

(December 19, 2014)
An OVA featuring a new character named Kagekatsu Uesugi.
The story takes place in Japan in the early 21st century, in an alternate reality where the Tokugawa Shogunate has remained in power. In this reality, student councils are tasked with oppressing schools. Yagyuu Muneakira is a high school student who rebels against his student council with the help of girls who've had the names of famous samurai heroes passed on to them.

(December 19, 2014; February 11, 2015)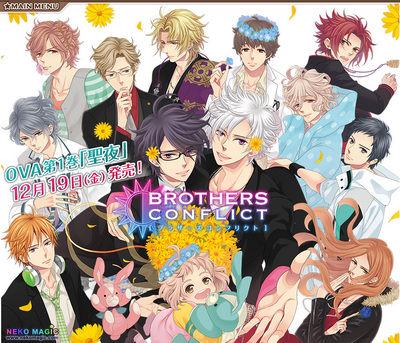 According to its official site, Brothers Conflict will get two OVAs about Christmas and Valentine's Day released in 2014 and 2015. New OP and ED songs by the same singers will be presented in these two OVAs.
Hinata Ema is the only daughter of a famous adventurer, Hinata Rintarou. One day, Ema learns that Rintarou is going to remarry with a successful apparel maker named Asahina Miwa. Since she doesn't want to disturb them, Ema decides to move out and live with her 13 new brothers in a mansion called Sunrise Residence. As they live under the same roof, romance is starting to grow between Ema and the Asahina brothers.
Release Date: December 19, 2014 (ep.1) & February 11, 2015 (ep.2)
Studio: Brains Base
Note: ep.1 & 2 of 2
Homepage: http://www.bc-anime.com/

(December 24 & 28, 2014)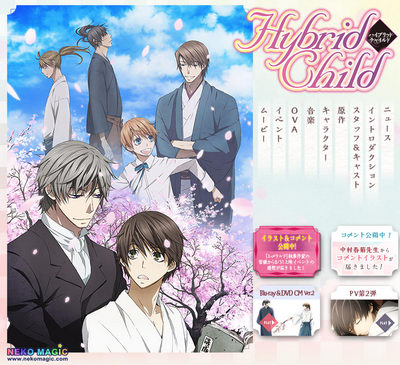 The Hybrid Child is an amazing android that can grow if it is lavished with enough love and care from its owner. Neither fully machine nor fully human, the various Hybrid Child models develop strong emotional bonds with their owners. This volume contains several short stories of love, sacrifice, and drama: Young Kotaro learns the importance of responsibility when his Hybrid Child's lifespan runs out. The tragic swordsman Seya learns to love again with the help of his Hybrid child, Yuzu. The final tale tells the story of Kuroda, the creator of the Hybrid Child designs, and how his lost love inspired their creation.

(December 24 & 28, 2014; February 25, 2015)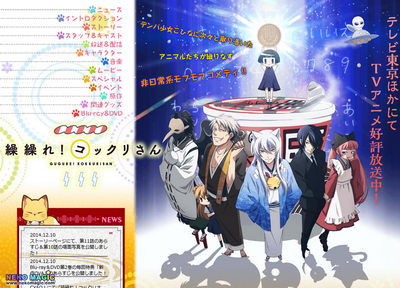 The story revolves around a little girl named Kohina. Kohina ends up summoning Kokkuri-san (a low-ranking ghost in Japanese folklore), who turns out to be a handsome, young, white-haired man. At first he merely intends to haunt her but soon becomes worried about her eating habits. Now he haunts her in order to protect her.
Release Date: December 24, 2014 (ep.1); 28, 2014 (ep.2); February 25, 2015 (ep.3)
Studio: TMS Entertainment
Note: ep.1 of 6, bundled w/ BD vol.1
ep.2 of 6, bundled w/ BD vol.2;
ep.3 of 6, bundled w/ BD vol.3
Homepage: http://www.gugukoku.com/

(December 24, 2014)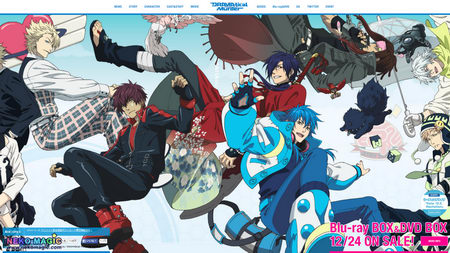 Tokuten disc with unaired episode that is bundled on a DRAMAtical Murder Blu-ray BOX Set.
The story takes place many years in the future where the game "Rhyme," a virtual fighting game, is incredibly popular and people possess "AllMates," convenient AI computers. Aoba leads an ordinary life, working at a junk shop and living with his grandmother on the island of Midorijima. Unlike his friends, he doesn't participate in Rhyme, nor does he belong in a gang. However, when rumors of people disappearing spread, Aoba finds himself needing to unravel the mysteries behind the island in order to protect his everyday life.
Release Date: December 24, 2014
Studio: Naz
Note: unaired ep, bundled w/ BD boxset
Homepage: http://dmmd-anime.com/

(December 25, 2014; February 20, 2015)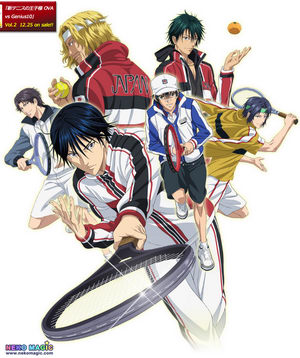 The story of the OVA series tells the continuation of the 13-episode TV anime in 2012, setting in the Japanese U-17 (under 17) High School Representatives Selection Camp.
Release Date: December 25, 2014 (ep.2); February 20, 2015 (ep.3)
Studio: Production I.G
Note: ep.2 & 3 of 5
Homepage: http://tenipuri.jp/

(December 25, 2014)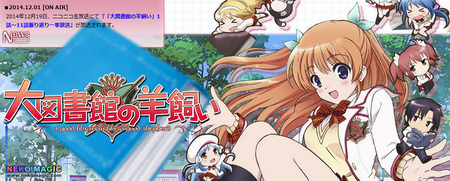 The story is set at Shiomi Academy, a vast, prestigious academy with a Daitoshokan (literally, "great library") that rivals Japan's national library. As a member of the Library Club, Kyoutarou Kakei goes to Daitoshokan to enjoy reading by himself. He then meets a second-year girl named Tsugumi Shirasaki through the efforts of a so-called "shepherd" who fulfills people's wishes. Eventually, more girls join the club thanks to the "shepherd."

<< TV i | TV ii | TV iii | TV iv | OVA i | OVA ii | OVA iii | Film >>