2015 Winter anime Part 5: OVA/OAD/SP
Kanojo ga Flag wo Oraretara (OAD)
Seirei Tsukai no Blade Dance Specials (BD)
Kono Danshi, Sekika ni Nayandemasu (OVA)
To Love-Ru Darkness (OAD)
Bokura wa Minna Kawaisou Specials (BD)
Date A Live: Encore (OAD)
Attack on Titan: Kuinaki Sentaku (OAD)
Persona 4 The Golden Animation: Thank you Mr. Accomplice (BD)
Ao Haru Ride (OAD)
Imawa no Kuni no Alice (OAD)
Yamada-kun to 7-nin no Majo (OVA)

<< TV i | TV ii | TV iii | TV iv | OVA i | OVA ii | OVA iii | Film >>

(December 02, 2014)
Hatate Sota is a high school boy, who has an ability to visualize "flags" for future events such as "death flag," "friendship flag," and "romance flag." Despite the flag-viewing ability, he avoids making friends with others due to a trauma he experienced in a ship submergence accident. Four beautiful girls get interested in his strange way of living, and they begin to live with him at the school dorm by force.

(December 03, 2014; January 07 2015; February 04, 2015)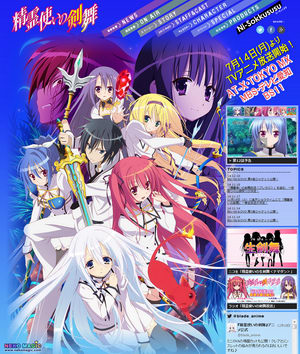 Mini specials bundled on each Blu-ray/DVD volume of Seirei Tsukai no Blade Dance. Each special is tied to the new 32-page short story that original light novel author Shimizu Yuu is writing for the limited first pressing of every Blu-ray/DVD volume.
Only a pure maiden can have the privilege to contract with a spirit. In here, Areishia Spirit Academy, trained maidens of noble families are gathered and given an elite's education to become spirit contractors. A boy, Kamito, peeped by accident at a girl, Claire, while she was taking a bath and he ended up making a contract with the spirit she wanted. Yes, Kamito is an irregular boy spirit contractor whose existence was thought impossible until now. "You stole…my spirit…you have to take responsibility for it!" "Huh?" "You have to become my contracted spirit!" What will Kamito's destiny lead to?
Release Date: December 03, 2014 (ep.3);
January 07 , 2015 (ep.4);
February 04, 2015 (ep.5)
Studio: TNK
Note: ep.3 of 6, bundled w/ BD vol.3;
ep.4 of 6, bundled w/ BD vol.4;
ep.5 of 6, bundled w/ BD vol.5
Homepage: http://www.bladedance.tv/

(December 03, 2014)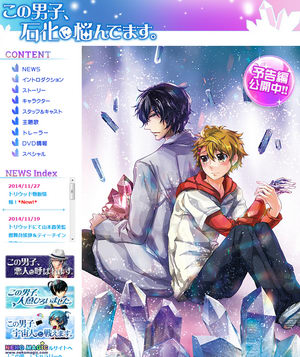 The story revolves around high school boy Ayumu Banri, who has an illness that makes him start to turn to stone when he's stressed. Since he couldn't fit in with his class, after repeating a year, he declared that he wanted to have a "Sparkly youth" as well. To do this, he changed his hair and clothes to be more fashionable, and constantly checked for popular topics to stay in the know. In the midst of Ayumu's life of making a facade, his homeroom teacher and stone-loving geology teacher Kouya Onihara says that Ayumu's stone transformation is beautiful. Ayumu begins to become attracted to Kouya, who starts to give him advice.

(December 04, 2014)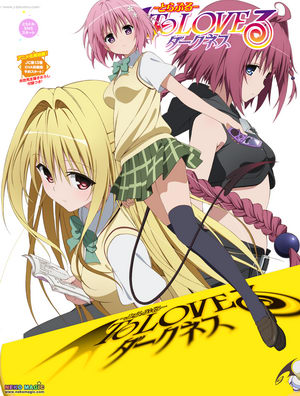 Episode one features Momo, Mikan, and Haruna. The three extra episodes of the original manga titled "Prologue," "Pollen Plan," and "Body touch?"
Episode two covers chapter 19 "Nostalgia" and the two extra chapters "Flower" and "The changing heart."
Episode three covers chapter 18 "Exchange" and the chapter extra "It Feels -Taeru Kyoushi!-"
Episode four covers chapters titled "Girl of Blaze Magical Kyouko" (20.7), "Adhesion" (20.9), and "Infiltrtion" (28).
Episode five covers chapters "Mobile phone ~Dokidoki Voice~", "Suddenly ~Souzou to Genjitsu~", and "Moonlight ~Gekka no Tenshi~".
Episode six covers chapters Photography ~Gekishase yo!~," "Technique ~Otome no Tobira~," and "Holiday ~Oryori no ☆ wa ikusu?~".

(December 04, 2014)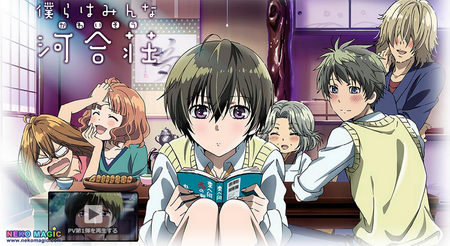 Based on the 4-koma manga stories of Bokura wa Minna Kawaisou. Included in Blu-ray/DVD volumes 1-6.
Thanks to his parents' job transfer, high school freshman Kazunari Usa finally gets to enjoy living on his own in the Kawai Complex, a boarding house that provides meals for its residents. Ritsu, the senpai he admires, also lives in Kawai Complex, as do a few other "unique" individuals: his masochistic roommate Shirosaki; beautiful, big-breasted Mayumi who has no luck in finding men; and sly, predatory college woman Sayaka. Surrounded by these people, Usa never finds his daily life boring.

(December 09, 2014)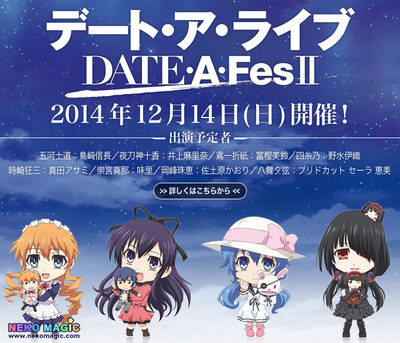 The third volume of the Date A Live: Encore short story collection will bundle an unaired episode in a limited edition.
The story is set on July 7th. "In the midst of the Tanabata festival celebrations, Shidou meets Kurumi, the worst Spirit. And the couple's destination is …a wedding ceremony hall?!"

(December 09, 2014)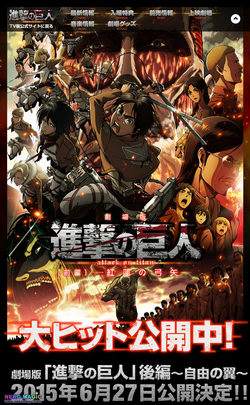 The young Erwin Smith is a rising star in the Survey Corps, humanity's only hope of defeating the man-eating monsters known as Titans. Ruthless and dispassionate, Erwin's mind is devoted to strategies and intrigue. But beneath Erwin's feet is another world, the "Underground," where humans are born and die surrounded by the garbage the Capital throws away. Here, the criminal Levi survives on his wits and agility. But when these two ambitious men cross paths, who will prove himself stronger?
The long-awaited origin story of Levi and Erwin, two of Attack on Titan's most beloved characters!
Release Date: December 09, 2014
Studio: Wit Studio
Note: ep.1 of 2, bundled w/ LE manga vol.15
Homepage: http://www.shingeki.tv/

(December 10, 2014)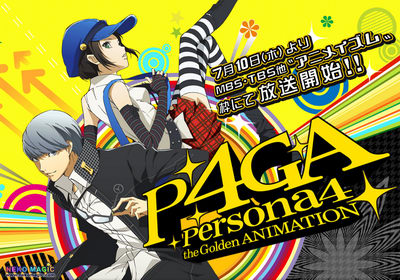 After Yuu finds out the past and circumstances of Adachi, he makes a single decision in order to save him. This is an alternate ending to the Persona 4 The Golden Animation series.
Release Date: December 10, 2014
Studio: A-1 Pictures
Note: bundled w/ BD vol.4
Homepage: http://www.p4ga.jp/

(December 12, 2014)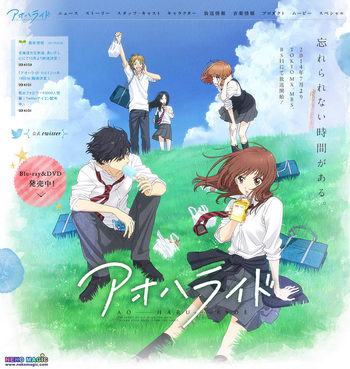 Bundled with the 11th and 12th volumes of the Ao Haru Ride manga.
"Unwritten" – An episode about Futaba and Kou in middle school. Based on the chapter called "Unwritten." also known as chapter 0 or Prologue.
"Page.13" – An episode that continues the story after the recent television anime's 12th and final episode.
Release Date: December 12, 2014
Studio: Production I.G
Note: ep.2 of 2, bundled w/ LE manga vol.12
Homepage: http://aoha-anime.com/

(December 16, 2014)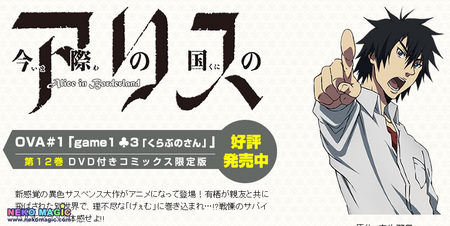 The story follows a high school boy named Arisu and other youths who are transported to a devastated alternate world. Trapped, they are forced to play a deadly game of survival.

(December 17, 2014)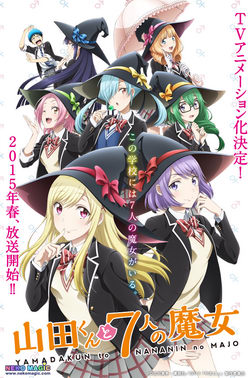 Shiraishi Urara is the top student in her school. One day, due to an accidental kiss, Urara finds herself in the body of the school delinquent, Yamada Ryuu! In trying to switch back to their own bodies, Urara and Ryuu discover that kissing causes them to switch bodies, which leads to their discovery that there are 7 witches in their school. They soon try to uncover the identities of the 7 witches…

<< TV i | TV ii | TV iii | TV iv | OVA i | OVA ii | OVA iii | Film >>