2015 Winter anime Part 3: TV anime III
Koufuku Graffiti (TV)
The Idolm@ster Cinderella Girls (TV)
Assassination Classroom (TV)
Death Parade (TV)
Kuroko no Basket 3rd Season (TV)
Durarara!!x2 Shou (TV)
DOG DAYS" (TV)
Aldnoah.Zero 2nd Season (TV)
The Rolling Girls (TV)

<< TV i | TV ii | TV iii | TV iv | OVA i | OVA ii | OVA iii | Film >>

(January 08, 2015 @25:46)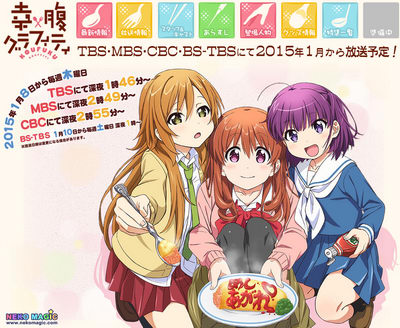 The story follows Ryou, a middle school girl who lives by herself. She has a knack for cooking and makes friendships with everyone through her food. The cooking manga is "full of detailed cuisine art to whet the appetite and slightly erotic meal scenes." The "koufuku" in the title is a wordplay on two Japanese homonyms—one which means "happiness," and another that means "appetite."

(January 09, 2015 @24:00)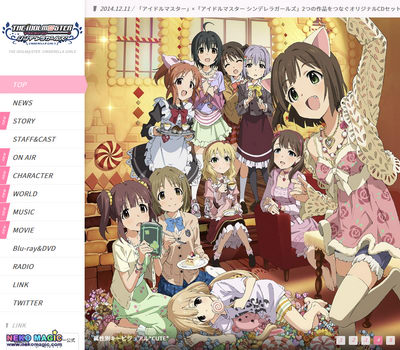 Based on the iDOLM@STER mobile game Cinderella Girls.

(January 09, 2015 @25:20)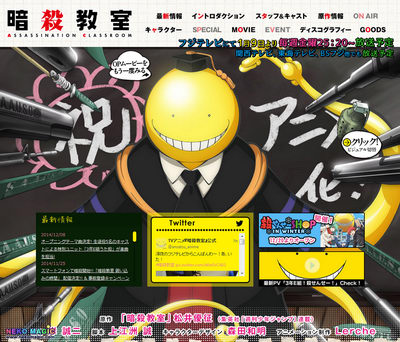 A humorous and action-packed story about a class of misfits who are trying to kill their new teacher – an alien octopus with bizarre powers and super strength! The teacher has just destroyed the moon and is threatening to destroy the earth – unless his students can destroy him first. What makes things more complicated is that he's the best teacher they've ever had!

(January 09, 2015 @25:58)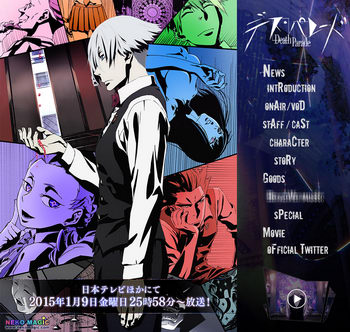 "Welcome to Queen Dekim." What greets two unsuspecting guests is a strange bar, Queen Dekim, and the white-haired bartender, Dekim. "From here you two shall begin a battle where your lives hang in the balance," he says to introduce the Death Game. Before long the guests' true natures become apparent. As a matter of course, at the game's end Dekim is revealed to be the "arbiter." Dekim's judgement on the two guests is….

(January 10, 2015 @26:58)
The third season of Kuroko no Basket.
The Teiko Middle School Basketball Team. The class that produced three perfect seasons in a row, with five once-in-a generation players, called "The Generation of Miracles." There was another player who all of them respected… A legendary 6th player. An up-and-coming power player, Taiga Kagami, is just back from America. When he comes to Seirin High School, he meets the super-ordinary boy, Tetsuya Kuroko. Kagami is shocked to find that Kuroko isn't good at basketball, in fact, he's bad! And he's so plain that he's impossible to see. But Kuroko's plainness lets him pass the ball around without the other team noticing him, and he's none other than the sixth member of the Miracle Generation. Kuroko makes a pact with Kagami to defeat the other members of the Miracle Generation, who have all played basketball at other schools. A battle of light (Kagami) and shadow (Kuroko) begins!

(January 10, 2015 @23:30)
First cour of Durarara!!'s second season.
In Tokyo's downtown district of Ikebukuro, amidst many strange rumors and warnings of anonymous gangs and dangerous occupants, one urban legend stands out above the rest—the existence of a headless "Black Rider" who is said to be seen driving a jet-black motorcycle through the city streets.
Ryuugamine Mikado has always longed for the excitement of the city life, and an invitation from a childhood friend convinces him to move to Tokyo. Witnessing the Black Rider on his first day in the city, his wishes already seem to have been granted. But as supernatural events begin to occur, ordinary citizens like himself, along with Ikebukuro's most colorful inhabitants, are mixed up in the commotion breaking out in their city.

(January 10, 2015 @24:30)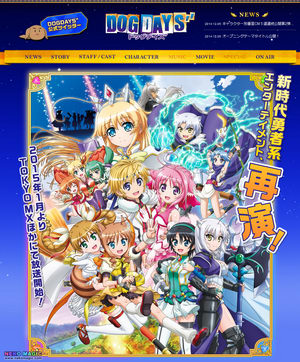 The third season of Dog Days.
Republic of Biscotti faces a predicament by the invasion of Galette Leo Knights. In order to save the country, Princess Milchore summons a "hero" from the outer world. Cinque, a junior high school boy living on the Earth, is chosen as the hero.

(January 10, 2015 @24:00)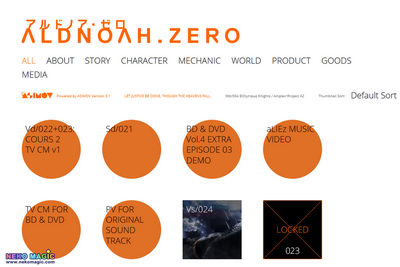 Second season of Aldnoah.Zero, announced at the end of the first season.
In 1972, the Apollo 17 mission found a hypergate to Mars on the surface of the moon. Upon landing, astronauts discovered an enchanted utility later referred to as "Aldnoah," giving the astronauts a status of superiority. Soon, many humans have relocated to Mars, and have adapted to the name "Martians." After Princess Asseylum, a royal Martian princess, descends onto Earth in an attempt to create a treaty between both planets, a war breaks out between Earth and Mars, and Martian soldiers begin to descend from the sky, riding steel giants, intent on exterminating humanity.

(January 10, 2015 @25:58)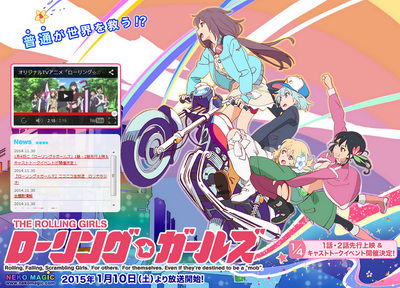 Ten years after the Great Tokyo War, each prefecture in Japan has split up into independent nations. Each nation is ruled by a prophet called "Mosa" and an army called "Mob" as they start to compete to take over other countries. Four "Mob" girls from the Saitama clan, Nozomi, Yukina, Ai, and Chiaya, are ordered by their "Mosa" to travel around Japan riding their motorcycles to mediate multiple battles between nations and clans as they emerge.

<< TV i | TV ii | TV iii | TV iv | OVA i | OVA ii | OVA iii | Film >>