2015 Winter anime Part 1: TV anime I
Ikkitousen: Extravaganza Epoch (TV)
Tales of Zestiria: Doushi no Yoake (TV)
Tsukimonogatari (TV)
Minna Atsumare! Falcom Gakuen SC (TV)
Absolute Duo (TV)
Yuri Kuma Arashi (TV)
Doamaiger D (TV)
Kamisama Hajimemashita◎ 2nd Season (TV)
Binan Koukou Chikyuu Bouei-bu Love! (TV)

<< TV i | TV ii | TV iii | TV iv | OVA i | OVA ii | OVA iii | Film >>

(December 21 & 28, 2014 @21:00)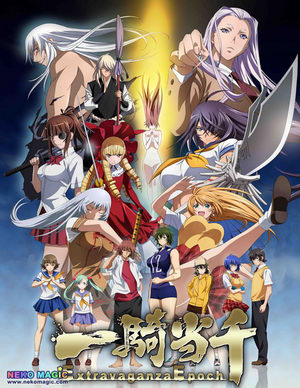 The anime will be split into to two episodes, with the first premiering on Japanese television station AT-X on December 21, and the second premiering on December 28. Screenings on Tokyo MX and BS11 are currently in the planning stages. The anime will then be released in Japan on home video on February 25.
Yui Sakakibara will perform the anime's main theme song, "Endless fighter."

(December 30, 2014 @21:00)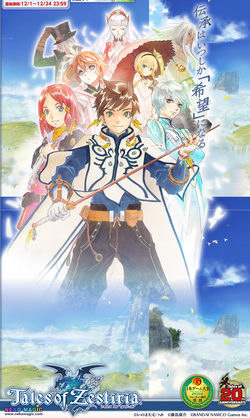 Bandai Namco Games announced on the second public day of Tokyo Game Show on Sunday that the Tales of Zestiria: Dōshi no Yoake (Tales of Zestiria: Dawn of the Fon Master) anime special inspired by its upcoming Tales of Zestiria PlayStation 3 game will air on Tokyo MX on December 30 and 31 at 9:00 p.m. JST, and on December 31 on BS11 at 9:00 p.m. JST. ufotable (Tales of Symphonia the Animation, Tales of Xillia in-game cutscenes) will animate the special, as well as the in-game cutscenes for the game. The anime special will be included on the game's disc.

(December 31, 2014 @22:00)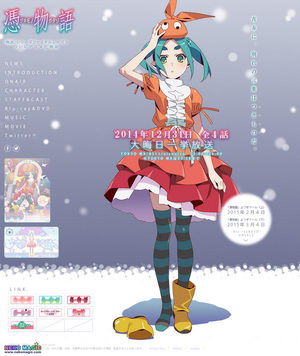 "Please!—Do it, and get it over with." Slowly but surely, Koyomi Araragi, who "has been averting his eyes from reality," has no choice but to face it. February comes, and the college entrance exam is approaching. What is this "change" that is happening to his body that cannot be overlooked? The "Monogatari" begins to sprint towards its conclusion. This is Oddity taking place in the modern world! In a story of youth, a word of farewell is inevitable.

(January 04, 2015 @22:27)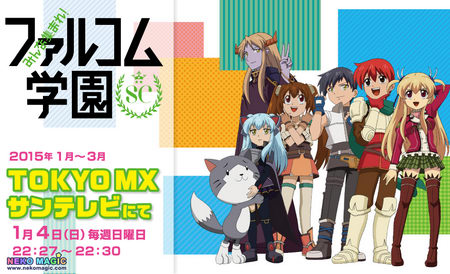 The warriors who have been warped by the rampaging power of Justice have been summoned into the world of Xanadu. It is up to Dark Fact, a former villain, and principal Lappi to re-educate these students.

(January 04, 2015 @20:30)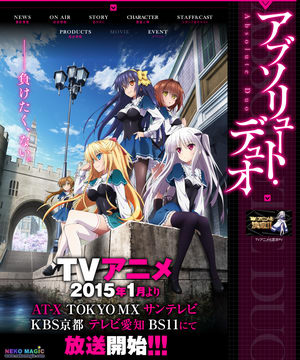 After losing a loved one, Tooru Kokonoe enrolls at Kouryou Academy so as to gain a "Blaze," a weapon that is his soul manifestation, for the sake of revenge. He was expecting a weapon… What he got was a shield… How is he to seek revenge with something that isn't even a weapon?!

(January 05, 2015 @24:30)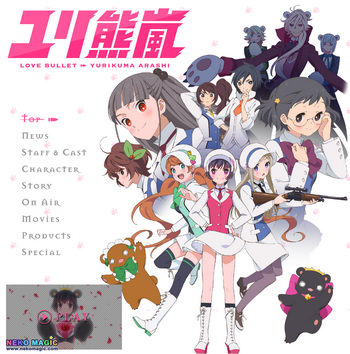 Some time ago, the asteroid Kumaria exploded in the depths of space.
The resulting fragments became a meteor shower that rained down on Earth, and for some reason, bears all over the world rose up and attacked humanity! In "Man vs. Bear," the bears ate the humans and the humans shot the bears, resulting in a seemingly unending battle and a cycle of hatred. In the end, a giant "Wall of Extinction" was erected between the humans and bears and a state of mutual nonaggression came to pass…
The human world.
One morning, Arashigaoka Academy students Kureha Tsubaki and Sumika Izumino were by themselves and saw the "Yuri Flower" that bloomed in a flower bed. The two are friends as well as lovers. The flower bed is an important place to the two. At that moment, the Bear Alarms ring out! The bears are invading the human world, and humans are being attacked! Are they really those bears? One mystery invokes yet another mystery, one after another. The curtain rises magnificently on Yuri Kuma Arashi!

(January 05, 2015 @19:55)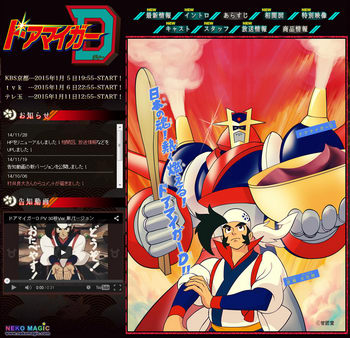 Kyougoku Daijirou is the 15th generation owner of the Kyoto sweets shop Amashoudou. One day, Daijirou discovers a giant robot named Doamaiger D in his store's basement. At the same time, enemies called "Mekaijuu" appear in Kyoto and begin wreaking havoc.

(January 05, 2015 @26:05)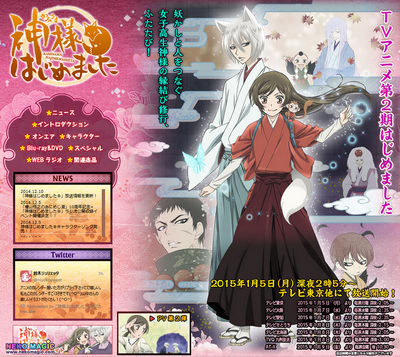 Second season of Kamisama Hajimemashita series.
Nanami Momozono is alone and homeless after her dad skips town to evade his gambling debts and the debt collectors kick her out of her apartment. So when a man she's just saved from a dog offers her his home, she jumps at the opportunity. But it turns out that his place is a shrine, and Nanami has unwittingly taken over his job as a local deity!
Nanami has all kinda of new responsibilities she doesn't understand, dangers she's unaware of, and a cranky ex-familiar who's… actually pretty hot. What's a new-fledged godling to do?

(January 06, 2015 @25:40)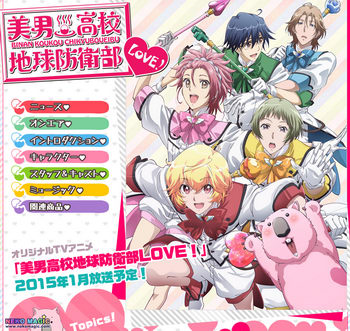 This is the story of how five high school boys affiliated with the "Binan High School Earth Defense Club" aka the "Do Nothing Club" are charged by a weird pink wombat creature with protecting the world.

<< TV i | TV ii | TV iii | TV iv | OVA i | OVA ii | OVA iii | Film >>