2014 Fall anime Part 8: OVA/OAD/SP III
Seirei Tsukai no Blade Dance (OVA)
Yozakura Quartet ~Tsuki ni Naku~ (OVA)
Sekai Seifuku: Bouryaku no Zvezda – Shin Zvezda Daisakusen (OVA)
Alice in Borderland (OVA)
Shin Strange+ Special (OVA)
Watamote (OVA)
Seitokai Yakuindomo* (OVA)
Kuroshitsuji: Book of Murder (OVA)
New Prince of Tennis vs Genius10 (OVA)

<< TV i | TV ii | TV iii | TV iv | TV v | OVA i | OVA ii | OVA iii | OVA iv | Film >>

(October 08)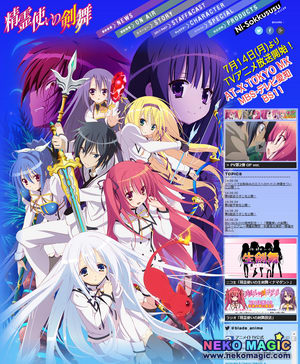 Mini specials bundled on each Blu-ray/DVD volume of Seirei Tsukai no Blade Dance.
Each special is tied to the new 32-page short story that original light novel author Shimizu Yuu is writing for the limited first pressing of every Blu-ray/DVD volume.

(October 09)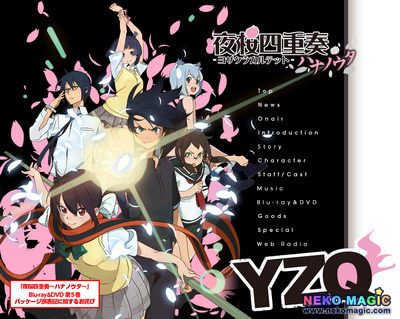 "Tsuki ni Naku" will take the story content from volume 11 of the manga, which features a visit to a onsen by the members of the Hiizumi Life Councelling Office, while the town's police force have to deal with a new youkai-hunter threat.
This OVA is bundled with the limited edition of the manga (14th, 15th, and 16th).
Release Date: October 09
Studio: Tatsunoko Production
Note: ep.3 of 3; bundled w/ LE manga vol.16
Homepage: http://yozakura-anime.jp/

(October 15)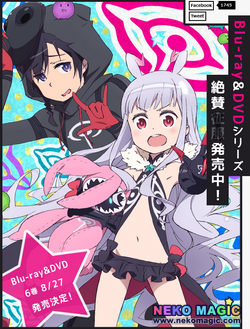 The unaired 13th episode of Sekai Seifuku: Bouryaku no Zvezda that will be included in Volume 7 of the BD/DVD. In this special, Kate and company will launch their own idol unit, BBK88.

(October 17)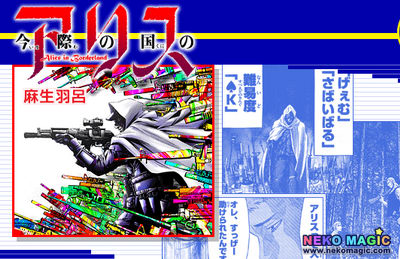 The story follows a high school boy named Arisu and other youths who are transported to a devastated alternate world. Trapped, they are forced to play a deadly game of survival.

(October 19)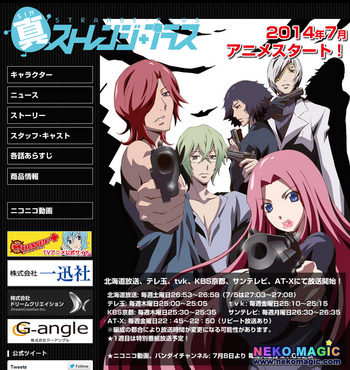 Unaired episode included with the Blu-ray/DVD release.
Kou comes to a slum neighborhood in search of his elder brother Takumi and finds him to have become the head of a private detective firm. Kou is drafted by Takumi to do errands and chores in the detective firm, and they come to meet various interesting people…

(October 22)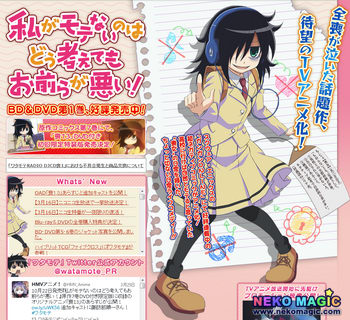 Bundled with the special limited first edition of the 7th manga volume. Will be the 13th episode of the TV anime.
Kuroki Tomoko is a super popular high school girl who has had 50 years of dating experience and 100 boys… in the Otome game world. In the real world, she is a 15-year-old shut-in who has all of the qualities of a "mojo" (a gloomy or unpopular woman).
However, when school isn't going as she expected, and she isn't as popular as she had thought she would be, she takes a look at herself in the mirror for the first time in a few years, and has some shocking revelations…
Release Date: October 22
Studio: Silver Link
Note: ep.13; bundled w/ LE manga vol.7
Homepage: http://www.watamote.jp/

(October 22)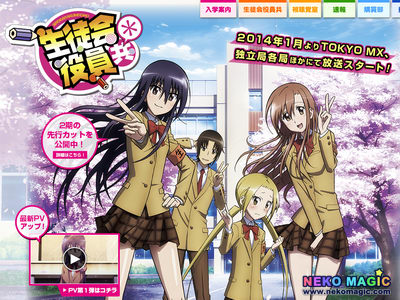 OVAs of Seitokai Yakuindomo* which were either bundled with the limited editions of the manga volumes or as standalone OVAs.
Tsuda Takatoshi is about to begin his first year in Ousai Academy. His decision to enter Ousai was based upon it being close to his home and he paid no heed to the fact he'd be among the first boys to enter the recently gender-integrated school.
On his first trip to school, Takatoshi is surrounded by girls; the train has nothing but girls, the walk to school has nothing but girls and once he finally arrives he is approached by a group of girls and summarily appointed vice-president of the student council and, as expected, he is the only boy there.
Now Takatoshi finds himself surrounded by crazy girls who do nothing but horrify him with their candid conversations about feminine hygiene products and, what's worse, assume he's the worst kind of man, the kind who doesn't clean himself and watches porn all day long.

(October 25; November 15)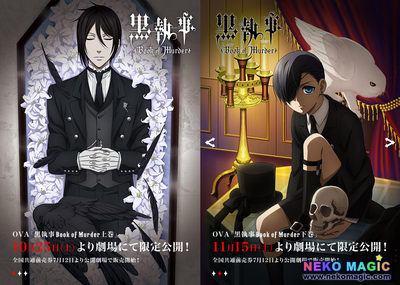 The OVA is subtitled Book of Murder and will pre-screen in theaters Fall 2014. It will adapt the Phantomhive Manor Murder Case Arc, which follows the circus arc in the manga.
Release Date: October 25; November 15
Studio: A-1 Pictures
Note: ep.1 of 2 (Oct 25); ep.2 of 2 (Nov 15)
Homepage: http://www.kuroshitsuji.tv/


(October 29; November 26)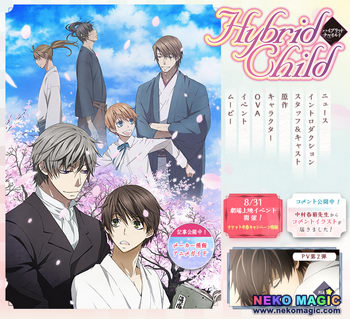 The Hybrid Child is an amazing android that can grow if it is lavished with enough love and care from its owner. Neither fully machine nor fully human, the various Hybrid Child models develop strong emotional bonds with their owners. This volume contains several short stories of love, sacrifice, and drama: Young Kotaro learns the importance of responsibility when his Hybrid Child's lifespan runs out. The tragic swordsman Seya learns to love again with the help of his Hybrid child, Yuzu. The final tale tells the story of Kuroda, the creator of the Hybrid Child designs, and how his lost love inspired their creation.

<< TV i | TV ii | TV iii | TV iv | TV v | OVA i | OVA ii | OVA iii | OVA iv | Film >>