2014 Fall anime Part 5: TV anime V
Yowamushi Pedal: Grande Road (TV)
Trinity Seven (TV)
Inou-Battle wa Nichijou-kei no Naka de (TV)
Yuuki Yuuna wa Yuusha de Aru (TV)
Bonjour♪ Koiaji Pâtisserie (TV)
Ushinawareta Mirai wo Motomete (TV)
Shirobako (TV)
Absolute Duo (TV)
Danna ga Nani wo Itteiru ka Wakaranai Ken (TV)
Selector Spread WIXOSS (TV)

<< TV i | TV ii | TV iii | TV iv | TV v | OVA i | OVA ii | OVA iii | OVA iv | Film >>

(October 2014)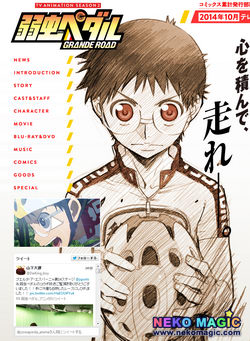 Second season of Yowamushi Pedal series.
Otaku Sakamichi Onoda has just entered high school and plans to join the anime club. In middle school, Onoda didn't have any friends with whom he could talk about anime, games, Akihabara and other otaku things, and he is hoping he can make such friends in the anime club, but he finds out it's been disbanded. In order to reestablish the club he tries to find 4 other people who would like to join.
Since he was a little boy, Onoda has ridden his mamachari—a bulky bicycle with a step-through frame mainly used for short rides, such as for casual fun or to pick up groceries—to go to Akihabara every week to check out or buy otaku things. Fellow freshman Shunsuke Imaizumi and bicyclist, while training, notices a boy (Onoda) riding his mamchari up a steep road.
Freshman and road racing cyclist, Shokichi Naruko visits Akihabara to get some Gundam plastic models for his younger brothers and meets Onoda who catches his attention because of the his cycling skill on the mamachari and later find out they go to the same school. Later on, both Naruko and Imaizumi try to convince him to join the bicycle racing club, but will he?

(October 2014)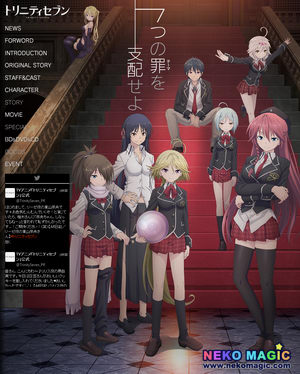 Everyday is a normal day in the small town where Kasuga Arata lives; however, everything changed on the day of the Black Sun, and following it, a magician appears before him. The Black Sun caused the Breakdown Phenomenon which destroyed the town where he lives. Because of this, his normal life was artificially reconstructed by a Grimoire that his childhood friend had left. Just what is the purpose of the magician coming to the town? What will he do with the Grimoire's keepsake?

(October 2014)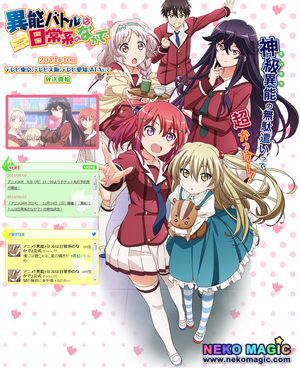 Half a year ago, the four members of a literature club, as well as the elementary school niece of their faculty adviser, were bestowed with supernatural powers. The boy in the club, Ando Jurai, became able to produce black flames. The girls acquired a variety of powerful abilities: Tomoyo could slow, speed, or stop time, Hatoko could control the five elements (earth, water, fire, wind, light), little Chifuyu could create things, and Sayumi could repair objects or heal living things. However, since they gained these powers, nothing has really changed in their everyday life. Why have they been given these powers in the first place? Will the heroic fantasy life they imagined these powers would bring ever actually arrive?

(October 2014)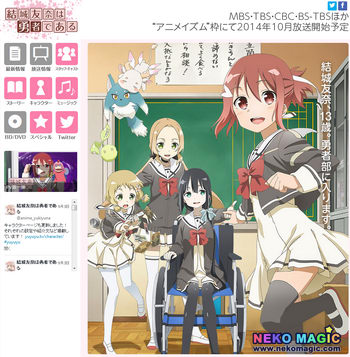 The story takes place in the era of the gods, year 300. Yuuna Yuuki lives an ordinary life as a second year middle school student, but she's also a member of the "Hero Club," where club activities involve dealing with a mysterious being called "Vertex."

(October 2014)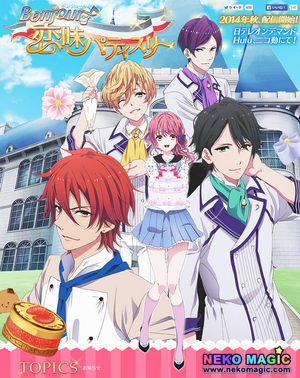 The original story follows Sayuri Haruno, a girl who attends an elite confectionery school Fleurir on a scholarship to follow her dream to open a pastry shop. There she meets several charming young men.

(October 2014)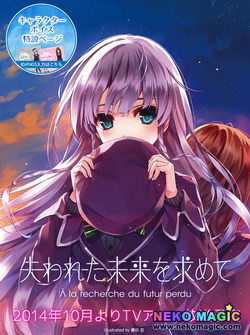 The story is set one autumn at the beginning of the 21st century in the Uchihama area. Uchihama Academy is growing by leaps and bounds. With the construction of a new school building, there will be one last General Club Festival at the old building that is slated to be closed. The students vow to go all out to make this final cultural festival a success.
The Astronomy Club of the protagonist Sou Akiyama is filled with the big names on campus. Just before the festival on October 1, the club receives a request from the student executive committee to calm the uneasiness among the students. There are reports of ghost sightings, accidents, sleeping sickness, and other mysterious incidents at the old building. When Yui Furukawa, a quiet girl who transfered late into the school, appears before Sou, the gears of fate slowly begin to move.

(October 2014)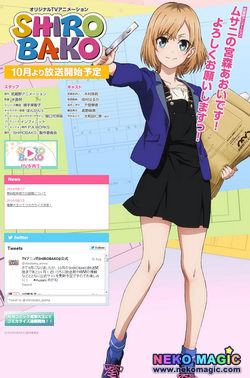 Five girls chase their dreams. The story revolves around the everyday troubles and hardships that occur when working in the anime industry, and the results and conflicts that happen day-to-day among the group of girls.

(October 2014)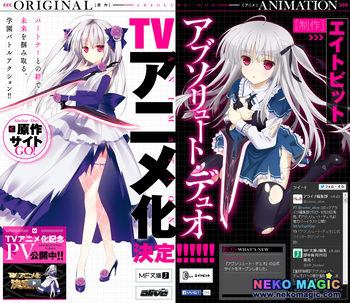 After losing a loved one, Tooru Kokonoe enrolls at Kouryou Academy so as to gain a "Blaze," a weapon that is his soul manifestation, for the sake of revenge. He was expecting a weapon… What he got was a shield… How is he to seek revenge with something that isn't even a weapon?!

(October 2014)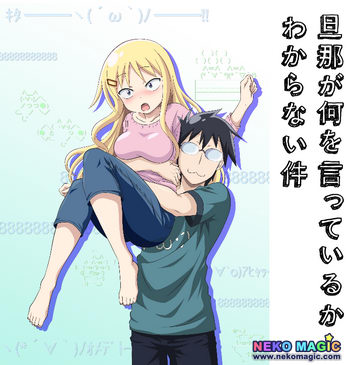 The manga follows the daily life of an earnest, hardworking office lady named Kaoru and her otaku husband, Hajime, who is totally immersed in a certain huge net bulletin board system.

(Fall 2014)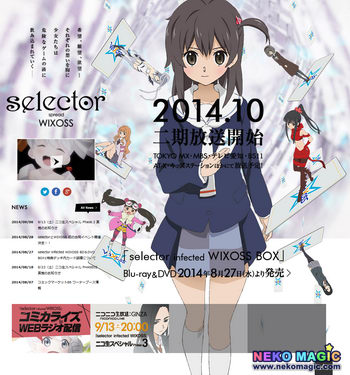 Second season of Selector Infected WIXOSS series.
WIXOSS is a card game that's popular with teenagers. Supposedly there exist "LRIG Cards," female character cards with wills of their own. Special girls can hear the voices of the LRIGs, and those who possess them are called Selectors. These Selectors have card battles in a dimension that other humans cannot access. It's said that whoever triumphs in these battles will have their wish granted. Ruko Kominato is the latest girl to find an LRIG card. She names her card Tama, and without any further explanation is thrown into her life as a Selector.

<< TV i | TV ii | TV iii | TV iv | TV v | OVA i | OVA ii | OVA iii | OVA iv | Film >>