2014 Fall anime Part 4: TV anime IV
Psycho-Pass 2 (TV)
Shigatsu wa Kimi no Uso (TV)
Ai Tenchi Muyo! (TV)
Donten ni Warau (TV)
Parasyte (TV)
Daitoshokan no Hitsujikai (TV)
Cross Ange: Tenshi to Ryuu no Rondo (TV)
Ookami Shoujo to Kuro Ouji (TV)
Shingeki no Bahamut: Genesis (TV)

<< TV i | TV ii | TV iii | TV iv | TV v | OVA i | OVA ii | OVA iii | OVA iv | Film >>

(October 2014)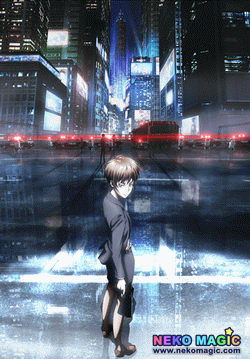 A sequel to the Psycho-Pass series.
The series takes place in the near future, when it is possible to instantaneously measure and quantify a person's state of mind and personality. This information is recorded and processed, and the term "Psycho-Pass" refers to a standard used to measure an individual's being. The story centers around the "enforcement officer" Shinya Kougami, who is tasked with managing crime in such a world.
In the future, it is possible to quantitatively measure a person's emotions, desires, and every inclination. In this way, it is also possible to measure a person's criminal tendency factor, which is used to judge criminals.
This is the story of a team of policemen dedicated to maintaining public order. Some of them work in the Enforcement Division, responsible for the apprehension of criminals, while others belong to the Supervisory Division which oversees their colleagues in Enforcement.

(October 2014)
Piano prodigy Arima Kosei dominated the competition and all child musicians knew his name. But after his mother, who was also his instructor, passed away, he had a mental breakdown while performing at a recital that resulted in him no longer being able to hear the sound of his piano even though his hearing was perfectly fine. Even two years later, Kosei hasn't touched the piano and views the world in monotone, and without any flair or color. He was content at living out his life with his good friends Tsubaki and Watari until, one day, a girl changed everything. Miyazono Kaori is a pretty, free spirited violinist whose playing style reflects her personality. Kaori helps Kosei return to the music world and show that it should be free and mold breaking unlike the structured and rigid style Kosei was used to.

(October 2014 @21:55)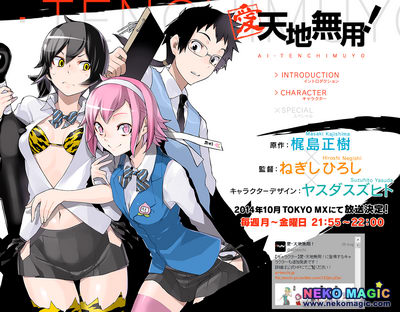 The franchise is celebrating its 20th anniversary with this new project. In the story, the world is in trouble because Washu is stirring up trouble again. In order to save the world from crisis, Tenchi goes undercover as a teacher in a girls' school. However, many problems arise as Tenchi is predisposed to finding trouble.

(October 2014)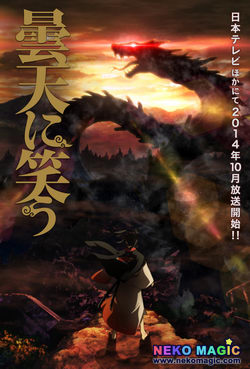 In the eleventh year of the Meiji era carrying swords was forbidden by the government and those known as samurai were slowly fading away; however, there were plenty who didn't like those changes taking place in Japan and inevitably the crime rates increased. The country's only solution was an inescapable lake prison. Since the prison had no other way to access it except by water, the three boys of the Kumo family were assigned to transport the criminals to their new "home." Although, is that the only thing they were doing…?

(October 2014)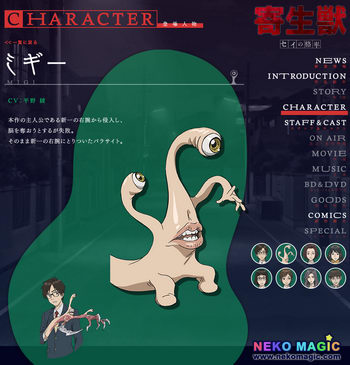 Based on Iwaaki Hitoshi's science-fiction horror manga by the same name.
The 17-year-old Izumi Shinichi lives with his mother and father in a quiet neighborhood in Tokyo. One night, worm-like aliens called Parasytes invade Earth, taking over the brains of human hosts by entering through their ears or noses. One Parasytes attempts to crawl into Shinichi's ear while he sleeps, but fails since he is wearing headphones, and enters his body by burrowing into his arm instead, taking over his right hand and is named Migi.
Because Shinichi was able to prevent Migi from travelling further up into his brain, both beings retain their separate intellect and personality. As the duo encounter other Parasytes, they capitalize on their strange situation and gradually form a strong bond, working together to survive. This gives them an edge in battling other Parasytes who frequently attack the pair upon realization that Shinichi's human brain is still intact. Shinichi feels compelled to fight other Parasytes, who devour humans as food, while enlisting Migi's help.

(October 2014)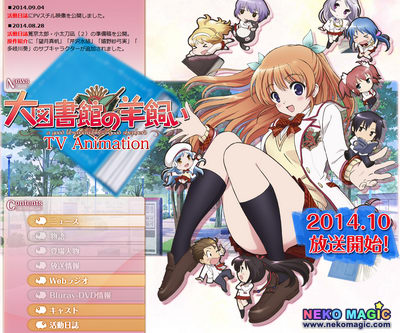 The story is set at Shiomi Academy, a vast, prestigious academy with a Daitoshokan (literally, "great library") that rivals Japan's national library. As a member of the Library Club, Kyoutarou Kakei goes to Daitoshokan to enjoy reading by himself. He then meets a second-year girl named Tsugumi Shirasaki through the efforts of a so-called "shepherd" who fulfills people's wishes. Eventually, more girls join the club thanks to the "shepherd."

(October 2014)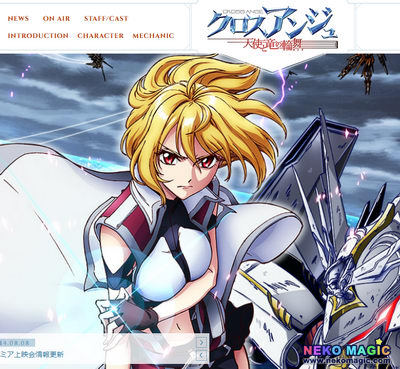 Due to humanity obtaining the data technology that has evolved to a great amount—called "Mana"—the human race is able to subjugate all wars, starvation, pollution, and other problems on Earth by using its power, which is similar to magic. Earth has obtained the utopia of complete peace and no wants.
First princess of the Misurugi Empire, Angelize. As with everyone else, she also had no wants or worries. She was celebrated by the people of the empire, and was supposed to wear the crown. However, she realizes the shocking truth that she is a Norma. "Norma": An irregular existence that cannot use Mana, and are treated as heretics and as "things" rather than people. Having everything stolen from her, she isolates herself on a remote island.
What was waiting for her there was a fateful meeting with a group of Norma girls who know nothing but battle. The girls spend their days riding humanoid robot weapons called "Barameiru" hunting giant dragons that have come from another dimension to invade. Having her name taken from her, what will soldier Ange see at the end of the fight? What can she believe in? What will she obtain? The story of a single girl's fortitude starts now.

(October 2014)
The story centers around Erika Shinohara, a vain 16-year-old girl who tells her friends about her romantic exploits, but she actually has no boyfriend. She claims that a handsome boy in a candid photo is her boyfriend, but it turns out that boy is a schoolmate named Kyouya Sata. She has no choice but to make him her fake boyfriend. Unfortunately, Sata may look like a sweet person, but he is actually an ultra-black-hearted sadist. Sata takes advantage of Erika's weakness and treats her like his dog.

(October 2014)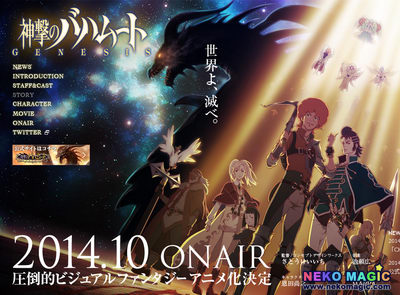 Mistarcia is a magical world where humans, gods, and demons mingle together. In the past, the black-and-silver winged Bahamut has threatened to destroy the land, but humans, gods, and demons overcame their differences to fight together and seal its power. The key to that seal was split in two, one half given to the gods and the other to demons, so that they would never be united and Bahamut never released. Now, two thousand years later, the world is in an era of peace – until the day a human woman steals the gods' half of the key.

<< TV i | TV ii | TV iii | TV iv | TV v | OVA i | OVA ii | OVA iii | OVA iv | Film >>