2014 Fall anime Part 2: TV anime II
Log Horizon 2nd Season (TV)
Fate/stay night (TV)
Magic Kaito 1412 (TV)
Madan no Ou to Vanadis (TV)
The Seven Deadly Sins (TV)
World Trigger (TV)
Sora no Method (TV)
Grisaia no Kajitsu (TV)
Gugure! Kokkuri-san (TV)

<< TV i | TV ii | TV iii | TV iv | TV v | OVA i | OVA ii | OVA iii | OVA iv | Film >>

(October 04 @17:30)
By its eleventh expansion pack, the massively multiplayer online role-playing game Elder Tale has become a global success, having a following of millions of players. However, during the release of its twelfth expansion pack: Novasphere Pioneers, thirty thousand Japanese gamers who are all logged on at the time of the update, suddenly find themselves transported inside the game world and donning their in-game avatars. In the midst of the event, a socially awkward gamer called Shiroe along with his friends Naotsugu and Akatsuki decide to team up so that they may face this world which has now become their reality along with the challenges which lie ahead.

(October 04 @24:00)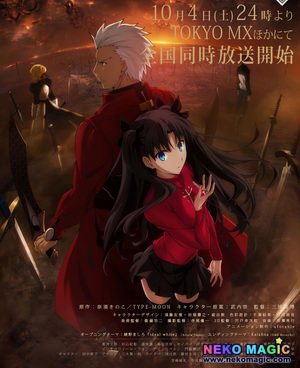 New anime adaptation of Fate/stay night, following the Unlimited Blade Works route.

(October 04 @17:30)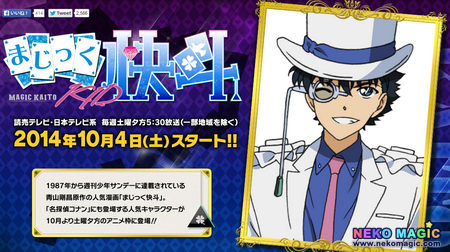 Kaito Kuroba, a normal teenage student whose father is often absent. When his father dies under mysterious circumstances, he is made aware of his father's secret identity; a famous international criminal known as International Criminal 1412: the Phantom Thief, and that he was murdered by a mysterious organization for refusing to aid them in retrieving the "Pandora Gem"; a mystical stone said to shed a "tear" during the passing of a particular comet (often called the 'Volley Comet'), the consumption of which bestows immortality.
He vows to prevent the organization from gaining immortality, and assumes his father's identity as he begins his quest for the gem. His only clues as to the gem's location are that it glows red under the full moon and that it is a doublet: a gem hidden within a larger gem. Thus, it would have to be a relatively large one with a bizarre history, and always stored in a place that never receives moonlight. He thus researches and steals famous priceless gems with odd histories from incredibly well-defended areas, and always returns them after the very next full moon.

(October 04 @20:00)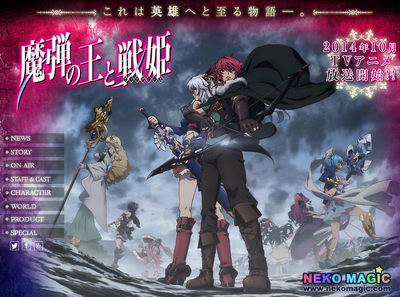 Set in Western Europe during times of war, Eleanor "Ellen" Vertalia, one of the Vanadis of Zhcted, leads the battle into Brune. There are, in fact, seven Vanadis, named for having each received a powerful weapon from the dragon to individually reign over seven territories. The power of the Vanadis invokes dread and fear from their enemies. An earl in the service of the country of Brune, a young archer by the name of Tigre, experienced the Vandis's power firsthand after being defeated on the battlefield by Ellen. However, Ellen chose to spare his life after witnessing his skills, but in exchange, he is asked to serve her.

(October 05 @17:00)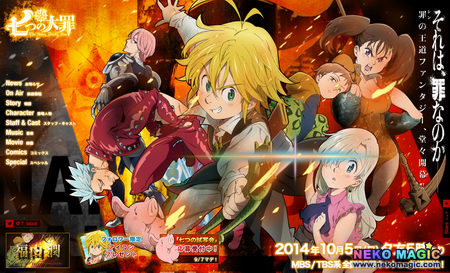 The "Seven Deadly Sins", a group of evil knights who conspired to overthrow the kingdom of Britannia, were said to have been eradicated by the Holy Knights, although some claim that they still live. Ten years later, the Holy Knights have staged a Coup d'état and assassinated the king, becoming the new, tyrannical rulers of the kingdom. Elizabeth, the king's only daughter, sets out on a journey to find the "Seven Deadly Sins," and to enlist their help in taking back the kingdom.

(October 05 @06:30)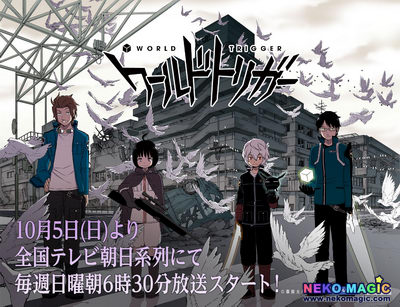 A gate to another dimension has burst open, and from it emerge gigantic invincible creatures that threaten all of humanity. Earth's only defense is a mysterious group of warriors who have co-opted the alien technology in order to fight back!

(October 05 @22:30)
The story begins one winter day when the wish of a few girls was realized with a miracle, changing the landscape of a town. "In the skies above this town, a disc is always there."

(October 05 @20:30)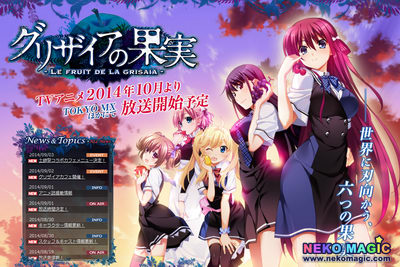 Mihama Academy—on the surface, a closed learning environment established to nurture students who find themselves at odds with the world around them; in actuality, an orchard-cum-prison built to preserve fruit that has fallen too far from its tree.
Whatever the circumstances behind its establishment, Mihama Academy is at present home to five female students, all with their own reasons for "enrollment." For better or worse, each girl has established a routine obliging of her current situation; life moves at an idle, yet accommodating pace within the walls of Mihama.
Yet with the arrival of the institute's first male student, the nearly preposterously opaque Kazami Yuuji, the students at Mihama begin to fall out of step with their predetermined rhythms. Will Yuuji prove to be the element the girls around him needed to take hold of their lives once more, or will the weight of their pasts prove too steep a wall to overcome?
And in the first place, just who is Kazami Yuuji? While the true nature of the "job" he is wont to alight to at the most haphazard of moments remains shrouded in secrecy, one thing is for certain—his encroachment upon the quiet orchard known as Mihama Academy will prove itself momentous in one way or another. And of course, one cannot discount the possibility that perhaps Yuuji himself carries the weightiest past of any of the students…

(October 05 @25:05)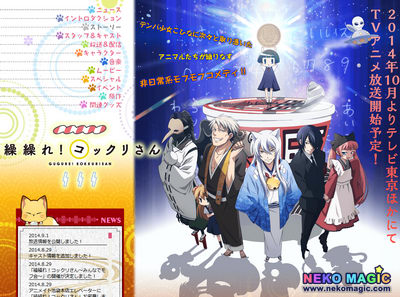 The story revolves around a little girl named Kohina. Kohina ends up summoning a Kokkuri-san, a low-ranking ghost in Japanese folklore. The Kokkuri-san she calls turns out to be a white-haired handsome, young man. At first he had intended to merely haunt her, but soon he becomes worried about her terrible eating habit of cup ramen for every meal. He later decides to haunt her in order to protect her.

<< TV i | TV ii | TV iii | TV iv | TV v | OVA i | OVA ii | OVA iii | OVA iv | Film >>