Persona 3 the Movie 2: Midsummer Knight's Dream (Film)
Saint Seiya: Legend of Sanctuary (Film)
Lupin the IIIrd: Jigen Daisuke no Bohyou (Film)
K: Missing Kings (Film)
Omoide no Marnie (Film)
Pokemon XY: Cocoon of Destruction and Diancie (Film)
Uchuu Kyoudai: Number Zero (Film)
Initial D Movie: Legend 1 – Kakusei (Film)
Cencoroll 2 (Film)

<< TV i | TV ii | TV iii | TV iv | TV v | OVA i | OVA ii | Film >>

(June 07)
After realizing the value of life and the importance of his own allies, Makoto finally got his smile back. As spring turns into summer, he finds himself learning more about those comrades and getting closer to them, especially to Yukari. He even meets new friends, including Aegis, an anti-Shadow android, Ken, a grade-schooler who seeks to get revenge for his late mother, and Koromaru, a dog who can use a Persona. Makoto wishes that everything will continue just as they are. However, little by little, the pieces and people in Makoto's new, happy life begin to fall apart, and he is forced to suffer the loss that comes with it.



(July 12)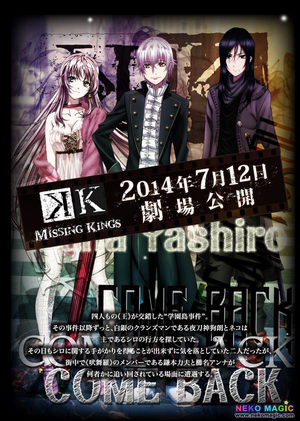 The "Academy Island Incident" in which four "kings" cross paths… Since then, Silver Clansmen Kuroh Yatogami and Neko have been searching for their master, Shiro. Without finding any clues to Shiro's whereabouts, the two became disheartened. However, one day, they see HOMRA members Rikio Kamamoto and Anna Kushina being chased by someone.

(July 19)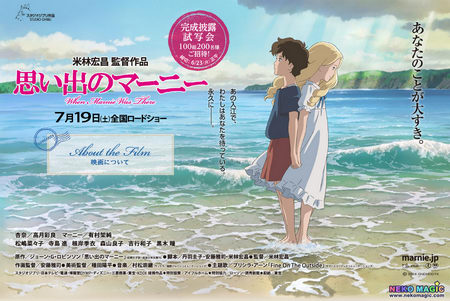 Anna hasn't a friend in the world—until she meets Marnie among the sand dunes. But Marnie isn't all she seems…
An atmospheric ghost story with truths to tell about friendship, families and loneliness. Anna lives with foster parents, a misfit with no friends, always on the outside of things. Then she is sent to Norfolk to stay with old Mr. and Mrs. Pegg, where she runs wild on the sand dunes and around the water. There is a house, the Marsh House, which she feels she recognizes—and she soon meets a strange little girl called Marnie, who becomes Anna's first ever friend. Then one day, Marnie vanishes.
A new family, the Lindsays, move into the Marsh House. Having learnt so much from Marnie about friendship, Anna makes firm friends with the Lindsays—and learns some strange truths about Marnie, who was not all she seemed…

(July 19)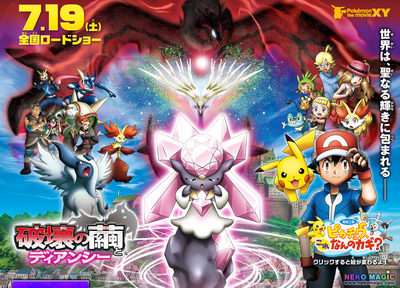 In the underground Diamond Domain, home to many Carbink, the Mythical Pokémon Diancie serves as ruler. The Heart Diamond that sustains the land is beginning to fall apart, and Diancie is not yet strong enough to create a new one. While seeking help from the Legendary Pokémon Xerneas, Diancie encounters a group of thieves who want to take control of its diamond-producing power—and who awaken the Legendary Pokémon Yveltal from its cocoon in the process. Ash and his friends now must help Diancie discover its true power, stop Yveltal's rampage, and save the Diamond Domain.

(August 09)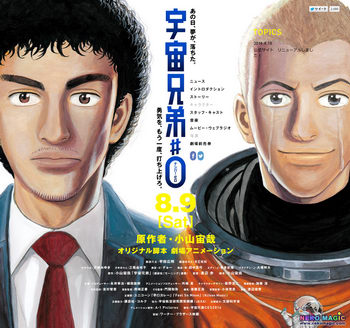 It will be a prequel to the TV anime series and will be titled Uchuu Kyoudai #0 (Number Zero). The mangaka also added that the movie will revolve around the "origin of the dream."

(August 23)
The film trilogy will retell the beginning of the story from Shuuichi Shigeno's original car-racing manga. High school student Takumi Fujiwara works as a gas station attendant during the day and a delivery boy for his father's tofu shop during late nights. Little does he know that his precise driving skills and his father's modified Toyota Sprinter AE86 Trueno make him the best amateur road racer on Mt. Akina's highway. Because of this, racing groups from all over the Gunma prefecture issue challenges to Takumi to see if he really has what it takes to be a road legend.


<< TV i | TV ii | TV iii | TV iv | TV v | OVA i | OVA ii | Film >>