2014 Winter anime Part 9: Film
Lupin the III vs. Detective Conan The Movie (Film)
Eiga Kaiketsu Zorori: Mamoru ze! Kyouryuu no Tamago (Film)
Gekijouban Hunter x Hunter: The Last Mission (Film)
Majocco Shimai no Yoyo to Nene (Film)
Houkago no Pleiades (Film)
The Idolmaster Movie: Kagayaki no Mukougawa e! (Film)
Gekijouban Tiger & Bunny -The Rising- (Film)
Buddha 2: Tezuka Osamu no Buddha ~Owarinaki Tabi~ (Film)
Giovanni no Shima (Film)
Mouretsu Pirates Movie (Film)

<< TV i | TV ii | TV iii | TV iv | TV v | OVA i | OVA ii | OVA iii | Film >>

(December 07, 2013)
[youtube]IBjiAht9CIU[/youtube]
"Cherry Sapphire," an illusive secret treasure that holds the key to the entire world, will bring the two in a "head-to-head confrontation." Lupin is suspected of stealing the gem, and "when the truth is revealed, the curtain will open on the greatest battle in the world."

(December 14, 2013)
[youtube]RlC8mSGJiHM[/youtube]

(December 24, 2013)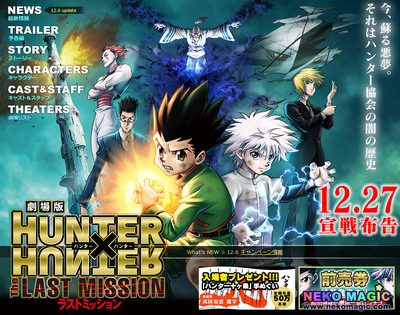 [youtube]UC3ILl8Cx2k[/youtube]
The story of the second film adaptation of Yoshiro Togashi's Hunter X Hunter manga revolves around the dark history of the strongest Hunters that once existed in the Hunters Association that were split into "light" and "dark", with each walking down their respective paths. The "dark" side begins moving in order to massacre all Hunters, and both Killua and Kurapika are caught up in the violence and are injured. What is the dark secret behind Netero, the strongest Nen-user and the chairman of the Hunter Association?

(December 28, 2013)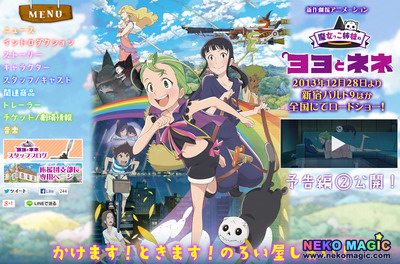 [youtube]jNuGHvuZ7UE[/youtube]

(December 2013)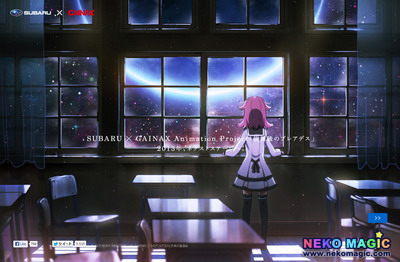 [youtube]ckfeRbFQ4DU[/youtube]
The Houkago no Pleiades ONA series, which consisted of 4 episodes, first debuted on February 1st, 2011. It was a collaboration project between anime studio Gainax and car manufacturing division Subaru. A "manner" movie was also released in June of the same year.

(January 25, 2014)
[youtube]o-L-33EdHsw[/youtube]
The idols of 765 Production continue on their neverending journey—towards a new stage, towards a bright and shiny future! The girls and their producer have gone through thick and thin, and have stood face to face with all kinds of difficulties. It's time again for the girls to foster their friendship, and through great discipline, they step forward to their starry future.


(February 08, 2014)
[youtube]Ja3npRX69hk[/youtube]
Prince Siddhartha is heir to the Shakya kingdom, which is constantly at war with the more powerful Kosala kingdom. His father tries to raise him as a warrior leader and to shield him from the miseries of the world. Meeting the young outcast girl Migaila, Siddhartha experiences love for the first time but also witnesses the suffering that afflicts humankind. Meanwhile, in Kosala, Chapra rises through the military, despite his lowly origins, to become a hero and general of the army. A final showdown between the two kingdoms forces Siddhartha to re-evaluate the path he is following.

(February 22, 2014)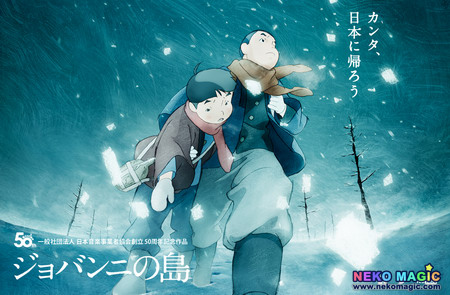 [youtube]aCf9ohRszPg[/youtube]
In the aftermath of the most devastating conflict mankind had ever experienced, the tiny island of Shikotan became part of the Sakhalin Oblast… and on the unhealed border of this remote corner of the world, friendship among children from two different countries timidly blossomed, striving to overcome language barriers and the waves of history. Inspired by true events.
Release Date: February 22, 2014
Studio: Production I.G

(February 2014)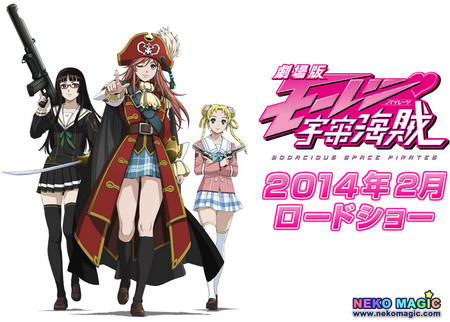 [youtube]Ja3npRX69hk[/youtube]
Release Date: February 2014
Studio: Satelight

<< TV i | TV ii | TV iii | TV iv | TV v | OVA i | OVA ii | OVA iii | Film >>