2014 Winter anime Part 8: OVA/OAD/SP III
Fate/kaleid liner Prisma Illya (OAD)
Little Busters! EX (BD)
Natsume Yuujinchou: Itsuka Yuki no Hi ni (OVA)
Senki Zesshou Symphogear G Special (BD)
Yozakura Quartet: Tsuki ni Naku (OAD)
Noragami (OAD)
Kamisama no Inai Nichiyoubi Special (BD)
Hetalia: The Beautiful World Extra Disc (SP)

<< TV i | TV ii | TV iii | TV iv | TV v | OVA i | OVA ii | OVA iii | Film >>

(January 25, 2014)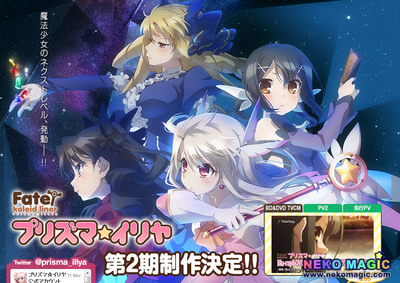 [youtube]dj_fZ3TVaf8[/youtube]
Features Illya as a main character where she's living an alternate life as a school girl. However, she is chosen by the Magical Stick Ruby and is involved in a quarrel between Rin (Kaleido Ruby) and Luvia (Kaleido Sapphire)

(January 29, 2014; February 26, 2014)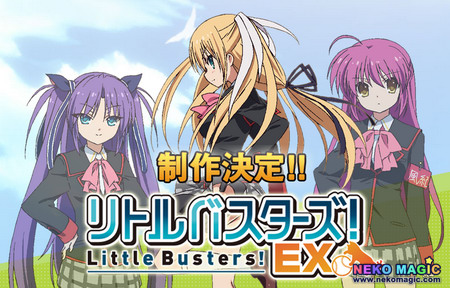 [youtube]58cpWOLQqzs[/youtube]
Little Busters! Ecstacy was an updated adult version of the original Little Busters! romance adventure game with added and modified scenarios. Key, an adult game brand of Visual Art's, first released Little Busters! Ecstacy in 2008, one year after the original game. The Little Busters! EX anime web page shows the two heroines (Kanata Futaki, Sasami Sasasegawa) who were made more prominent in the Little Busters! Ecstacy game, and the game's added heroine, Saya Tokido.
Release Date: January 29, 2014 (Vol. 1); February 26, 2014 (Vol. 2)
Studio: J.C.Staff
Note: ep.1&2 of 8; found on BD vol.1&2 of Refrain

(February 05, 2014)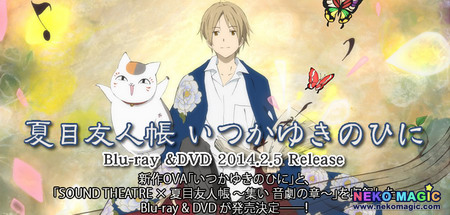 Takashi Natsume continues to return the names of the spirits that have been written in the "Book of Friends" he inherited from his grandmother, Reiko Natsume. While Natsume is still aided by the chubby Nyanko-sensei, he's now helped by some of the friends he had made in his journey; be it human beings or spirits. As he becomes closer to both, Natsume faces the inevitable question of the sides he has to take especially when there is a conflict between the two.
Release Date: February 05, 2014
Studio: Brains Base

(February 05, 2014)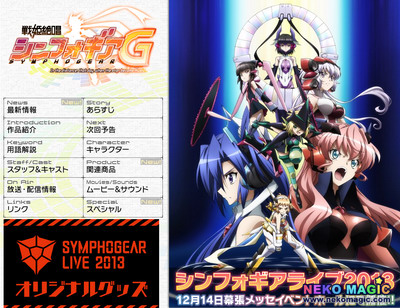 [youtube]j7UZ189rOWk[/youtube]
Peace had seemed to return to the world when Hibiki, Tsubasa, and Chris had saved the planet from the Luna Attack with their song. However, 3 months later at a joint concert between Tsubasa Kazanari and foreign superstar Maria Cadenzavna Eve, the Symphogear team is faced with her dangerous declaration of war against the world. Maria and her allies Kirika and Shirabe have a fearful power backing them: The power of the dark Symphogear.

(February 07, 2014)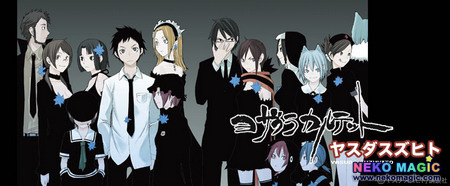 [youtube]bGNr58-A9ik[/youtube]
Tsuki ni Naku will take the story content from volume 11, which tells the story of when land god Yuuhi meets his companion Mariabelle. Volume 14 will be released on October 9 for the price of 3,850 yen.
Release Date: February 07, 2014
Studio: Tatsunoko Production
Note: Bundled w/ LE manga vol.15

(February 17, 2014)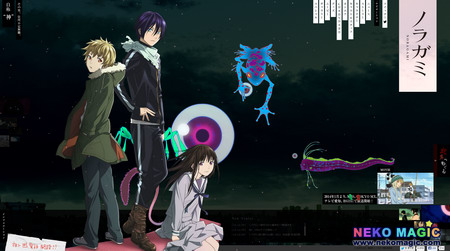 [youtube]gpFjMtWTmsY[/youtube]
Yato is a minor god whose dream is to have a lot of followers worshipping him and praying to him. Unfortunately, his dream is far from coming true since he doesn't even have a single shrine dedicated to him. To make things worse, the only partner he had to help him solve people's problems, had just quit the job.
His godly existence and luck just might change when he stumbles upon Iki Hiyori and saves her life; a feat which also leaves her in quite a predicament so she is stuck with him until her problem gets resolved. Together with Hiyori and his new partner-weapon Yukine, Yato will do everything he can to gain fame, recognition and just maybe, one shrine dedicated to him, as well.

(February 22, 2014)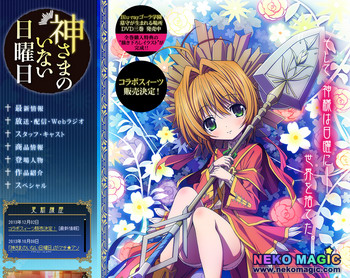 [youtube]dxGsSR8UOBs[/youtube]
God abandoned the world on Sunday. As a result, nobody in the world can die or reproduce. A little girl, Ai, is the gravekeeper for a village. She has prepared 47 graves for the eventual deaths of every member of the village. Later, a boy who identifies himself as "Hampnie Hambart, the 'Man-eating Toy'," which is coincidentally the name that Ai's mother left behind as the name of her father, arrives in the village and slaughters everybody. Just what is going on.
Release Date: February 22, 2014
Studio: Madhouse
Note: Unaired ep.13 found on BD vol.5
Hompage: http://kami-nai.com/

(February 26, 2014)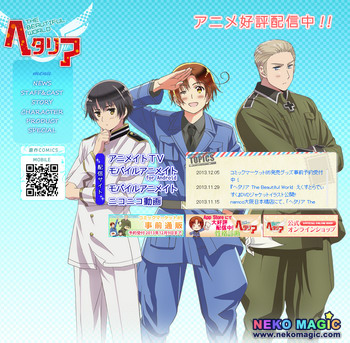 Italy, once home of the strongest empire in the world, has changed. This is the story of Italy, now a cowardly pasta-loving fool, and his friends (other personified countries of the world) as they live through strange moments in world history. (This is a continuation of the first series "Hetalia: Axis Powers" and "Hetalia World Series". However, its design will be somewhat different, the theme being Kira☆Kira (キラ☆キラ, literally "Sparkle☆Sparkle") because it's supposed to look prettier than either "Axis Powers" or "World Series". More new characters will be introduced to the series.
Release Date: February 26, 2014
Studio: Studio Deen
Note: Unaired episode found on DVD
Hompage: http://hetalia.com/bw/

<< TV i | TV ii | TV iii | TV iv | TV v | OVA i | OVA ii | OVA iii | Film >>