2014 Winter anime Part 7: OVA/OAD/SP II
Nameko-ke no Ichizoku (OVA)
Genei wo Kakeru Taiyou: Fumikome nai Kokoro Special (BD)
Unbreakable Machine-Doll Special (BD)
Uta no☆Prince-sama♪ Maji Love 2000% Special (BD)
Fate/kaleid liner Prisma Illya Special (BD)
Ansatsu Kyoushitsu (OAD)
Natsume Yuujinchou LaLa Special (SP)
Kimi no Iru Machi (OAD)

<< TV i | TV ii | TV iii | TV iv | TV v | OVA i | OVA ii | OVA iii | Film >>

(December 20, 2013)

[youtube]VvyER2trCtg[/youtube]
Anime adaptation of "Osawari Tantei Nameko Saibai Kit", a smartphone application. In the original app, the player harvests a crop of 30 or more different mushrooms

(December 25, 2013)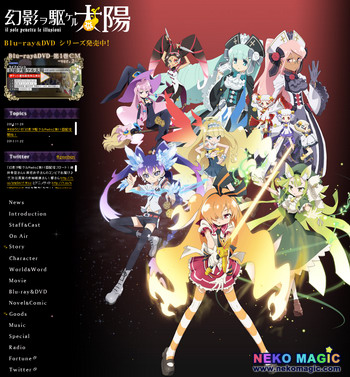 [youtube]XgMtDFHtoZc[/youtube]
Unaired ep. 14 bundled with BD/DVD Vol. 4. The story is set in aworld ruled by two kinds of tarot cards since the ancient times. Girls are chosen from 22 clans to wield the Elemental Tarot cards in battles unbeknownst to other humans. To maintain the balance of the world, they may become the executioner or savior.

(December 25, 2013; January 29, 2014; February 26, 2014)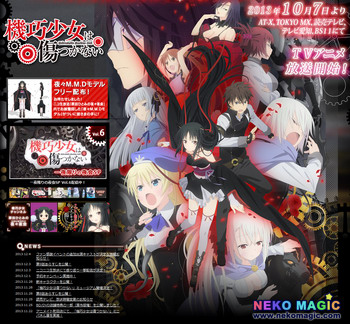 [youtube]FTSdRFrD5Qc[/youtube]
During the early 20th century, along with technological advancements, scientists were able to develop sophisticated magic. The combination of science and sorcery was Makinot, circuits made from spells that were put into objects to bring them to life and even gain a personality. It was developed as a military weapon and has now spread throughout the world.
Akabane Raishin is now attending the Royal Academy to become the best in the world. Accompanied by the lovely teenage girl Yaya, who is actually Raishin's puppet weapon, he plans on rocketing to the top of the class. However, his test scores come nearly dead last although his combat skills and determination are second to none. Raishin has to compete with the deadliest of classmates if he wants to come out as the king.
Release Date: December 25, 2013 (Vol. 1); January 29, 2014 (Vol. 2); February 26, 2014 (Vol. 3)
Studio: Lerche
Note: Special found on BD vol.1, 2, and 3
Hompage: http://www.machine-doll.com/

(December 25, 2013)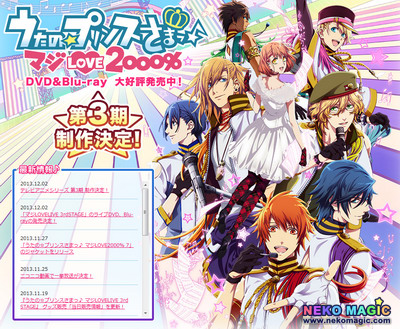 [youtube]CglA8vJH1Bo[/youtube]
Nanami Haruka wants to be a song writer, so she attends an idol training school filled with beautiful bishounen. The school pairs each aspiring songwriter with an aspiring idol, but Haruka finds herself paired with 6 bishounen idols. To make things more difficult, Nanami is also not allowed to date any of her beautiful partners.
Release Date: December 25, 2013
Studio: A-1 Pictures
Note: Unaired episode found on BD vol.7
Hompage: http://utapri.tv/

(December 27, 2013; January 31, 2014)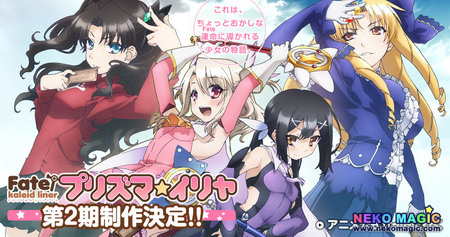 [youtube]7fbWAdNOHnU[/youtube]
Features Illya as a main character where she's living an alternate life as a school girl. However, she is chosen by the Magical Stick Ruby and is involved in a quarrel between Rin (Kaleido Ruby) and Luvia (Kaleido Sapphire)
Release Date: December 27, 2013 (Vol.4); January 31, 2014 (Vol.5)
Studio: Silver Link
Note: Anime short found on BD vol.4&5
Hompage: http://prisma-illya.jp/portal/

(December 27, 2013)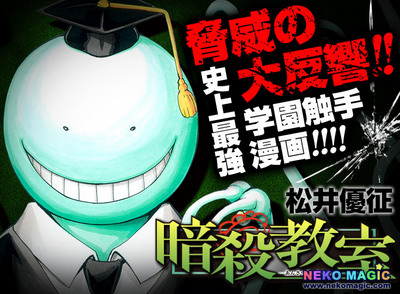 [youtube]fUingBMk1CY[/youtube]
The story begins after 70% of the moon was suddenly vaporized in an explosion. The super lifeform responsible for this catastrophe is a strange tentacled creature that can slink around at supersonic Mach 20 speeds. It has a 10 billion yen (US$100 million) price on its head, but for some reason, this creature ends up teaching a middle school class at the beginning of the school year. The students have until graduation to assassinate the teacher, or it will destroy Earth as well.
Release Date: December 27, 2013
Studio: Brains Base
Note: Bundled w/ LE manga vol.7

(December 2013)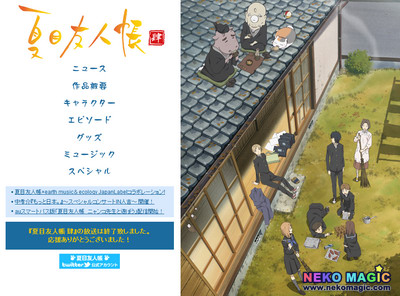 Takashi Natsume continues to return the names of the spirits that have been written in the "Book of Friends" he inherited from his grandmother, Reiko Natsume. While Natsume is still aided by the chubby Nyanko-sensei, he's now helped by some of the friends he had made in his journey; be it human beings or spirits. As he becomes closer to both, Natsume faces the inevitable question of the sides he has to take especially when there is a conflict between the two.
Release Date: December 2013
Studio: Brains Base
Note: Found on bonus DVD eligible for LaLa readers

(January 17, 2014)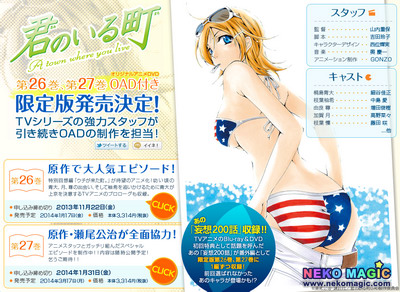 [youtube]0zTDHeEVnHs[/youtube]
Kirishima Haruto travels to Tokyo on a school excursion, where he hopes to catch up with Yuzuki Eba, a girl who formerly lived in his house and whom he has feelings for. Things don't go according to plan when fellow student Nanami Kanzaki, who secretly loves Kirishima, asks him to pretend to be her boyfriend.

<< TV i | TV ii | TV iii | TV iv | TV v | OVA i | OVA ii | OVA iii | Film >>