2014 Winter anime Part 5: TV anime V
Z/X: Ignition (TV)
Saikin, Imouto no Yousu ga Chotto Okashiinda ga. (TV)
Future Card -Buddyfight- (TV)
Sekai Seifuku: Bouryaku no Zvezda (TV)
Nobunaga the Fool (TV)
Super Sonico The Animation (TV)
Go! Go! 575 (TV)
Strange+ (TV)
Happiness Charge PreCure! (TV)
Bishoujo Senshi Sailor Moon (2014) (TV)

<< TV i | TV ii | TV iii | TV iv | TV v | OVA i | OVA ii | OVA iii | Film >>

(January 2014)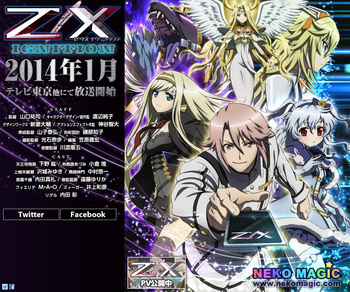 [youtube]ZLG4HRDfiFM[/youtube]
The story is set in the not-so-distant future. Five "Black Points" suddenly appeared around the world as portals to parallel worlds. Immediately after, strange creatures began their invasion from these portals. These creatures are the inhabitants of five worlds — the same worlds in different timeframes. In order to ensure their own future timeframe survives, each of the five invasion forces battle to wipe the other future timeframes out. The key is one card-shaped device.

(January 2014)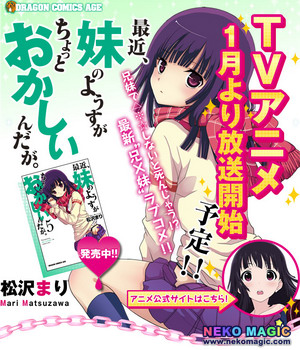 [youtube]B8xYCcIDCl8[/youtube]
In the romance comedy, a girl named Mitsuki Kanzaki lives with her step-brother Yuya after her mother remarries. One day, Mitsuki is possessed by the self-proclaimed spirit of a young girl, Hiyori Kotobuki. Hiyori (in Mitsuki's body) must fall in love with Yuya to move towards the "Gates of Heaven."
Release Date: January 2014
Studio: *TBA

(January 2014)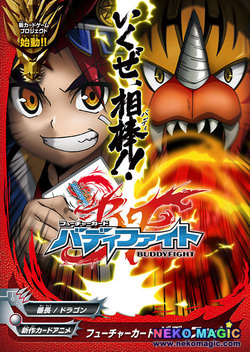 [youtube]DdlFHq_xX3c[/youtube]
Anime adaptation of Bushiroad's Future Card Buddyfight Trading Card Game.
Release Date: January 2014
Studio: OLM / Xebec

(January 2014)
[youtube]NJc2edOJ80s[/youtube]
The story follows Zvezda, a secret society bent on glorious world conquest – and led by a little girl.

(January 2014)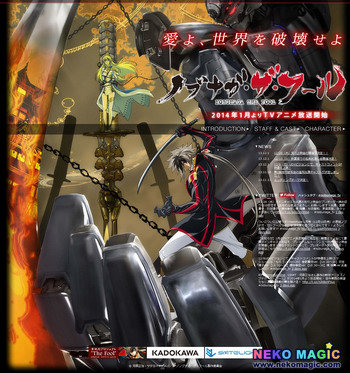 [youtube]kSIYGc9XDlY[/youtube]
The planets of the East and the West were once connected by the Ama-no-Hashidate. The culture that built it was destroyed countless years ago, and the two planets have had separate histories ever since. On the Western planet, ancient culture is experiencing a renaissance after a long period of war. Jeanne Kaguya D'Arc, a girl from the Western Planet, was prophesied to be the Savior of the World at her birth. With Leonard Da Vinci, she lands on the Eastern Planet, where Nobunaga "the Fool" longs for the power to change the world, as his planet is still locked in a war where many heroes vie for supremacy. When these two people meet, the culture of both worlds will be transformed.

(January 2014)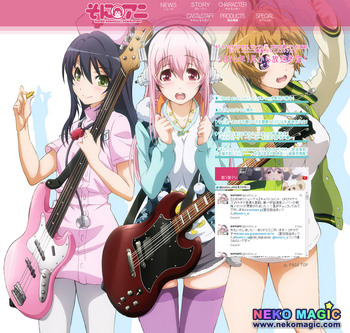 [youtube]d467Knc-kO4[/youtube]
Super Sonico is the mascot girl of the "Nitro Super Sonic" events held by Nitroplus. In the back story, she is already a photoshoot model, game character, and a musician, even as she studies as a college student. She is also part of a three-piee girl band named "Daiichi Uchuu Sokudo" (Fastest Speed in Space) as the vocalist and guitarist.

(January 2014)
[youtube]KaNZUZaBeAY[/youtube]
The anime adapts Sega's Project 575, a game which lets anyone create songs using the traditional Japanese 5-7-5-syllable meter found in haiku and tanka poems.

(January 2014)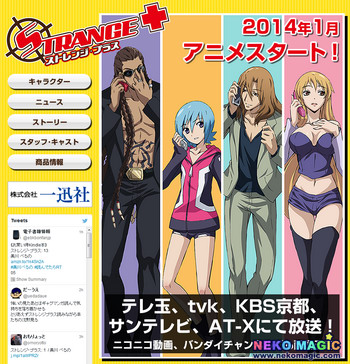 Kou is searching for his older brother Takumi, who left home and has gone missing in the city. Worried that he's in trouble, Kou decides not to go home until he's found him., only to find him all too easily. Takumi, it turns out, has become head of the Mikuni Detective Agency, and has no intention of going back home. Kou decides that if he can't make Takumi return, then he'll join the agency himself.

(February 2014 @08:30)
The 11th television series in the Precure magical girl anime franchise.
Release Date: February 2014 @08:30
Studio: Toei Animation

(Winter 2014)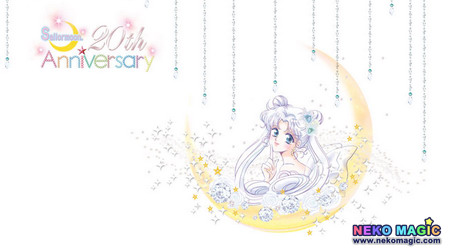 Summary from the original manga: One day, Usagi Tsukino, clumsy 2nd-year middle school student (8th grader), stumbles upon a talking cat named Luna. Luna tells her that she is destined to be Sailor Moon, "champion of love and justice", and she must search for the fabled Moon Princess. Usagi finds friends that turn out to be destined senshi as well, and together they fight to save the world from the certain doom brought upon by the Dark Kingdom (Queen Beryl, the generals, Metallia).
Release Date: Winter 2014
Studio: Toei Animation

<< TV i | TV ii | TV iii | TV iv | TV v | OVA i | OVA ii | OVA iii | Film >>