2014 Winter anime Part 4: TV anime IV
pupa (TV)
Mahou Sensou -Magical Warfare- (TV)
Gin no Saji: Silver Spoon ~ Season 2 (TV)
Houzuki no Reitetsu (TV)
Nourin (TV)
Wake Up, Girls! (TV)
Nisekoi (TV)
Wizard Barristers: Benmashi Cecil (TV)
Inari, KonKon, Koi Iroha. (TV)
Maken-ki! Two (TV)

<< TV i | TV ii | TV iii | TV iv | TV v | OVA i | OVA ii | OVA iii | Film >>

(January 09, 2014 @27:00)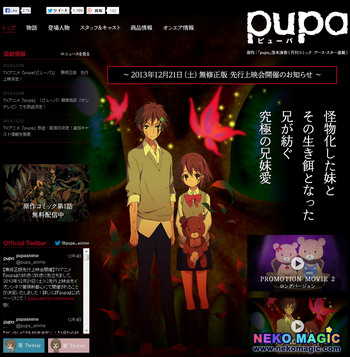 [youtube]bTsUfCeQB2o[/youtube]
The "life-and-death sibling" story follows Utsutsu and Yume Hasegawa, a boy and his little sister who find themselves all alone. One day, Yume sees a mysterious red butterfly and her body undergoes a strange metamorphosis—into a creature that eats humans. Utsutsu struggles to find a way to restore his sister.

(January 09, 2014 @25:28)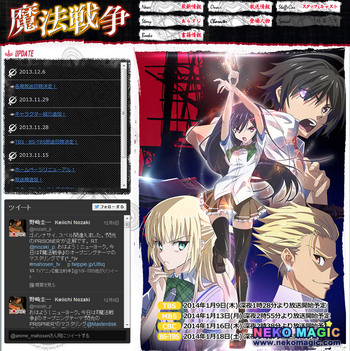 [youtube]h24ESqimig0[/youtube]
In this modern magic action story, Takeshi Nanase is an ordinary high school boy who has a somewhat dark past. Due to certain circumstances, he formed a "fake" couple with his childhood friend Kurumi Isoshima, but otherwise, he lives a normal life. However, one day, he comes across a girl named Mui Aiba, in a uniform he has never seen before, collapsed on the school campus. This encounters changes Takeshi's destiny completely. Mui tells Takeshi that she is a magician, and she apologizes, for she turned Takeshi into a magician, too. What Takeshi once knew as one world is actually two – the world where magicians live and the world where humans live.

(January 09, 2014 @24:45)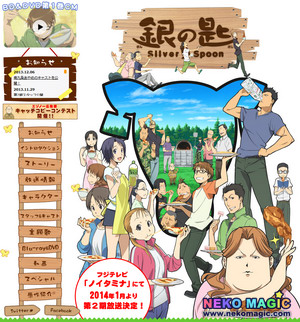 [youtube]yJjIU_vAP-I[/youtube]
Yūgo Hachiken decided to escape from the stressful school and home environment in the city by enrolling at Ōezo Agricultural High School. Unlike his peers who'll eventually embark upon an agricultural career, he decides to study there only because he believes it'll be less competitive academically. Unfamiliar with his new surroundings, he tries his best to adapt to the agricultural world he had never thought of living in.

(January 09, 2014 @25:35)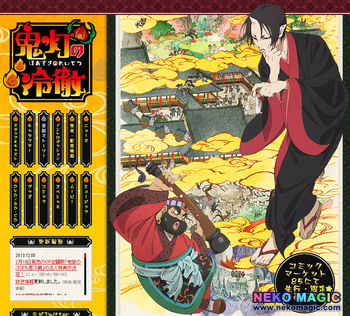 [youtube]VZZHTHUWcL0[/youtube]
The dark comedy revolves around the fierce god aide to the Great King Yama, Hōzuki. Calm and super-sadistic, he tries to resolve problems that often occur in Hell.

(January 10, 2014 @25:00)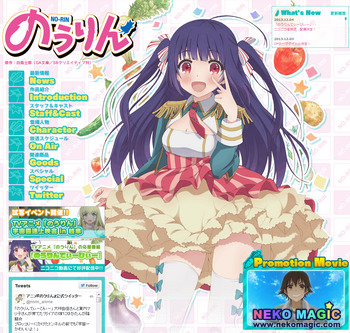 [youtube]1Dhxhd8JWJY[/youtube]
When the national idol Kusakabe Yuka suddenly retired from the entertainment business, it shocked the world and it devastated teenager Hata Kosaku. Kosaku was Yuka's biggest fan and her departure left him depressed. His classmates at the Tamo Agriculture School finally are able to get him to leave his room and attend his class, but to everyone's amazement, Kusakabe Yuka (her stage name) comes into the class under the name Kinoshita Ringo as a transfer student. Kosaku realizes he has the once in a lifetime opportunity to get to personally know his dream girl and, together with his group of friends, try to find out why she is here and become closer than just classmates.

(January 10, 2014 @25:23)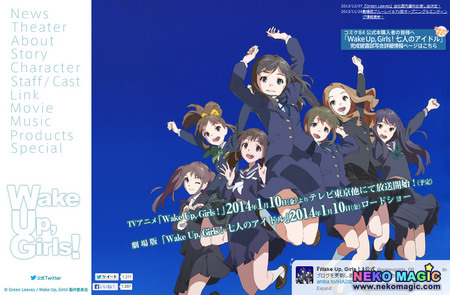 [youtube]eVI8CGAMbYQ[/youtube]
Green Leaves Entertainment is a tiny production company on the verge of going out of business in Sendai, the biggest city in Japan's northeastern Tohoku region. The agency once managed the careers of magicians, photo idols, fortune-tellers, and other entertainers, but its last remaining client finally quit. In danger of having zero talent (literally), the president Tange hatches an idea of producing an idol group. On the brash president's orders, the dissatisfied manager Matsuda heads out to scout raw talent. Matsuda makes a fateful encounter with a certain girl…

(January 11, 2014 @23:30)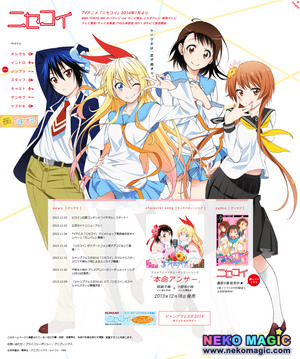 [youtube]rzV8LdUrhM0[/youtube]
High school student Raku Ichijou, the son of a leader in the yakuza faction Shuei-Gumi, and Chitoge Kirisaki, the daughter of a boss in a rival gang known as Beehive. They unexpectedly meet when Chitoge hops a wall and knees Raku in the face. After she runs off, Raku realizes he has lost his pendant which was given to him by his childhood sweetheart with whom he made a secret promise. After discovering Chitoge is a new transfer student in his class, he forces her to help him look for the pendant. During the search, they begin to dislike each other.

(January 12, 2014 @24:30)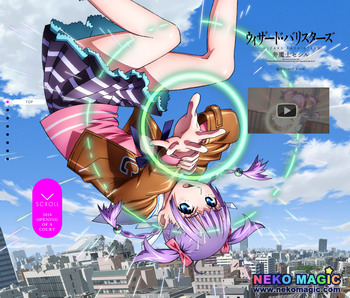 [youtube]6DU5Aa0BAs8[/youtube]
In 2018, humans and wizards live together in Tokyo. Police continue to protect order in society, but wizards are tried according to magical law, in special courts defended by wizard barristers. At age seventeen, Cecile has just become the youngest wizard barrister, and begins work at the Butterfly Law Offices. While she hasn't realized it yet, she has tremendous magical potential.

(January 15, 2014 @25:00)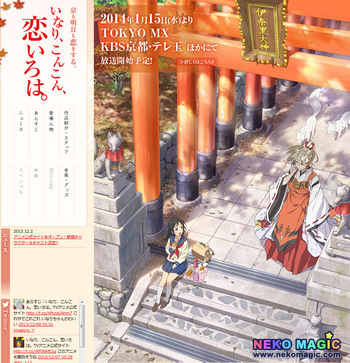 Inari Fushimi is a middle school girl who's never had a requited love, since she's a shy, clumsy and not very bright. One day, she witnesses her crush Kouji giving a letter to her classmate Akemi. Shocked and saddened, Inari rushes to a shrine, where she sees a mysterious phenomenon. From this strange encounter, she gains the power of physical transformation.

(January 15, 2014)
[youtube]1xahtNsbv2E[/youtube]
The store revolves around Takeru Ōyama, a boy enrolled in an elite school where the girls (and boys) fight with mysterious items called Maken. The student body includes the enigmatic girl Kodama, a girl named Inaho who calls herself Takeru's fiancée, and his childhood friend Haruko.

<< TV i | TV ii | TV iii | TV iv | TV v | OVA i | OVA ii | OVA iii | Film >>