2014 Winter anime Part 3: TV anime III
To Aru Hikuushi e no Koi-Uta (TV)
D-Frag! (TV)
Wooser no Sono Higurashi Kakusei Hen (TV)
Hamatora (TV)
Chuunibyou Demo Koi ga Shitai! Ren (TV)
Youkai Watch (TV)
Onee-chan ga Kita (TV)
Mikakunin de Shinkoukei (TV)
Sakura Trick (TV)

<< TV i | TV ii | TV iii | TV iv | TV v | OVA i | OVA ii | OVA iii | Film >>

(January 06, 2014 @22:00)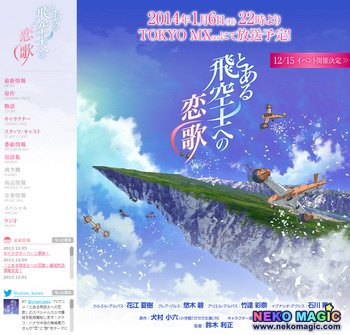 [youtube]wC9R8-hmdRM[/youtube]
The story of love and aerial combat follows a former prince who lost everything to a revolution, and a girl who became the symbol for the revolution. The orphaned prince, now renamed Karueru, embarks on a one-way journey to discover the ends of the heavens. Aboard the levitating island of Isura, he meets a girl named Claire.
This is a tale of a prince who lost everything leaves for a journey with no guarantee of returning to his hometown safely. With hatred and revenge in his mind, he met several people that taught him about friendship…and love.
Release Date: January 06, 2014 @22:00
Studio: TMS Entertainment
Hompage: http://koiuta.tv/

(January 06, 2014 @26:05)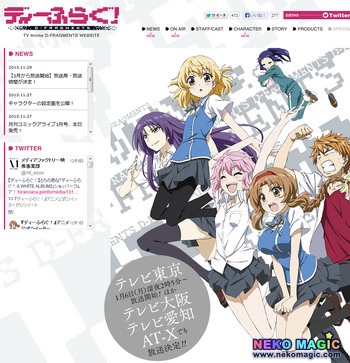 [youtube]YQaBxjqsue8[/youtube]
Kazama Kenji likes to believe he is something of a delinquent. Moreover, others seem to like to agree that he is. Of course, Kenji's gang finds their way to a group of four not-so-normal girls—Chitose, Sakura, Minami and Roka—and all at once, whatever reputation he may have is nothing compared to the outrageous behavior of the girls. Shanghaied into joining their club, what will happen to his everday life from that point on?

(January 07, 2014 @25:35)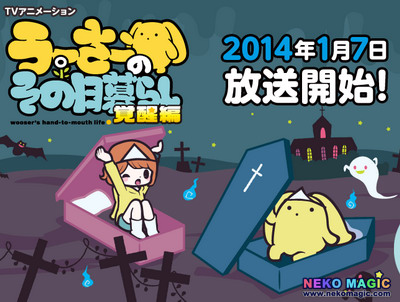 [youtube]w4eO_qVj92c[/youtube]
Sequel to the Wooser no Sono Higurashi TV series. 3D shorts centering around Wooser, a mysterious mascot character who lives on the Internet and whose charming appearance belies a corrupt heart that craves for moeny, meat, and gals.

(January 07, 2014 @25:40)
[youtube]LQ0FdejcFf0[/youtube]
The story revolves around "Minimum" or "minor miracle"— special hereditary powers discovered only in an extremely limited number of humans. Those who possess such powers are known as "Minimum Holders."

(January 08, 2014 @24:30)
[youtube]JMPVhBLUwNY[/youtube]
Sequel to the Chuunibyou Demo Koi ga Shitai! TV series. High school freshman Yūta Togashi was once a "chūnibyō patient" i.e. an overly self-conscious middle schooler. He wants to bury this embarrassing past and begins a new life in high school—unsuccessfully. His classmate Rikka Takanashi, a "current" chūnibyō patient, has found traces of residual symptoms on him and used the fact to force Togashi "making a contract" with her.

(January 08, 2014 @19:00)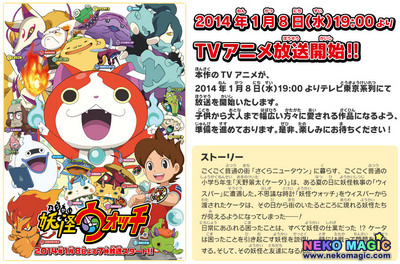 The story begins one hot summer day when a boy named Keita discovers an old capsule toy vending machine in the forest. Keita receives a mysterious watch and meets a ghost butler named Whisper. Whisper tells Keita that the watch allows him to find hidden supernatural creatures – both good and evil – that he could not see before in everyday life. With Whisper and his other companion Jibanya, Keita explores his town for other ghosts to battle.
Release Date: January 08, 2014 @19:00
Studio: *TBA

(January 08, 2014 @27:00)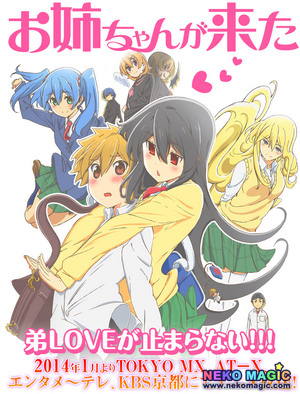 The story revolves around Tomoya Mizuhara, a 13-year-old boy who suddenly gains a big sister when his father remarries. 17-year-old Ichika is a little strange, and her affection for Tomoya is rather overwhelming, if not scary. On top of things, Ichika's friend Ruri is the ultimate sadist. Then there is Ichika's big-breasted quarter-Japanese friend Marina.
Release Date: January 08, 2014 @27:00
Studio: C2C

(January 09, 2014 @21:30)
[youtube]5F14JWnYSwM[/youtube]
The comedy revolves around Kobeni Yonomori, who on her 16th birthday suddenly has a young man with little presence named Hakuya Mitsumine and his younger sister Mashiro appear in front of her. It turns out that Hakuya is her fiancee, and Mashiro is her future sister-in-law. The three (and Konbeni's older sister Benio) start living together underneath the same roof, and hilarious happenings occur.

(January 09, 2014 @25:58)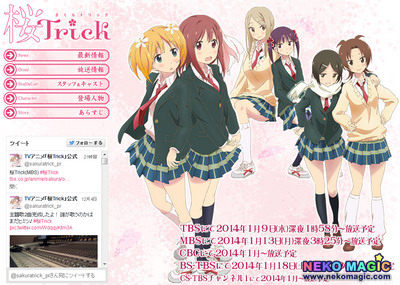 The story revolves around Haruka and Yū, two girls who go to a high school that is slated to be shut down in three years. To share "something special" between them, they share a kiss, and their relationship deepens from that moment onward.

<< TV i | TV ii | TV iii | TV iv | TV v | OVA i | OVA ii | OVA iii | Film >>