2014 Winter anime Part 2: TV anime II
Seitokai Yakuindomo * (TV)
NobunaGun (TV)
Tonari no Seki-kun (TV)
Minna Atsumare! Falcom Gakuen (TV)
Buddy Complex (TV)
Witch Craft Works (TV)
Space☆Dandy (TV)
Noragami (TV)
Saki: Zenkoku-hen (TV)

<< TV i | TV ii | TV iii | TV iv | TV v | OVA i | OVA ii | OVA iii | Film >>

(January 04, 2014 @20:30)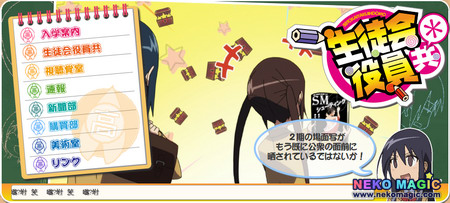 [youtube]AMVA5wZ_D0k[/youtube]
The story centers around Ōsai Academy, a former all-girls private high school which has recently been integrated for both genders. The student body is split between 524 girls and 28 boys. Takatoshi Tsuda is pushed into becoming the vice-president of the student council, where he is the lone male member surrounded by girls.
Release Date: January 04, 2014 @20:30
Studio: GoHands

(January 05, 2014 @22:00)
[youtube]Q-kKY-qMews[/youtube]
Shio Ogura is a Japanese high school student, who is visiting Taiwan on a school trip when she is suddenly attacked by monsters. Agents known as "E-Gene Holders" from the government agency DOGOO also arrive, who wield weapons infused with the spirits of historical figures. Shio is revealed to also be an E-Gene Holder when the soul of Oda

(January 05, 2014 @26:05)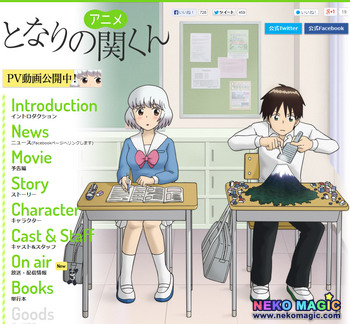 [youtube]7ufd8z0F0Uk[/youtube]
In the middle of class at a certain school, Rumi Yokoi, a diligent student, has her in-class life turned upside-down when her next-door desk mate "Seki" begins to play by himself at his desk in class. Although Yokoi is irked by Seki's distracting yet intricate playtime, she finds herself being drawn into his interesting hobby. Never being able to focus, Yokoi observes Seki's stunning ways of slacking off in class.

(January 05, 2014 @22:27)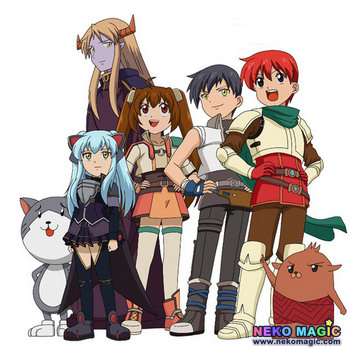 The story of the original manga begins when the world is invaded by game developer Nihon Falcom's RPG characters, including characters from Ys, Sorcerian, Eiyū Densetsu Shikkusu Sora no Kiseki (The Legend of Heroes: Trails in The Sky). The characters come together in a crazy academy life in celebration of the game maker's 30th anniversary.

(January 05, 2014 @24:00)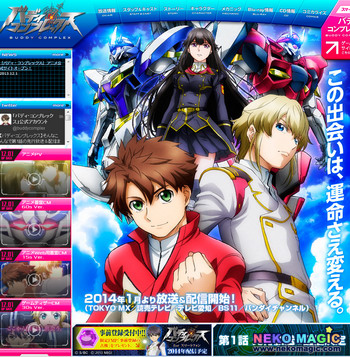 [youtube]t_Y5PEEmwQw[/youtube]
The story will revolve around the friendship and coming-of-age of two boys. It begins with Aoba Watase, a boy who goes to high school in Tokyo and lives a carefree daily life. On the morning of his school's opening ceremony after summer vacation, he goes to campus as usual, but he has a chance encounter with another boy named Junyou Dio Weinberg.

(January 05, 2014 @22:30)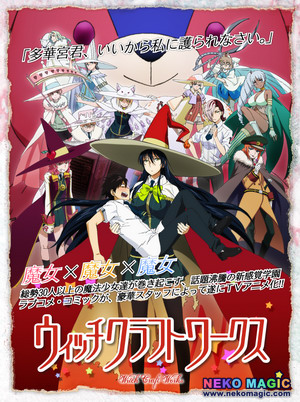 [youtube]Pq4fPH-It5g[/youtube]
Takamiya Honoka is a regular student whose only problem seems to be that he sits next to Kagari Ayaka, the school's #1 beauty. They have never spoken to each other before and any small interaction between them immediately results in her fanclub beating him. Yet when a falling part of the school's building is about to send him to the afterlife, it's Kagari that comes to his rescue. Only… she's dressed as a witch, carrying him in her arms and floating on a broom?! Kagari tells him it is her mission to protect him and that now she can finally protect him openly rather than undercover.

(January 05, 2014 @23:00)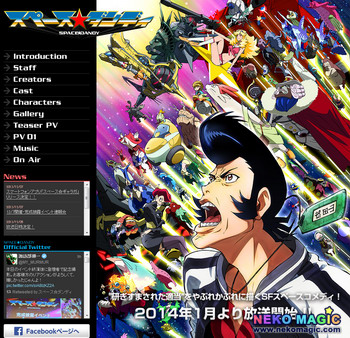 [youtube]QvrgMnPogKc[/youtube]
The lead character Dandy is an alien hunter and the "dandiest man in space." The anime is set far in the future where people have gone to the far reaches of the universe. Dandy is searching for aliens that no one has found before with his robot partner QT.

(January 05, 2014 @23:30)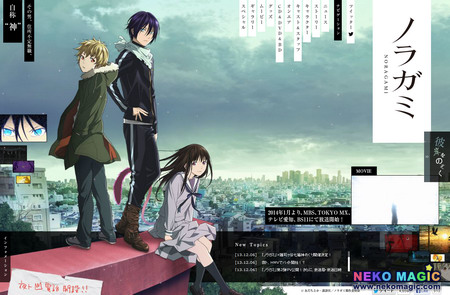 [youtube]gpFjMtWTmsY[/youtube]
Yato is a minor god whose dream is to have a lot of followers worshipping him and praying to him. Unfortunately, his dream is far from coming true since he doesn't even have a single shrine dedicated to him. To make things worse, the only partner he had to help him solve people's problems, had just quit the job.
His godly existence and luck just might change when he stumbles upon Iki Hiyori and saves her life; a feat which also leaves her in quite a predicament so she is stuck with him until her problem gets resolved. Together with Hiyori and his new partner-weapon Yukine, Yato will do everything he can to gain fame, recognition and just maybe, one shrine dedicated to him, as well.
Release Date: January 05, 2014 @23:30
Studio: Bones

(January 05, 2014 @25:35)
Saki: Zenkoku-hen is the sequel to the Saki series covering the Inter High School Mahjong Championships. Its August and Kiyosumi has arrived at the nationals. In order to face her sister, Saki Miyanaga and her friends must keep winning.

<< TV i | TV ii | TV iii | TV iv | TV v | OVA i | OVA ii | OVA iii | Film >>