2013 Fall anime Part 8: Film
Captain Harlock (Film)
Takanashi Rikka Kai: Chuunibyou demo Koi ga Shitai! (Film)
Code Geass: Akito the Exiled 2 – Hikisakareshi Yokuryuu (Film)
Kara no Kyoukai: Mirai Fukuin (Film)
Dokidoki! Precure Movie: Mana Kekkon!!? Mirai ni Tsunagu Kibou no Dress (Film)
Mahou Shoujo Madoka★Magica Movie 3: Hangyaku no Monogatari (Film)
Patema Inverted (Film)
PERSONA3 THE MOVIE #1 Spring of Birth (Film)
Kaguya-hime no Monogatari (Film)
Ghost in the Shell: ARISE – border:2 Ghost Whispers (Film)

<< TV i | TV ii | TV iii | TV iv | TV v | OVA i | OVA ii | Film >>

(September 07)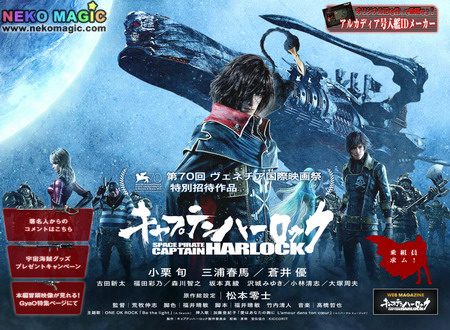 [youtube]FAch4diQRgY[/youtube]
The film remakes the classic anime Space Pirate Captain Harlock with Toei Animation's highest production budget ever at the equivalent of more than 30 million U.S. dollars. Shun Oguri and Haruma Miura star as the title pirate and the new character Yama, respectively.
In Leiji Matsumoto's original 1977-79 manga, the title character rebels against Earth's inept government and fights for humanity with his crew of 40 aboard the invincible space battleship Arcadia. The manga inspired a 1978-1979 television anime series, a few features, and the sequel Arcadia of My Youth: Endless Orbit SSX.

(September 14)
[youtube]l05gqLlYq8w[/youtube]
According to the television anime's director Tatsuya Ishihara, the film will be a compilation of the first television season — only as seen from the character Rikka's eyes and recontructed with new elements to make it interesting for the audience. The staff had other ideas for the title such as "Daydream of Angel" or "A Love Song to a Fallen Angel." However, someone in the staff said "Rikka Takanashi's Revision," and they settled on that. The last scene of the film will tie into the upcoming second anime season.

(September 14)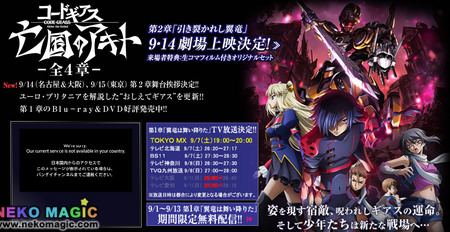 [youtube]WnvFkYo1SW4[/youtube]
Code Geass: Akito the Exiled follows a side story set in the Revolution Year 228, around the same time that Lelouch takes on his "Zero" identity and starts to build his "Black Knights" rebellion army. This OVA focuses on the invasion of the Euro Universe (E.U.) by the Holy Britannian Empire and special division "Wyvern" Knightmare corps. These corps are comprised entirely of Japanese teenagers and commanded by Layla Malkal (Maaya Sakamoto), a former Britannian Aristocrat. The story follows Akito Hyuuga (Miyu Irino) as he and the rest of the Wyvern corps are plunged into the battlefield with a 5% chance of survival.

(September 28)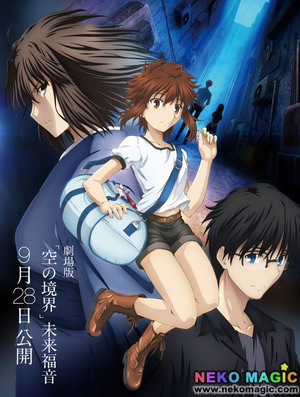 [youtube]JHwwrB-fK_s[/youtube]
The anime film Kara no Kyoukai: Mirai Fukuin is based on Kinoko Nasu's epilogue side story to the main novels in the Kara no Kyoukai: The Garden of Sinners series, which also spawned 7 anime films between 2007 and 2009.

(October 26)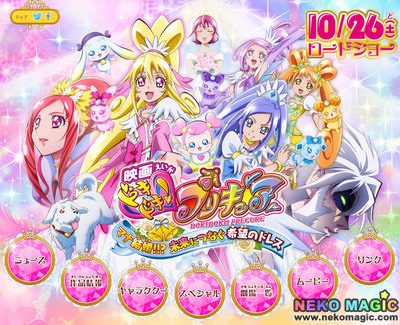 [youtube]qKTIwE4y_L8[/youtube]
One day, Mana Aida received a wedding dress from her mother and grandmother that they had worn in the past. While thinking about who she would wear this beside someday, a mysterious man named Matthew appears, and Mana is thrown back into the past. She was happy to see her grandmother she loved and her old dog Maro, but she then realizes that Arisu and Rikka aren't there because memories have been altered. In order to save precious memories, the future, dreams and hope, Mana transforms into Cure Heart.
Release Date: October 26
Studio: Toei Animation

(October 26)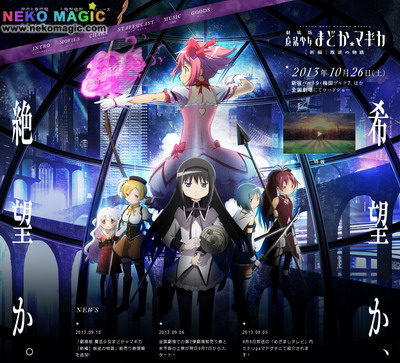 [youtube]HnGESq_CiQY[/youtube]
Madoka Kaname used to be a normal girl living happy days of her life. This all ended when she sacrificed herself in order to save other magical girls from the utterly cruel fate that awaited them. Unable to let her memories of Madoka die, Homura Akemi continues to fight alone in the world that Madoka left behind for humanity in order to see her smile once more.

(November 09)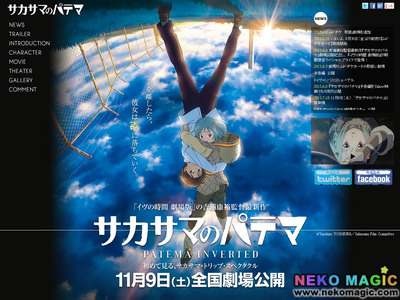 [youtube]qhPrhWwK7Uw[/youtube]
The anime film Patema Inverted is created and directed by Yasuhiro Yoshiura (Mizu no Kotoba, Pale Cocoon, Eve no Jikan), with Purple Cow Studios Japan animating it. Yoshiura said that this is "a story about girl-meets-boy, and boy-meets-girl. It is an extremely righteous, but also extremely strange, story". The movie begins in an underground world where tunnels extend everywhere. Even though they live in dark and confined spaces, people wear protective clothes and lead quiet and enjoyable lives. Patema, a princess in her underground village, loves to explore the tunnels. Her favorite place is a "danger zone" that her village prohibits people from entering. Even though she's scolded, Patema's curiosity can't be held back. No one ever explained what the supposed danger was. On her usual trip to the "danger zone", Patema faces unexpected events. When hidden secrets come to light, the story begins to unfold.
Release Date: November 09
Studio: Purple Cow Studio Japan
Homepage: http://patema.jp/

(November 23)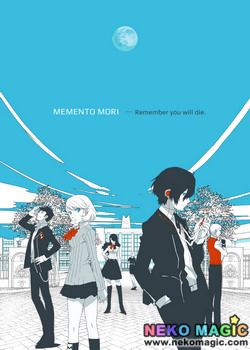 [youtube]4YDyDg76rcw[/youtube]
In the game's story, there is a hidden time known as the "Dark Hour" that exists between one day and the next when all movement in the town stops. During this time, terrible creatures called Shadows roam, and a group of high school students in the city of Iwatodai are drawn into the Dark Hour to fight these creatures and explore the mysterious tower of Tartarus. This group uses weapons called Evokers that are used to summon Personas.

(November 23)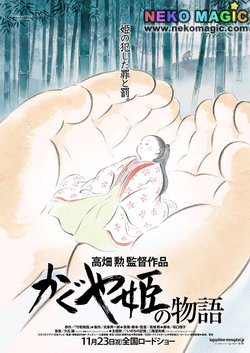 [youtube]9I9s7TZ7504[/youtube]
Kaguya-hime no Monogatari (The Tale of Princess Kaguya), the first new film from Studio Ghibli co-founder and director Isao Takahata in 14 years, will open on November 23.
The famous Japanese folktale Taketori Monogatari (The Tale of the Bamboo Cutter) centers on princess named Kaguya who was discovered as a baby inside the stalk of a glowing bamboo plant. Taketori Monogatari has inspired dozens of manga and anime stories, such as Reiko Shimizu's Kaguya Hime and Arina Tanemura's Sakura-Hime Kaden.

(November 30)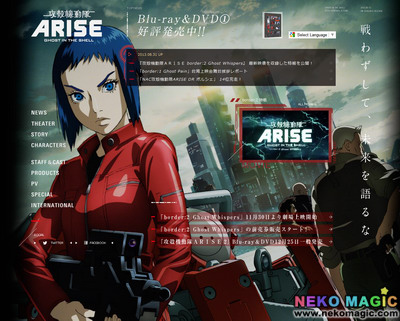 [youtube]r9CynT8xe4I[/youtube]
The story of "border:2 Ghost Whispers" takes place after Motoko gains her freedom by separating herself from the military's 501st Secret Unit. Even without Aramaki's suggestion to make her own unit, Motoko begins actions to collect members for her very own unit. As this is going on, someone has hacked into the Logicoma. As she transports the machines in order to check them for abnormalities, she is suddenly attacked by an armed unit. Not long after, she meets up with Batou, the man with the "eye that never sleeps", Ishikawa, a former member of the army who is good at finding information through the internet, and Borma, an electronic warfare expert. The new installment is scheduled to open at various Japanese cinemas on November 30.

<< TV i | TV ii | TV iii | TV iv | TV v | OVA i | OVA ii | Film >>